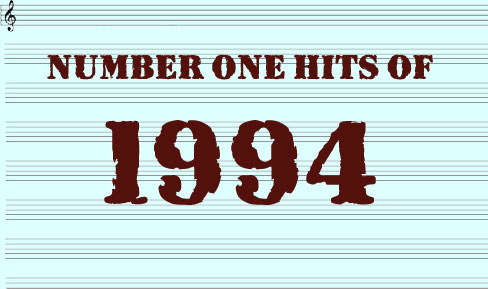 The Number One Hits Of 1994
December 25, 1993 – January 21, 1994
Mariah Carey
Hero
Mariah Carey has sold over 200 million records worldwide, making her one of the best-selling music artists of all time.
Hero is the second single from Carey's third studio album, Music Box. The song was originally intended for the soundtrack of the movie Hero, but Carey decided to keep it for her album.
January 22, 1994 – February 11, 1994
Bryan Adams, Rod Stewart & Sting
All For Love
Bryan Adams is a Canadian singer, songwriter, and guitarist known for his hit singles and contributions to movie soundtracks. Rod Stewart is a British rock singer and songwriter with a career spanning over five decades. Sting is an English musician and former lead singer of the rock band The Police.
All For Love is a song from the soundtrack of the movie The Three Musketeers and features a collaboration between the three artists.
February 12, 1994 – March 11, 1994
Celine Dion
The Power Of Love
Celine Dion is a Canadian singer known for her powerful vocals and numerous hit songs.
The Power Of Love is a cover of Jennifer Rush's 1984 hit and became one of Dion's signature songs. It appeared on her album The Colour of My Love.
March 12, 1994 – April 8, 1994
Ace Of Base
The Sign
Ace Of Base is a Swedish pop group, formed in 1990, known for their catchy melodies and dance beats.
The Sign is the title track of the group's debut album and became a global hit, reaching the top of the charts in multiple countries.
April 9, 1994 – May 20, 1994
R. Kelly
Bump n' Grind
R. Kelly is an American singer, songwriter, and record producer known for his R&B and hip-hop-influenced sound.
Bump n' Grind is from R. Kelly's debut solo album, 12 Play, and became his first number-one single on the US chart.
May 21, 1994 – August 5, 1994
All-4-One
I Swear
All-4-One is an American male R&B/pop group formed in 1993, known for its harmonies and romantic ballads.
I Swear is a cover of the country song by John Michael Montgomery and became one of the best-selling singles of all time.
August 6, 1994 – August 26, 1994
Lisa Loeb & Nine Stories
Stay (I Missed You)
Lisa Loeb is an American singer-songwriter and actress. Nine Stories is her backing band, named after a book by J.D. Salinger.
Stay (I Missed You) gained popularity after being featured in the film Reality Bites. It became the first song by an unsigned artist to top the US chart.
August 27, 1994 – December 2, 1994
Boyz II Men
I'll Make Love To You
Their debut single, "Motownphilly," was a tribute to their hometown and the Motown sound.
The group's follow-up album, "II," sold over 12 million copies in the United States.
I'll Make Love To You is from Boyz II Men's second studio album, II. Babyface wrote and produced the song and held the number-one position for 14 weeks.
December 3, 1994 – December 16, 1994
Boyz II Men
On Bended Knee
Michael Bivins of New Edition and Bell Biv DeVoe discovered the Boyz II Men after a chance encounter at a concert.
On Bended Knee is also from Boyz II Men's second studio album, II. The song, another romantic ballad, replaced their own I'll Make Love To You at the top of the charts.
December 17, 1994 – January 27, 1995
Ini Kamoze
Here Comes The Hotstepper
Ini Kamoze is a Jamaican reggae artist who gained international fame with this hit single.
Here Comes The Hotstepper is a dancehall reggae fusion song used as the theme for the 1994 film Prêt-à-Porter. The song samples multiple tracks, including Taana Gardner's Heartbeat and The Chi-Lites' Stoned Out of My Mind.
The Biggest Pop Artists of 1994 include:
Aaliyah, Ace of Base, All-4-One, Babyface, Boyz II Men, Brandy, Celine Dion, Counting Crows, The Cranberries, Da Brat, Gin Blossoms, Janet Jackson, Jodeci, Keith Sweat, Madonna, Mariah Carey, Mary J. Blige, Micheal Bolton, Pearl Jam, R. Kelly, Rod Stewart, Sheryl Crow, The Smashing Pumpkins, Snoop Dog, Stone Temple Pilots, Tevin Campbell, Tim McGraw, TLC, Toni Braxton, Usher, Warren G, Xscape, Zhane
(HPS music data is compiled from charts, including Billboard's Pop, Rock, Airplay, R&B/Dance, and Singles Charts. The Hot 100 is the primary chart used for this list.)