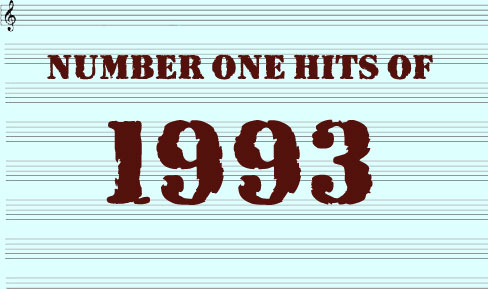 The Number One Hits Of 1993
November 28, 1992 – March 5, 1993
Whitney Houston
I Will Always Love You
Whitney's covered Dolly Parton's  I Will Always Love You for "The Bodyguard" soundtrack has sold over 45 million copies worldwide, which may be the best-selling soundtrack ever.
I Will Always Love You won two Grammy Awards in 1994: Record of the Year and Best Female Pop Vocal Performance.
March 6, 1993 – March 12, 1993
Peabo Bryson & Regina Belle
A Whole New World
Peabo Bryson is a two-time Grammy Award-winning American R&B and soul singer, while Regina Belle is an American singer-songwriter known for her R&B and jazz hits
A Whole New World is the main theme from Disney's animated film Aladdin which won the Academy Award for Best Original Song in 1993.
March 13, 1993 – April 30, 1993
Snow
Informer
Snow, whose real name is Darrin Kenneth O'Brien, is a Canadian reggae musician known for his unique mix of reggae, dancehall, and hip-hop. Informer was Snow's debut single and became a massive international hit.
May 1, 1993 – May 14, 1993
Silk
Freak Me
Silk is an American R&B group known for their sensual, romantic sound and smooth harmonies.
Freak Me was the group's second single and became their first number-one hit.
May 15, 1993 – July 9, 1993
Janet Jackson
That's The Way Love Goes
The album "janet." spawned hits like That's the Way Love Goes, If,  Again, and Any Time, Any Place.
That's The Way Love Goes is the lead single from Jackson's fifth studio album, janet., and won a Grammy Award for Best R&B Song in 1994.
July 10, 1993 – July 23, 1993
SWV
Weak
SWV, which stands for Sisters With Voices, is an American R&B vocal trio formed in 1988.
Weak is a ballad from the group's debut album, It's About Time, and became one of their biggest hits.
July 24, 1993 – September 10, 1993
UB40
Can't Help Falling In Love
UB40 is a British reggae and pop band known for its multicultural lineup and catchy tunes.
Can't Help Falling In Love is a cover of Elvis Presley's 1961 hit and was featured on the soundtrack of the film Sliver.
September 11, 1993 – November 5, 1993
Mariah Carey
Dreamlover
Although she hid her talents from her peers, Mariah began singing at a young age and started writing songs in high school.
Dreamlover is the lead single from Carey's third studio album, Music Box, and was co-produced by Carey and Dave Hall.
November 6, 1993 – December 10, 1993
Meat Loaf
I'd Do Anything for Love (But I Won't Do That)
Meat Loaf, born Marvin Lee Aday, was an American rock singer and actor known for his powerful voice and theatrical performances.
I'd Do Anything for Love (But I Won't Do That) is a rock ballad from his album Bat Out of Hell II: Back into Hell, and won a Grammy Award for Best Rock Vocal Performance, Solo in 1994
December 11, 1993 – December 24, 1993
Janet Jackson
Again
Janet has appeared in several films, including "Poetic Justice," "Nutty Professor II: The Klumps," and "Why Did I Get Married?"
Again is a heartfelt ballad from Jackson's fifth studio album
December 25, 1993 – January 21, 1994
Mariah Carey
Hero
Mariah has ventured into acting, starring in the 2001 film "Glitter" and the 2009 drama "Precious."
Hero is the second single from Carey's third studio album, Music Box. The song was originally intended for the soundtrack of the movie Hero, but Carey decided to keep it for her album
The Biggest Pop Artists of 1993 include:
Ace of BaseBilly Joel, Brian McKnight, Dr. Dre, Duran Duran, H-Town, Ice Cube, Jade, Janet Jackson, Jodeci, Madonna, Mariah Carey, Mary J. Blige, Michael Jackson, Naughty By Nature, Peabo Bryson, Prince, Rod Stewart, Shai, Silk, Soul Asylum, Snoop Dogg, Snow, Sting, SWV (Sister With Voices), Tevin Campbell, Toni Braxton, UB40, Whitney Houston, Xscape
(HPS music data is compiled from charts, including Billboard's Pop, Rock, Airplay, R&B/Dance, and Singles Charts. The Hot 100 is the primary chart used for this list.)