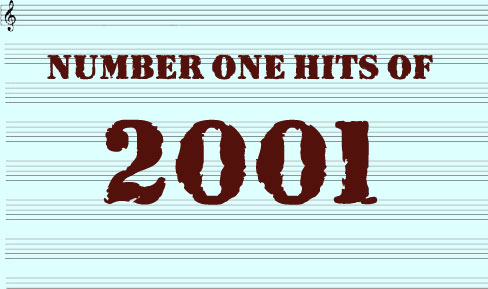 The Number One Hits Of 2001
November 18, 2000 – February 2, 2001
Destiny's Child
Independent Women
Destiny's Child became one of the world's best-selling girl groups of all time.
Independent Women was featured on the soundtrack of the film "Charlie's Angels" (2000).
February 3, 2001 – February 16, 2001
Shaggy featuring Ricardo 'Rikrok' Ducent
It Wasn't Me
Shaggy is a Jamaican-American musician known for his reggae fusion style. Ricardo 'Rikrok' Ducent is a British-Jamaican singer and songwriter.
It Wasn't Me is a catchy reggae fusion song that tells a story of infidelity.
February 17, 2001 – February 23, 2001
Outkast
Ms. Jackson
Outkast is an American hip-hop duo of André "André 3000" Benjamin and Antwan "Big Boi" Patton.
Ms. Jackson is a hip-hop song addressing relationships and parenthood's complexities.
February 24, 2001 – March 23, 2001
Joe featuring Mystikal
Stutter
Joe is an American R&B singer and songwriter. Mystikal is an American rapper known for his energetic style.
Stutter is a smooth R&B track with a catchy chorus and rap verses by Mystikal.
March 24, 2001 – March 30, 2001
Crazy Town
Butterfly
Crazy Town is an American rap rock band known for their fusion of rap, rock, and electronic music.
Butterfly is a rap rock song with a memorable guitar riff and catchy chorus.
March 31, 2001 – April 13, 2001
Shaggy Featuring Rayvon
Angel
Rayvon is an American reggae and hip-hop artist known for collaborating with Shaggy.
Angel is a romantic reggae fusion song that samples Angel of the Morning and The Joker.
April 14, 2001 – June 1, 2001
Janet Jackson
All For You
Janet Jackson is a multiple Grammy Award-winning artist with four decades of career.
All For You is an upbeat dance-pop song with an infectious rhythm and playful lyrics.
June 2, 2001 – July 6, 2001
Christina Aguilera, Lil' Kim, Mya, and Pink
Lady Marmalade
The collaboration features four successful female artists from different music genres.
Lady Marmalade covers Labelle's 1974 hit, reimagined for the "Moulin Rouge!" soundtrack.
July 7, 2001 – August 3, 2001
Usher
U Remind Me
Usher is a highly successful American R&B singer, songwriter, and actor.
U Remind Me is a smooth R&B song about a man reminded of his past love by a new woman.
August 4, 2001 – August 17, 2001
Destiny's Child
Bootylicious
Destiny's Child is known for their tight harmonies and energetic performances.
Bootylicious is a fun and empowering dance-pop song that celebrates body positivity.
September 8, 2001 – November 2, 2001
Jennifer Lopez featuring Ja Rule
I'm Real
Jennifer Lopez is a multi-talented American entertainer, while Ja Rule is an American rapper and actor.
I'm Real is a catchy hip-hop and R&B-infused track that features a rap verse from Ja Rule.
November 3, 2001 – December 14, 2001
Mary J. Blige
Family Affair
Mary J. Blige is an influential R&B and hip-hop soul singer known as the "Queen of Hip-Hop Soul."
Family Affair is an upbeat, funk-infused track encouraging listeners to forget their troubles and dance.
December 15, 2001 – December 21, 2001
Usher
U Got It Bad
Usher has sold over 75 million records worldwide, making him one of the best-selling music artists of all time.
U Got It Bad is a heartfelt R&B ballad about the struggles of being in love.
December 22, 2001 – February 22, 2002
Nickelback
How You Remind Me
Nickelback is a Canadian rock band known for their post-grunge and alternative rock sound.
How You Remind Me is a powerful rock song with introspective lyrics about a tumultuous relationship.
The Biggest Pop Artists of 2001 include:
Alicia Keyes, Mariah Carey, Case, Christina Aguilera, Destiny's Child, Dido, Faith Hill, Ginuwine, Incubus, Jagged Edge, Janet Jackson, Ja Rule, Jay-Z, Ja Rule, Jennifer Lopez, Joe, Lifehouse, Lil Kim, Ludacris, Mary J. Blige, Michelle Branch, Missy 'Misdemeanor' Elliott, Mya, Nelly, Nelly Fortado, Nickleback, 112, Outkast, Pink, R. Kelly, Shaggy, Toby Keith, Uncle Kracker, Usher
(HPS music data is compiled from charts, including Billboard's Pop, Rock, Airplay, R&B/Dance, and Singles Charts. The Hot 100 is the primary chart used for this list.)
Save