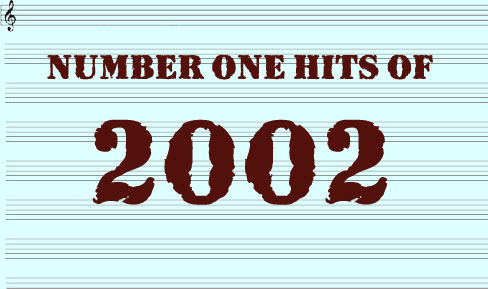 The Number One Hits Of 2002
December 22, 2001 – February 22, 2002
Nickelback
How You Remind Me
Nickelback was formed in 1995 in Alberta, Canada, by brothers Chad and Mike Kroeger.
The song was the most-played song on U.S. radio during the 2000s, with over 1.2 million spins.
February 23, 2002 – March 8, 2002
Ja Rule featuring Ashanti
Always on Time
Ashanti is an American singer-songwriter known for her soulful voice and catchy hooks.
Always on Time is an R&B and hip-hop collaboration with a smooth, infectious melody.
March 9, 2002 – April 19, 2002
Jennifer Lopez featuring Ja Rule
Ain't It Funny
The remix version of Ain't It Funny features Ja Rule, who has released multiple platinum albums.
The song blends R&B, hip-hop, and Latin influences, showcasing a more urban sound.
April 20, 2002 – June 28, 2002
Ashanti
Foolish
Ashanti's debut album, also titled Ashanti, reached number one on the US Billboard 200 chart.
Foolish samples the melody of DeBarge's 1983 hit Stay with Me.
June 29, 2002 – August 16, 2002
Nelly
Hot in Herre
Nelly is a Grammy-winning rapper, singer, and songwriter from St. Louis, Missouri.
Hot in Herre incorporates funk and hip-hop elements and is known for its catchy, repetitive chorus.
August 17, 2002 – October 4, 2002
Nelly featuring Kelly Rowland
Dilemma
Kelly Rowland rose to fame as a member of Destiny's Child and has since enjoyed a successful solo career.
Dilemma is an R&B song that explores the complexities of a love affair with a catchy, melodic chorus.
October 5, 2002 – November 8, 2002
Kelly Clarkson
A Moment Like This
Kelly Clarkson is the first winner of the American Idol television competition.
A Moment Like This is a powerful pop ballad that showcases Clarkson's impressive vocal range.
November 9, 2002 – January 31, 2003
Eminem
Lose Yourself
Born Marshall Mathers, Eminem is a critically acclaimed rapper, songwriter, and record producer.
Lose Yourself is an intense, motivational hip-hop track featured in the film 8 Mile, starring Eminem.
The Biggest Pop Artists of 2002 include:
Alan Jackson, Alicia Keyes, Ashanti, Avril Lavigne, Beyonce, Cam 'ron, Creed, DJ Sammy, Eminem, Fat Joe, 50 Cent, Ginuwine, Ja Rule, Jennifer Lopez, Jimmy Eat World, John Mayer, Justin Timberlake, Kelly Clarkson, Linkin Park, Loon, Ludacris, Michelle Branch, Missy 'Misdemeanor' Elliott, Musiq, Nelly, No Doubt, Pink, Puddle of Mudd, Puff Daddy/P. Diddy, R. Kelly, Sean Paul, Tim McGraw, Toby Keith, Tweet, Vanessa Carlton
(HPS music data is compiled from charts, including Billboard's Pop, Rock, Airplay, R&B/Dance, and Singles Charts. The Hot 100 is the primary chart used for this list.)
Save