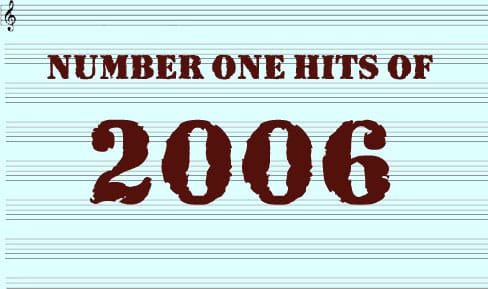 The Number One Hits Of 2006
December 31, 2005 – January 13, 2006
Mariah Carey
Don't Forget About Us
Mariah Carey has received numerous awards, including 5 Grammy Awards, 19 World Music Awards, and 11 American Music Awards.
Don't Forget About Us was a bonus track on Mariah's 10th studio album, "The Emancipation of Mimi".
January 14, 2006 – January 20, 2006
D4L
Laffy Taffy
D4L was an American hip-hop group formed in Atlanta, Georgia, consisting of Fabo, Mook-B, Stoney, and Shawty Lo.
Laffy Taffy is known for its playful lyrics and infectious beat, contributing to its popularity as a ringtone.
January 21, 2006 – February 3, 2006
Nelly featuring Paul Wall, Ali, and Gipp
Grillz
Paul Wall is a Houston-based rapper known for his contributions to the "chopped and screwed" subgenre, while Ali and Gipp are members of the St. Louis rap group St. Lunatics.
Grillz is a song about the popular hip-hop fashion trend of wearing decorative dental grills.
February 4, 2006 – March 10, 2006
Beyonce featuring Slim Thug
Check on It
Slim Thug, a Houston-based rapper, rose to fame with his debut album "Already Platinum" in 2005.
Check on It is an uptempo, dance-pop song with a catchy hook and features a guest appearance by rapper Slim Thug.
March 11, 2006 – March 17, 2006
James Blunt
You're Beautiful
James Blunt is a British singer-songwriter and former British Army officer known for his emotional ballads.
You're Beautiful is a romantic ballad that gained widespread popularity for its heartfelt lyrics and memorable melody.
March 18, 2006 – March 31, 2006
Ne-Yo
So Sick
Ne-Yo, born Shaffer Chimere Smith, is an American singer, songwriter, and record producer who has also dabbled in acting.
So Sick is an R&B ballad about the pain of heartbreak and longing for an ex-lover.
April 1, 2006 – April 7, 2006
Sean Paul
Temperature
Sean Paul, a Jamaican dancehall artist, has been credited with popularizing dancehall music worldwide.
Temperature is an energetic dancehall track with a catchy beat that became a dance club favorite.
April 8, 2006 – May 12, 2006
Daniel Powter
Bad Day
Daniel Powter, a Canadian singer-songwriter, is known for his emotive, piano-driven pop songs.
Bad Day is an uplifting pop song about finding hope and resilience in the face of adversity.
May 13, 2006 – June 2, 2006
Rihanna
SOS
Rihanna, born Robyn Rihanna Fenty, is a Barbadian singer, actress, and businesswoman who has sold over 250 million records worldwide.
SOS samples Soft Cell's Tainted Love and showcases Rihanna's dance-pop sound.
June 3, 2006 – June 16, 2006
Chamillionaire featuring Krayzie Bone
Ridin'
Krayzie Bone is a member of the influential hip-hop group Bone Thugs-n-Harmony.
Ridin' is a hip-hop song about evading law enforcement, featuring Chamillionaire's rapid-fire delivery and Krayzie Bone's melodic flow.
June 17, 2006 – June 30, 2006
Shakira featuring Wyclef Jean
Hips Don't Lie
Wyclef Jean, a Haitian musician and former member of the Fugees, has released several successful solo albums.
Hips Don't Lie is a dance-pop song with Latin and reggae music elements, celebrating Shakira's Colombian heritage.
July 1, 2006 – July 7, 2006
Taylor Hicks
Do I Make You Proud
Taylor Hicks rose to fame as the winner of the fifth season of "American Idol" in 2006.
Do I Make You Proud is an inspirational pop ballad released as Hicks' debut single after his "American Idol" win.
July 8, 2006 – August 18, 2006
Nelly Furtado featuring Timbaland
Promiscuous
Timbaland, an American record producer, and rapper, has worked with numerous high-profile artists, including Justin Timberlake, Missy Elliott, and Jay-Z.
Promiscuous is a dance-pop track with a playful, flirtatious exchange between Furtado and Timbaland.
August 19, 2006 – September 8, 2006
Fergie
London Bridge
Fergie, born Stacy Ann Ferguson, was a member of the pop group The Black Eyed Peas before launching her successful solo career.
London Bridge is an energetic hip-hop and dance-pop track that showcases Fergie's unique vocal style.
September 9, 2006 – October 27, 2006
Justin Timberlake
SexyBack
Justin Timberlake, a former member of NSYNC, is an American singer-songwriter, actor, and record producer.
SexyBack is an electro-funk track with a futuristic sound that helped redefine Timberlake's image as a solo artist.
October 28, 2006 – November 10, 2006
Ludacris featuring Pharrell Williams
Money Maker
Pharrell Williams, an American musician, record producer, and fashion designer, is also a member of The Neptunes production duo.
Money Maker is a hip-hop track with a catchy hook, featuring Pharrell's signature production style.
November 11, 2006 – December 1, 2006
Justin Timberlake featuring T.I.
My Love
T.I., born Clifford Joseph Harris Jr., is an American rapper, actor, and record producer known for his contributions to Southern hip-hop.
My Love is an R&B-infused pop track that features a guest verse from rapper T.I.
December 2, 2006 – December 15, 2006
Akon featuring Snoop Dogg
I Wanna Love You
Snoop Dogg, born Calvin Cordozar Broadus Jr., is an American rapper, actor, and entrepreneur known for his laid-back flow and West Coast hip-hop style.
I Wanna Love You is a smooth hip-hop track with a catchy chorus, featuring a collaboration between Akon and Snoop Dogg.
December 16, 2006 – February 23, 2007
Beyonce
Irreplaceable
Beyonce, an American singer, actress, and entrepreneur, rose to fame as the lead singer of Destiny's Child before establishing a successful solo career.
Irreplaceable is an R&B ballad with empowering lyrics about moving on from a failed relationship, showcasing Beyonce's vocal range and emotional delivery.
The Biggest Pop Artists of 2006 include:
Beyonce, Danity Kane, Evanescence, The Game, High School Musical Soundtrack, Il Divo, India.Arie, Jack Johnson, Justin Timberlake, Jamie Foxx, Johnny Cash, Justin Timberlake, Mary J. Blige, Rascal Flatts, Rihanna,
(HPS music data is compiled from charts, including Billboard's Pop, Rock, Airplay, R&B/Dance, and Singles Charts. The Hot 100 is the primary chart used for this list.)