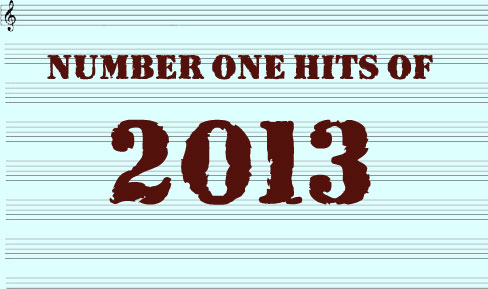 The Number One Hits Of 2013
Dec 22, 2012 – Feb 1, 2013
Locked Out of Heaven
Bruno Mars
Bruno Mars has an eclectic musical style, incorporating various genres such as pop, R&B, funk, and reggae.
Locked Out of Heaven was nominated for Record of the Year and Best Pop Solo Performance at the 56th Annual Grammy Awards.
Feb 2, 2013 – Mar 1, 2013
Thrift Shop
Macklemore and Ryan Lewis featuring Wanz
Macklemore and Ryan Lewis are a duo from Seattle, known for their socially conscious lyrics and unique production style. Wanz is an American vocalist and musician.
Thrift Shop is a humorous song promoting the value of frugality and thrift store shopping.
Mar 2, 2013 – Apr 19, 2013
Harlem Shake
Baauer
Baauer, born Harry Bauer Rodrigues, is an American electronic musician and DJ known for his trap and bass music.
Harlem Shake went viral in 2013 due to an internet meme that featured people dancing to the song's beat.
Apr 20, 2013 – Apr 26, 2013
When I Was Your Man
Bruno Mars
Bruno Mars has sold over 130 million records worldwide, making him one of the best-selling music artists of all time.
When I Was Your Man is a piano-driven ballad about the regrets of a failed relationship.
Apr 27, 2013 – May 17, 2013
Just Give Me a Reason
Pink featuring Nate Ruess
Nate Ruess is the lead vocalist of the American indie pop band Fun.
Just Give Me a Reason is a heartfelt duet about misunderstandings in a relationship and the desire to rebuild trust.
May 18, 2013 – Jun 21, 2013
Can't Hold Us
Macklemore and Ryan Lewis featuring Ray Dalton
Ray Dalton is an American singer and songwriter, known for his soulful voice and collaborations with various artists.
Can't Hold Us is an energetic, motivational anthem about overcoming obstacles and pursuing success.
Jun 22, 2013 – Sep 13, 2013
Blurred Lines
Robin Thicke featuring T.I. and Pharrell
Robin Thicke is an American-Canadian singer, songwriter, and actor. T.I. is a rapper and actor, and Pharrell is a renowned producer, singer, and songwriter.
Blurred Lines is a controversial, catchy dance-pop song that features a memorable falsetto hook.
Sep 14, 2013 – Sep 27, 2013
Roar
Katy Perry
Katy Perry has been named the highest-earning woman in music by Forbes multiple times.
Roar is an empowering anthem about self-confidence and resilience in the face of adversity.
Sep 28, 2013 – Oct 11, 2013
Wrecking Ball
Miley Cyrus
Miley Cyrus gained fame as a child actor on Disney Channel's "Hannah Montana" before transitioning to a successful music career.
Wrecking Ball is a powerful ballad about heartbreak and vulnerability.
Oct 12, 2013 – Dec 20, 2013
Royals
Lorde
Lorde, born Ella Marija Lani Yelich-O'Connor, is a New Zealand singer and songwriter known for her unique voice and introspective lyrics.
Royals is a critique of materialism and the obsession with wealth and luxury in popular culture.
Dec 21, 2013 – Jan 17, 2014
The Monster
Eminem featuring Rihanna
Eminem is one of the best-selling artists of the 21st century, known for his provocative lyrics and storytelling abilities.
The Monster explores the struggle with inner demons and the desire for fame and success. Rihanna provides a powerful chorus.
The Biggest Pop Artists of 2013 include:
Ariana Grande, Beyonce, Bruno Mars, Calvin Harris, Daft Punk, Eminem, Jay-Z, Justin Timberlake, Katy Perry, Lady Gaga, Lorde, Luke Bryan, Macklemore and Ryan Lewis, Miley Cyrus, Mumford & Sons, One Direction, Pearl Jam, Rihanna, Robin Thicke, Taylor Swift
(HPS music data is compiled from charts, including Billboard's Pop, Rock, Airplay, R&B/Dance, and Singles Charts. The Hot 100 is the primary chart used for this list.)