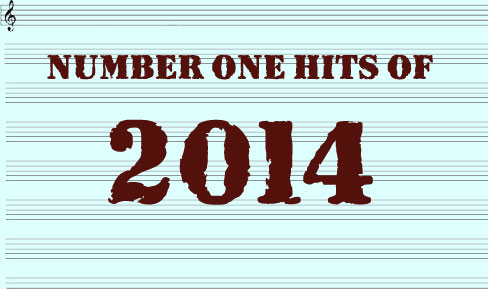 The Number One Hits Of 2014
December 21, 2013 – January 17, 2014
The Monster
Eminem featuring Rihanna
Eminem, born Marshall Mathers, is an American rapper known for his controversial lyrics.
The song explores themes of inner demons and personal struggles.
January 18, 2014 – February 7, 2014
Timber
Pitbull featuring Kesha
Armando Pérez, known as Pitbull, is an American rapper, singer, and entrepreneur.
Timber has a mix of dance-pop and folktronica elements, featuring a harmonica.
February 8, 2014 – March 7, 2014
Dark Horse
Katy Perry featuring Juicy J
Jordan Michael Houston, known as Juicy J, is an American rapper, songwriter, and producer.
Dark Horse combines trap and hip-hop elements with electronic and pop influences.
March 8, 2014 – May 16, 2014
Happy
Pharrell Williams
Pharrell Williams is an American singer, songwriter, and record producer.
The song is an upbeat, neo-soul track with a catchy chorus and joyful lyrics.
May 17, 2014 – June 6, 2014
All of Me
John Legend
John Legend, born John Roger Stephens, is an American singer, songwriter, and producer.
All of Me is a heartfelt piano ballad dedicated to Legend's wife, Chrissy Teigen.
June 7, 2014 – July 25, 2014
Fancy
Iggy Azalea featuring Charli XCX
Iggy Azalea, born Amethyst Kelly, is an Australian rapper and songwriter.
Fancy is a catchy, electro-hop song with a memorable hook sung by Charli XCX.
July 26, 2014 – September 5, 2014
Rude
Magic!
Magic! is a Canadian reggae fusion band led by Nasri Atweh, the lead vocalist.
The song is a reggae-pop track about a man asking for his girlfriend's father's approval.
September 6, 2014 – September 19, 2014
Shake It Off
Taylor Swift
Taylor Alsion Swift was born on December 13, 1989, in Reading, Pennsylvania.
Shake It Off is an uptempo pop track about letting go of negativity and criticism.
September 20, 2014 – November 28, 2014
All About That Bass
Meghan Trainor
Meghan Trainor is an American singer-songwriter known for her doo-wop-influenced sound.
The song promotes body positivity and self-acceptance with a catchy melody.
November 29, 2014 – January 16, 2015
Blank Space
Taylor Swift
The video for Blank Space won a Video Music Award from MTV.
Blank Space is a satirical pop song that pokes fun at Swift's own romantic history.
The Biggest Pop Artists of 2014 include:
Ariana Grande, Beyonce, The Black Keys, Blake Shelton, Coldplay, Eminem, Florida Georgia Line, Frozen Soundtrack, Guardians of the Galaxy: Awesome Mix Vol. 1, Iggy Azalea, J. Cole, Jason Aldean, John Legend, Justin Bieber, Katy Perry, Maroon 5, Miley Cyrus, One Direction, Pharrell Williams, Pitbull, Taylor Swift, Tony Bennett and Lady Gaga, Weird Al Yankovic, and Wiz Khalifa.
(HPS music data is compiled from charts, including Billboard's Pop, Rock, Airplay, R&B/Dance, and Singles Charts. The Hot 100 is the primary chart used for this list.)