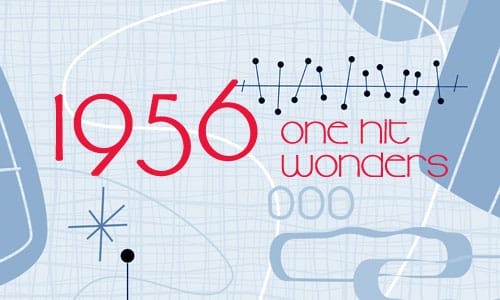 1956 One Hit Wonders & Artists Known For One Song
A Teen Age Prayer
Kitty White
Kitty White was a jazz singer who made guest appearances on TV shows like "Peter Gunn" and "The Loretta Young Show."
Band of Gold
Kit Carson
Kit Carson was a country singer discovered by Western singer Eddie Dean.
Band Of Gold
The Hi-Fi Four
The Hi-Fi Four were known for their intricate harmonies and a cappella renditions of popular songs.
Blue Suede Shoes
Carl Perkins
Carl Perkins was a key figure in creating rockabilly music, which combined country, rhythm, and blues.
Butternut
Jimmy Heap
Jimmy Heap was a country music songwriter and bandleader, leading the group Jimmy Heap and the Melody Masters.
Chain Gang
Bobby Scott
Bobby Scott was a prolific songwriter and producer who worked with a variety of artists across genres.
Chinese Rock and Egg Roll
Buddy Hackett
Besides being a singer, Buddy Hackett was a popular comedian and actor known for his roles in films and Broadway shows.
Church Bells May Ring
Willows
The Willows were an American doo-wop group from Harlem, known for their tight harmonies.
Cindy, Oh Cindy
Vince Martin and the Tarriers
Vince Martin was a folk singer who worked with The Tarriers, a folk band that included actor Alan Arkin.
Confession Of A Sinner
The Stylers
The Stylers were a pop vocal group known for their polished performances and smooth harmonies.
Cry Baby
Bonnie Sisters
The Bonnie Sisters were a female pop vocal trio known for their bright, upbeat harmonies.
Dear Elvis (Pages 1 & 2)
Audrey
Audrey was a pop singer known for her tribute songs to popular figures of the time.
Eddie My Love
Teen Queens
The Teen Queens were a sister duo, Betty and Rosie Collins, one of the few girl groups in the doo-wop era.
Eloise
Kay Thompson
Kay Thompson was a singer, actress, author, and vocal arranger known for her "Eloise" series of children's books.
Experiments With Mice
Johnny Dankworth
Johnny Dankworth was a prominent jazz composer, saxophonist and band leader in England.
Garden of Eden
Joe Valino
Joe Valino was a crooner and pop singer, known for his smooth vocal style.
I Look At You
The Lassies
The Lassies were a pop vocal group known for their sweet harmonies and soft, melodic singing.
Lady Sings the Blues
Billie Holiday
Billie Holiday was one of the most influential jazz singers of all time, known for her emotive voice and improvisational skills.
Lazy River
Roberta Sherwood
Roberta Sherwood was a jazz and big band singer known for her energetic performances.
Let The Good Times Roll
Shirley & Lee
Shirley & Lee, also known as "The Sweethearts of the Blues", were one of the first teenage R&B duos.
Little Child
Eddie Albert & Sondra Lee
Eddie Albert was a notable actor in films and television, while Sondra Lee was an actress and dancer known for her work on Broadway.
Lola's Theme
Muir Mathieson
Muir Mathieson was a Scottish conductor who was instrumental in the early development of British film music.
Lovely Lies
Manhattan Brothers
The Manhattan Brothers were a South African singing group known for their marabi style of music.
Lullaby of Birdland
Blue Stars
The Blue Stars were a French vocal group known for their jazz-oriented repertoire.
Main Title – Golden Arm
Les Elgart
Les Elgart was a dance bandleader known for his sophisticated arrangements.
Main With The Golden Arm (Main Title)
Elmer Bernstein
Elmer Bernstein was a renowned composer who scored music for hundreds of film and television productions.
Marimba Charleston
Marimba Chiapas
Marimba Chiapas was known for their marimba music, a style of folk music popular in southern Mexico and Central America.
Miracle of Love
Ginny Gibson
Ginny Gibson was a pop singer known for her bright and effervescent vocal style.
Moonglow (Theme From 'Picnic')
Morris Stoloff
Morris Stoloff was a musical director at Columbia Pictures who orchestrated many well-known film scores.
Priscilla
Eddie Coolie
Eddie Cooley was a songwriter and singer best known for co-writing the song "Fever."
Rock-A-Bye Your Baby With a Dixie Melody
Jerry Lewis
Jerry Lewis was a comedian, actor, singer, and director known for his slapstick humor in film and television.
Sadie's Shawl
Bob Sharples
Bob Sharples was a British conductor who worked extensively with the London Promenade Orchestra.
Stranded in the Jungle
The Jayhawks
The Jayhawks were a doo-wop group from Kansas known for their harmony vocals.
Such A Day (So Ein Tag)
Rita Raines
Rita Raines was a pop singer known for her clear and pleasant vocal style.
The Faithful Hussar
Ted Heath
Ted Heath was a bandleader known for his big band arrangements in the UK.
The Fool
The Gallahads
The Gallahads were an American doo-wop group known for their tight harmonies.
The Girl In My Dreams
The Cliques
The Cliques were a doo-wop group known for their upbeat harmonies and danceable rhythms.
The Happy Whistler
Don Robertson
Don Robertson was a country songwriter and singer known for his whistling skills.
The Japanese Farewell Song
Kay Cee Jones
Kay Cee Jones was a pop singer known for her unique interpretations of international songs.
The Old Philosopher
Eddie Lawrence
Eddie Lawrence was a comedian, actor, and songwriter known for his comedic monologues.
Theme From 'The Proud Ones'
Lionel Newman
Lionel Newman was a conductor and composer known for his work in film music, often collaborating with his brother Alfred Newman.
Transfusion
Nervous Norvus
Nervous Norvus was a novelty song performer known for his humorous and often bizarre lyrics.
Tricky
Gus Jinkins
Gus Jinkins was a blues and R&B musician known for his soulful playing style.
Walk Hand In hand
Denny Vaughn
Denny Vaughn was a pop singer known for his crooning style and smooth vocal delivery.
When The White Lilacs Bloom Again
Helmut Zacharias
Helmut Zacharias was a German violinist and composer known for his jazz and easy-listening music.
When You Dance
The Turbans
The Turbans were one of the pioneering doo-wop groups of the 1950s, known for their energetic performances.