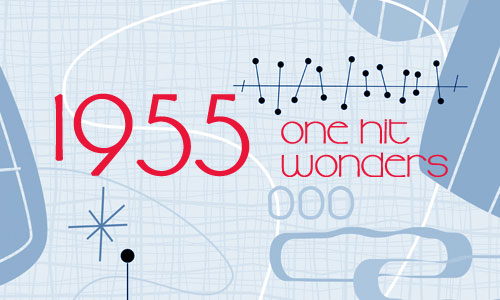 1955 One Hit Wonders & Artists Known For One Song
Alabama Jubilee
Ferko String Band
This band was instrumental in developing the Philadelphia Mummers Parade tradition.
At My Front Door
The El Dorados
A significant R&B group from the 50s, The El Dorados were one of the first groups signed to Vee-Jay Records.
Autumn Leaves
Jackie Gleason
Besides being a famous actor and comedian, Gleason was also a respected orchestra conductor and composer.
Ballad of Davey Crockett
Walter Schumann
Walter Schumann, a composer, created the first "surround sound" system for the movie "The Robe" in 1953.
Blue Star (The Medic Theme)
Felicia Sanders
Sanders was a significant figure in the cabaret scene in New York during the 1950s and 1960s.
Come Home
Bubber Johnson
He was a singer, songwriter, pianist, and actor in films such as "Carmen Jones."
Croce Di Oro
Joan Regan
A popular English singer, Regan had a successful television series in the UK called "Be My Guest."
Cry Me A River
Julie London
Besides being a singer, London was a notable actress, starring in the TV show "Emergency!" in the 70s.
Daddy – O
Bonnie Lou
Bonnie Lou was one of the first female rockabilly artists and a pioneer in country music during the 1950s.
Dixie Danny
The Laurie Sisters
The Laurie Sisters were one of the first girl groups in pop music, even before the Shirelles.
Earth Angel
The Penguins
The Penguins were an early doo-wop group and their song "Earth Angel" was one of the first R&B hits to cross over to the pop charts.
Hey, Mr. Banjo
The Sunnysiders
This group was known for their appearances on early TV children's shows in the 1950s.
Honey-Babe
Art Mooney & His Orchestra
Mooney was a popular bandleader in the 1940s and 1950s, known for his "novelty" jazz and pop hits.
I Want You To Be My Baby
Lillian Briggs
Briggs was one of the first successful female rock 'n' roll musicians.
(I'm Always Hearing) Wedding Bells
Frankie Lester
Lester was a notable figure in the 1940s and 1950s jazz scene.
It's A Sin To Tell A Lie
Somethin' Smith & the Redheads
Known for their comedic performances and light-hearted songs in the mid-50s.
Let Me Go Lover
Joan Weber
Weber's career was somewhat hindered by the fact that she suffered from stage fright.
Love Me Or Leave Me
Lena Horne
Horne was a groundbreaking African American actress and singer in Hollywood.
Man In The Raincoat
Marion Marlowe
Marlowe rose to fame as a singer on the television show "Arthur Godfrey's Talent Scouts".
Number One Street
Bob Corley
Bob Corley is best known for his Nashville country music contributions during the 50s and 60s.
Nuttin For Xmas
Joe Ward
Joe Ward was a child actor and singer who made frequent appearances on the Jack Benny Program.
Oh! Suzanna
The Barking Dogs
The Barking Dogs, a novelty act, was a project by Don Charles recording dogs barking to melodies.
Open Up Your Heart
The Cowboy Church Sunday School
This ensemble was known for their gospel songs and their association with the influential Cowboy Church.
Paper Roses
Lola Lee
Lola Lee was a popular singer in the mid-century period, known for her smooth, melodious voice.
Plantation Boogie
Lenny Dee
Dee was a renowned organist known for his incorporation of the "boogie-woogie" style into his organ playing.
Pledging My Love
Johnny Ace
Johnny Ace was a promising R&B singer whose career was tragically cut short due to an accidental self-inflicted gunshot wound.
Seventeen
Boyd Bennett and His Rockets
Bennett was one of the pioneers of the rockabilly sound, merging country music with R&B.
Smokey Joe's Cafe
The Robins
The Robins were an R&B group that later evolved into The Coasters, a hugely influential group in rock and roll history.
The Ballad of Davy Crockett
Fess Parker
Besides being a singer, Parker was a famous actor best known for his portrayals of Davy Crockett and Daniel Boone on TV.
The Bandit (O'Cangacereiro)
Eddie Barclay
Eddie Barclay was a music producer who founded Barclay Records, a leading French music company.
The Breeze and I (Andalucia)
Caterina Valente
Valente is a multilingual singer, dancer, and actress, famous worldwide, especially in Europe and Latin America.
The Man in the Raincoat
Priscilla Wright with Don Wright and The Septette
Wright was the youngest female singer to have a #1 hit in Canada at the age of 15.
The Popcorn Song
Cliffie Stone
Cliffie Stone was a country singer, musician, record producer, and music publisher who helped advance the careers of many country artists.
The Yellow Rose of Texas
Mitch Miller
Mitch Miller was a famous conductor and record producer known for sing-along records and his TV show.
Unchained Melody
Roy Hamilton
Roy Hamilton was a pioneer in mixing gospel and R&B, and his version of "Unchained Melody" was one of the first big hits of the song.
You Tickle Me Baby
The Royal Jokers
This group was an early doo-wop ensemble from Detroit that laid the groundwork for future Motown artists.
You Win Again
Paulette Sisters
The Paulette Sisters were a female trio known for their close harmonies and country-infused pop sound.
You're So Nice To Be Near
The Loreleis
This group was known for their sweet harmonies and were regular performers on popular TV shows of the time.