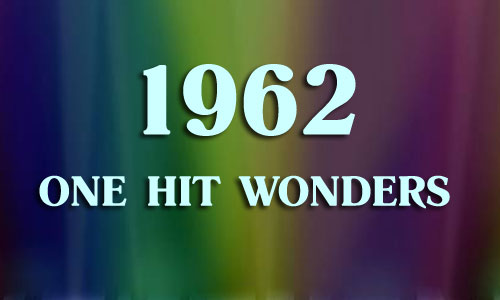 1962 One Hit Wonders & Artists Known For One Song
A Taste Of Honey
Victor Feldman Quartet
Victor Feldman was a British jazz musician known for his virtuoso playing of the vibes and piano. He's worked with jazz greats like Miles Davis.
Air Travel
Ray and Bob
Ray and Bob were an American duo consisting of Bob Relf and Ray Stinnett. While their success was limited, Bob Relf later had a successful career as part of the duo Bob and Earl.
Al Di La
Emilio Pericoli
Emilio Pericoli was an Italian singer. He was a prominent figure in the Italian music scene in the '60s and represented Italy in the 1963 Eurovision Song Contest.
Alley Cat
Bent Fabric & His Piano
Bent Fabric is a Danish pianist and composer who achieved worldwide fame with this instrumental hit. He won a Grammy Award for Best Rock & Roll Recording for "Alley Cat" in 1962.
Alley Cat Song
David Thorne
David Thorne is a British singer and songwriter who had some success in the 1960s, including a hit with "The Alley Cat Song."
Baby Elephant Walk
The Miniature Men
The Miniature Men were an instrumental group. Their version of Henry Mancini's "Baby Elephant Walk" is among their most recognized tracks.
Bobby's Girl
Marcie Blane
Marcie Blane is an American pop singer known for her teen pop hits in the 60s. Despite having a brief recording career, she left a significant impact in the music industry.
Bongo Stomp
Little Joey and the Flips
Little Joey & The Flips were a one-hit-wonder doo-wop group from Philadelphia. After their hit "Bongo Stomp," they disbanded shortly thereafter.
Dancin In The Strand
Maureen Gray
Maureen Gray was a talented Philadelphia-based singer who started her recording career as a teenager in the early '60s. She was known for her powerful voice and versatile range.
Desafinado (Slightly Out Of Tune)
Pat Thomas
Pat Thomas was an American singer who achieved success in the 1960s. She was a popular jazz and standards singer during her prime.
Do You Love Me?
The Contours
The Contours were one of the early African-American soul singing groups signed to Motown Records. The group is best known for its classic chart-topping 1962 hit, "Do You Love Me."
Don't Stop The Wedding
Ann Cole
Ann Cole was a truly soulful R&B singer of the '50s and '60s, famous for her recording of "Got My Mojo Working," which Muddy Waters turned into a blues standard.
Dr. Ben Basey
Mickey Shorr
Mickey Shorr is an American DJ and music producer. He was one of the pioneers of Detroit radio and produced novelty records under various names.
Duchess Of Earl
The Pearlettes
The Pearlettes were an American girl group. They are known for "Duchess of Earl," a feminine answer to Gene Chandler's hit "Duke of Earl."
Flying Circle
Frank Slay
Frank Slay was a successful songwriter, arranger, and orchestra conductor. In addition to his own recordings, he co-wrote several big hits of the 1960s, including "Incense and Peppermints" by Strawberry Alarm Clock.
Funny How Time Slips Away
Jimmy Elledge
Jimmy Elledge was an American singer known for his rich, unique vocal style. His rendition of "Funny How Time Slips Away" was a Top 25 Billboard hit in 1961.
Goodbye Dad
The Castle Sisters
The Castle Sisters were an American girl group. Their biggest hit, "Goodbye Dad," was released on Atlantic Records.
Heart Breaker
Dean Christie
Dean Christie was a talented singer and songwriter who left his mark in the music industry with his classic songs. He is best known for his passionate vocal performances.
Hey Baby!
Bruce Channel
Bruce Channel is an American singer and songwriter best known for his 1962 hit "Hey, Baby" (number one on the Billboard Hot 100 for three weeks), which featured Delbert McClinton on harmonica.
Hide & Go Seek
Bunker Hill
Bunker Hill was a pseudonym for David Walker, who was a professional boxer before he began his singing career. He recorded a number of songs in the early 1960s, including the minor hit "Hide & Go Seek."
I Don't Love You No More (I Don't Care About You)
Jimmy Norman
Known for his collaborations with Bob Marley, Jimmy Norman was a multi-talented American singer, pianist, and songwriter who played an important role in shaping the R&B genre.
I Love You
The Volumes
The Volumes were an American doo-wop group formed in 1960. The group was best known for their 1962 hit "I Love You," which peaked at number 22 on the Billboard Hot 100.
I Remember You
Frank Ifield
English-born Australian easy listening and country music singer Frank Ifield achieved considerable success in the early 1960s, particularly in the UK Singles Chart, where he had four number-one hits in 1962 and 1963.
I Wish That We Were Married
Ronnie and the Hi-Lites
Ronnie and the Hi-Lites were an American rock and roll band from Jersey City, New Jersey. In 1962, their song "I Wish That We Were Married" reached number 16 on the Billboard Hot 100.
Joey Baby
Anita and The So-and-So's
Anita and The So-and-So's were a one-hit wonder with their song "Joey Baby." Not much is known about this group as they quickly faded into obscurity after this hit.
Johnny Get Angry
Joanie Sommers
Joanie Sommers, nicknamed "The Voice of the Sixties," was a pop idol known for her Pepsi commercial and her hit song "Johnny Get Angry." She also dabbled in jazz later in her career.
Let Me In
The Sensations
The Sensations were an American doo-wop group from Philadelphia, Pennsylvania. The group's first hit was the number 4 Billboard hit "Let Me In," which sold over one million copies and was awarded a gold disc.
Let's Dance
Chris Montez
Chris Montez, born Ezekiel Christopher Montanez in Los Angeles, California, is a rock and Latin singer. He is best known for his 1962 hit song "Let's Dance."
Life's Too Short
The Lafayettes
The Lafayettes were a US doo-wop band from the early 1960s. Their biggest hit was "Life's Too Short," which reached number 87 on the Billboard Hot 100 chart in 1962.
Lipstick Traces On A Cigarette
Benny Spellman
Benny Spellman was a New Orleans R&B singer and songwriter best known for his work with Allen Toussaint. His deep baritone vocals were featured on the Ernie K-Doe hit "Mother-in-Law".
Long As The Rose Is Red
Florraine Darlin
Florraine Darlin is an American singer, best known for her single "Long As The Rose Is Red," which peaked at #61 on the Billboard Hot 100 in 1962.
Loop De Loop
Johnny Thunder
Johnny Thunder (real name: Gil Hamilton) was a pop/R&B singer, best known for his hit "Loop De Loop". He was discovered by Leiber and Stoller, famous songwriting and producing team.
Love Is The Sweetest Thing
Saverio Saridis
Saverio Saridis is an American singer and actor who debuted in the 1960s. Though not much is known about his music career, he had a modest acting career, appearing in a few TV series.
Meet Me At The Twistin Place
Johnny Morisette
Johnny Morisette was an American rhythm & blues singer, notable in the 60s. He was a member of the Johnny Otis Show and known for his gritty vocal style.
Midnight
Johnny Gibson
Johnny Gibson was a saxophonist, and one of the most sought-after studio musicians of the 60s. He played the sax solo on the Marcels' #1 hit "Blue Moon".
Moments
Jennell Hawkins
Jennell Hawkins is an American R&B singer known for her 1958 hit, "Moments to Remember". She was signed to the Swingin' Records label.
My Boomerang Wan't Come Back
Charlie Drake
Charlie Drake was a British comedian, actor, writer, and singer. In his home country, he was known for his slapstick comedy and his catchphrase "Hello, my darlings!"
My Daddy Is President
Little Jo Ann
Little Jo Ann was a child star who achieved brief fame with her song "My Daddy Is President" in 1962, an homage to the then-President John F. Kennedy.
Night Time
Pete Antell
Pete Antell was an American pop singer and songwriter. He is best known for his 1962 hit song "Night Time".
Oh My Angel
Bertha Tillman
Bertha Tillman was an American singer-songwriter, best known for her 1962 hit song "Oh My Angel". The song peaked at No. 22 on the Billboard Hot 100.
Oliver Twist
Rod McKuen
Rod McKuen was one of the best-selling poets in the United States during the late 60s, and he also composed a large amount of popular music, including songs for notable artists like Frank Sinatra.
Party Lights
Claudine Clark
Claudine Clark is a singer and composer, best known for her hit single "Party Lights," which reached number 5 on the Billboard Hot 100 in 1962. She also recorded under the pseudonym Joy Dawn for her less successful releases.
Pepino The Italian Mouse
Lou Monte
Lou Monte was an Italian-American singer known for his humorous novelty recordings. He's also famous for his Italian-themed interpretations of popular folk songs, with his other big hit being "Dominick the Donkey."
Percolator (Twist)
Billy Joe and the Checkmates
Billy Joe and the Checkmates were a studio group put together by producer Derry Weaver. The group's biggest hit was the instrumental "Percolator (Twist)," which was named after a popular model of coffee pot.
Play The Thing
Marlowe Morris Quintet
The Marlowe Morris Quintet was a Jazz ensemble led by Marlowe Morris, a Jazz pianist and organist who played with giants like Coleman Hawkins and Johnny Hodges.
Poor Little Puppet
Cathy Carroll
Cathy Carroll was an American pop singer active in the early 1960s, scoring a minor hit with "Poor Little Puppet". Despite her brief music career, she became a respected clinical psychologist.
Pushin' Your Luck
Sleepy King
Sleepy King is a blues singer and pianist, he had a hit in 1962 with "Pushin' Your Luck". Despite his name, he is not related to the famous bluesman B.B. King.
Quarter To Four Stomp
The Stompers
The Stompers were a band from Boston that had a number of local hits in the 1980s, a couple of decades after "Quarter To Four Stomp" was released. Not much information is available about the earlier band.
Queen Of My Heart
Rene and Ray
Rene and Ray were a duo known for their hit song "Queen of My Heart". The song is an example of the "East Side Sound" that was popular in Los Angeles in the 1960s.
Release Me
'Little Esther' Phillips
'Little Esther' Phillips was an American singer who transitioned from rhythm and blues to jazz and disco over her career. She fought drug addiction and died at the relatively young age of 48 in 1984.
Remember Then
The Earls
The Earls, sometimes credited as Larry Chance and the Earls, were a popular New York doo-wop group in the 1960s. They were characterized by tight harmonies and romantic lyrics.
Shimmy Shimmy Walk
The Megatons
The Megatons were a studio group assembled by Detroit producer Ollie McLaughlin. They are best known for their instrumental dance tune, "Shimmy Shimmy Walk".
Shout! Shout! Knock Yourself Out
Ernie Maresca
Ernie Maresca was a Bronx-born singer and songwriter, most famous for co-writing Dion's hit "The Wanderer." Beyond his singing career, he was successful as an executive at Laurie Records.
Small Sad Sam
Phil McLean
Phil McLean was a radio disc jockey who managed to score a Top 40 hit with his parody song "Small Sad Sam," a humorous take on the then-popular recitation records genre.
Sweet Georgia Brown
Carroll Brothers
The Carroll Brothers were a pop and soul duo who enjoyed modest success in the early 1960s. While they are best remembered for "Sweet Georgia Brown," they did not have a long-lasting career in music.
Tell Him
The Exciters
The Exciters were an American pop group whose original members included Brenda Reid, Carolyn Johnson, Lillian Walker, and Sylvia Wilbur. They were the first group to record the hit song "Do-Wah-Diddy-Diddy."
Telstar
The Tornadoes
The Tornadoes, an English surf rock band, were the first British group to have a number 1 single in the U.S. Billboard Hot 100. Their instrumental song "Telstar" was named after the satellite and composed by Joe Meek.
That Stranger Used To Be My Girl
Trade Martin
Trade Martin is an accomplished songwriter, producer, and musician, known for his work across pop, rock, and R&B genres. He has worked with iconic artists such as Ella Fitzgerald, B.B. King, and Tito Puente.
That's Life (That's Tough)
Gabriel and the Angels
Gabriel and the Angels was a doo-wop group that came out of Philadelphia in the 1960s. Their song "That's Life (That's Tough)" was a notable regional hit but didn't make a huge impact nationally.
The Push and Kick
Mark Valentino
Mark Valentino is an American pop singer from the 60s, who had one hit song, "The Push and Kick". Beyond that, very little is known about him.
The Rains Came
Big Sambo
Big Sambo and The House Wreckers were a group from the 60s. Their song "The Rains Came" is considered a classic example of Texas Gulf Coast soul.
The Stripper
David Rose
David Rose, an English-born musician and composer, worked extensively in radio, television, and film, including arranging music for "The Red Skelton Show." "The Stripper" is one of his most well-known compositions.
Theme From A Summer Place
Dick Roman
Dick Roman was a popular lounge singer in the 1960s who scored a minor hit with his version of "Theme from a Summer Place". He was a regular on "The Jack Paar Show."
Till Death Do Us Part
Bob Braun
Bob Braun was a television personality who hosted "The Bob Braun Show," a popular daytime variety show in Cincinnati, from 1967 until 1984. He was also an accomplished singer and recording artist.
Torture
Kris Jenson
Kris Jenson is an American singer whose biggest hit was "Torture" in 1962. Kris's career never quite took off, and he ultimately left the music industry, despite recording a number of tracks with Gene Vincent's backing band.
Village Of Love
Nathaniel Mayer
Nathaniel Mayer was an American rhythm and blues singer, known for his raw, impassioned vocal style. He scored a national hit with "Village of Love," but fell into obscurity before experiencing a late-career resurgence in the early 2000s.
What's Your Name
Don & Juan
Don & Juan were a doo-wop duo comprising Roland Trone and Claude Johnson. Their biggest hit was "What's Your Name," but they disbanded soon afterward. Interestingly, Johnson later sang with a later incarnation of The Genies.
Woman Is A Man's Best Friend
Teddy and the Twilights
Teddy and the Twilights were an American pop group from Philadelphia. Despite their limited commercial success, they were pioneers in combining doo-wop and rock & roll styles.