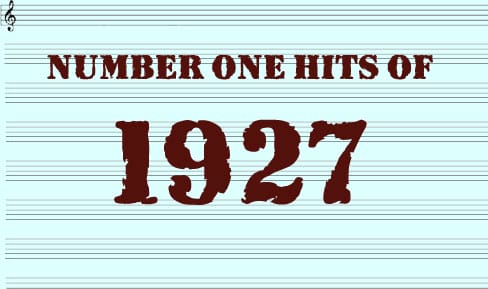 The Number One Hits of 1927
December 11, 1926 – January 7, 1927
Paul Whiteman
The Birth of the Blues
Also known as the "King of Jazz," Paul Whiteman was a skilled arranger and introduced many popular tunes of the era.
"The Birth of the Blues" celebrates the beginnings of jazz, a genre that originated in African American communities in the early 20th century.
January 8, 1927 – March 4, 1927
Paul Whiteman
In A Little Spanish Town
Whiteman's orchestra often featured prominent musicians like Bix Beiderbecke, Joe Venuti, and Eddie Lang.
This song, written by Mabel Wayne, Sam M. Lewis, and Joe Young, captures the romantic atmosphere of a quaint Spanish town.
March 5, 1927 – April 8, 1927
Sophie Tucker with Ted Lewis and His Band
Some Of These Days
Sophie Tucker (1887-1966) was a Ukrainian-born American singer known for her powerful voice, risqué humor, and exuberant stage presence.
Shelton Brooks wrote "Some Of These Days" as one of Tucker's signature songs, reflecting on lost love and eventual regret.
April 9, 1927 – April 29, 1927
Gene Austin
Tonight You Belong To Me
Gene Austin recorded over 100 songs throughout his career, selling over 80 million records.
Composed by Billy Rose and Lee David, "Tonight You Belong To Me" is a tender love song covered by numerous artists.
April 30, 1927 – May 13, 1927
Ben Selvin
Blue Skies
Ben Selvin led one of the most prolific recording orchestras of the 1920s and early 1930s, making thousands of recordings under various names.
Written by Irving Berlin, "Blue Skies" is an optimistic tune that has become a jazz standard, covered by many artists over the years.
May 14, 1927 – June 10, 1927
Ben Bernie
Ain't She Sweet?
Ben Bernie (1891-1943) was a popular violinist and bandleader known for his catchphrase "Yowsah, Yowsah, Yowsah!"
Composed by Milton Ager and Jack Yellen, "Ain't She Sweet?" is a charming, upbeat song that quickly became a popular hit.
June 11, 1927 – July 1, 1927
George Olson
At Sundown (When Love Is Calling Me Home)
George Olson (1893-1971) was an American bandleader and drummer who led a popular dance orchestra during the 1920s.
Written by Walter Donaldson, "At Sundown" is a sentimental love song with a catchy melody covered by various artists.
July 2, 1927 – August 5, 1927
Moran & Mack
Two Black Crows (The Early Bird Catches The Worm) Pts 1 & 2
Charles E. "Charlie" Moran (1878-1949) and John C. "Chic" Mack (1878-1934) were a popular American comedy duo known as "Two Black Crows."
Their comedy routine, "The Early Bird Catches The Worm," was a series of humorous dialogues between the two characters they portrayed.
August 6, 1927 – August 12, 1927
Gene Austin
Forgive Me
Gene Austin was a versatile singer and songwriter, often called "The Voice of the Southland."
"Forgive Me" is a heartfelt ballad showcasing Austin's emotive vocal, asking for forgiveness in love.
August 13, 1927 – September 9, 1927
"Whispering" Jack Smith
Me And My Shadow
"Whispering" Jack Smith (1896-1950) earned his nickname for his unique whispering singing style, which captivated audiences.
Written by Al Jolson, Billy Rose, and Dave Dreyer, "Me And My Shadow" is a popular song about loneliness and the comfort of one's own shadow.
September 10, 1927 – September 30, 1927
Roger Wolfe Kahn
Russian Lullaby
Roger Wolfe Kahn (1907-1962) was an American bandleader and composer who led a successful dance orchestra in the 1920s.
Composed by Irving Berlin, "Russian Lullaby" is a melancholy tune that paints a vivid picture of a mother singing a lullaby to her child.
October 1, 1927 – November 18, 1927
Guy Lombardo
Charmaine!
Guy Lombardo (1902-1977) was a Canadian-American bandleader known for his sweet, melodic dance music and New Year's Eve performances.
"Charmaine!" is a romantic song composed by Erno Rapee and Lew Pollack, and its melody has been used in various films and television shows.
November 19, 1927 – November 25, 1927
Paul Whiteman
My Blue Heaven
Paul Whiteman's popularity extended beyond the 1920s, and he continued to perform and record well into the 1940s.
"My Blue Heaven," written by Walter Donaldson and George Whiting, is a timeless classic about finding solace and happiness in a peaceful home.
November 26, 1927 – December 18, 1927
Red Nichols
Ida, Sweet As Apple Cider
Red Nichols (1905-1965) was an American jazz cornetist and bandleader; who led various bands, including "Red Nichols and His Five Pennies."
"Ida, Sweet As Apple Cider" is a popular song by Eddie Leonard and Eddie Munson in 1903, expressing affection for a woman named Ida.
December 17, 1927 – March 16, 1928
Gene Austin
My Blue Heaven
Gene Austin's smooth vocal style and warm personality made him one of the top-selling artists of the late 1920s and early 1930s.
"My Blue Heaven" is a popular song about finding happiness and contentment in one's home, surrounded by love, and it became one of Austin's signature hits.
The Biggest Pop Artists of 1927 include:
Louis Armstrong, Gene Austin, Ben Bernie and His Orchestra, Frank Crumit, Vernon Dalhart, Vaughn Deleath, Cliff "Ukelele Ike" Edwards, Duke Ellington, Ruth Etting, Jean Goldkette and His Orchestra, Fletcher Henderson, Ipana Troubadors, Al Jolson, Richard Wolfe Kahn, Gertrude Lawrence, Ted Lewis and His Band, Vincent Lopez and His Orchestra, Nick Lucas, Abe Lymon, Johnny Marvin, Moran & Mack, Jelly Roll Mo rton's Red Hot Peppers, Red Nichols and His Five Pennies, King Oliver and His Jazz Band, George Olson, Leo Reisman, Reverlers, Fred Rich, Harry Richman, Ben Selvin, Nat Shilkret and The Victor Orchestra, Bessie Smith, "Whispering" Jack Smith, Aileen Stanley, Frankie Trumbauer, Sophie Tucker, Fred Waring's Pennsylvanians, Ted Weems and His Orchestra, Paul Whiteman and His Orchestra
Charts based on Billboard music charts.