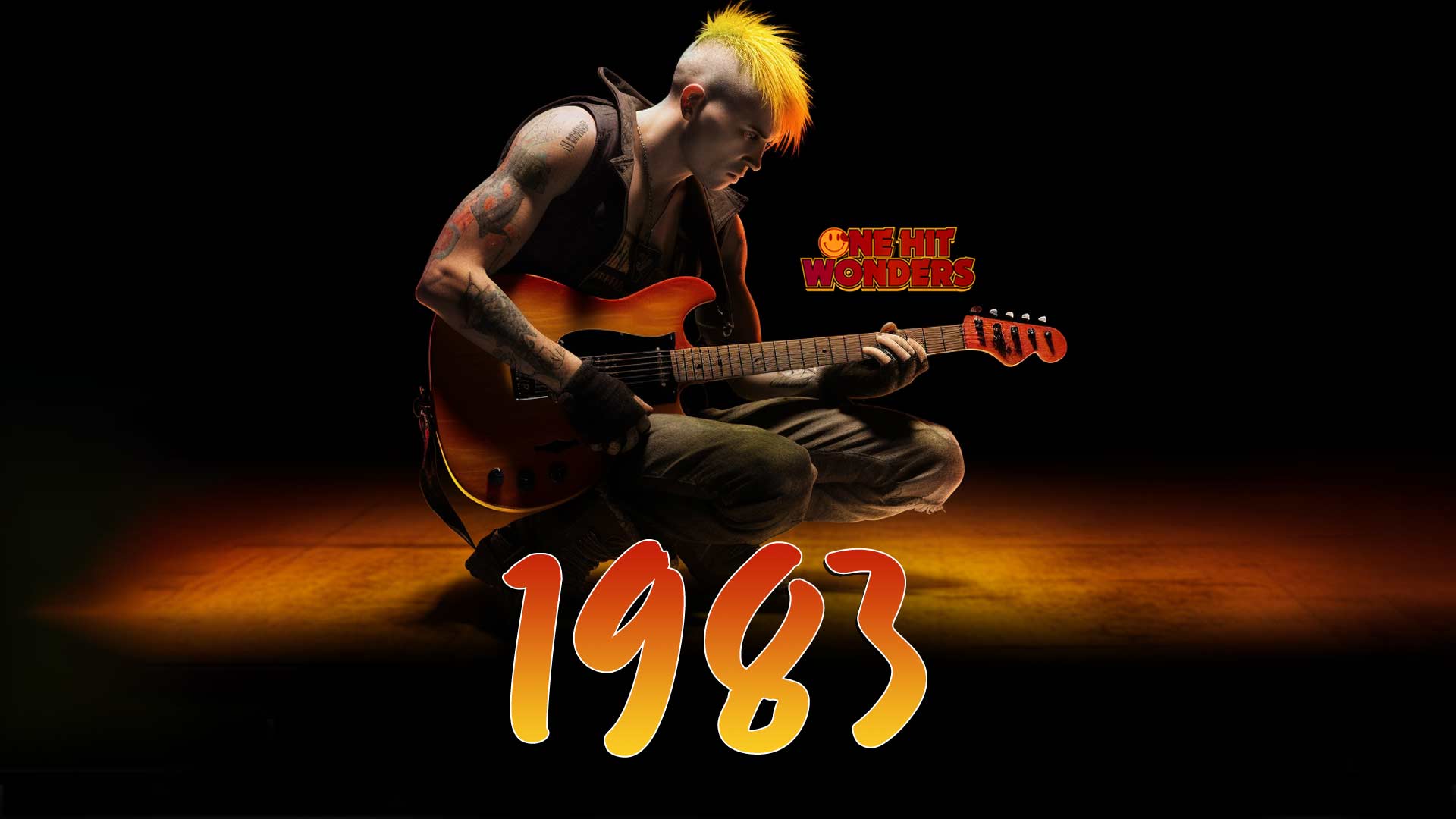 1983 One Hit Wonders & Artists Known For One Song
A Million Miles Away
The Plimsouls
The Plimsouls were an American rock band formed in 1978 in Paramount, California. Fronted by singer/songwriter Peter Case, their sound merged roots rock with new wave.
AEIOU Sometimes Y
EBN/OZN
EBN/OZN was an American synthpop duo composed of Ned "EBN" Liben and Robert "OZN" Rosen. The duo was one of the first music groups to use an Apple Computer in the creation of their music.
After I Cry Tonight
Lanier & Co
Lanier & Co. was an American R&B band from Lynchburg, Virginia that was formed in 1981. They are known for their funky style and the passionate vocals of their lead singer.
All Touch
Rough Trade
Rough Trade was a Canadian new wave rock band that was active from 1975 to 1988, centered around singers Carole Pope and Kevan Staples.
Bad, Bad Billy
Snuff
Snuff is a British punk rock band formed in Hendon in 1986. Their name reportedly came about after a long discussion about names ended up with one of them claiming, "That's Enough", which was then shortened to Snuff.
Beg, Borrow or Steal
Hughes and Thrall
Hughes/Thrall was a musical project formed in 1982 by former Deep Purple and Trapeze bassist/vocalist Glenn Hughes and guitarist Pat Thrall.
Burning Heart
Vandenberg
Vandenberg was a Dutch hard rock band named after guitarist Ad Vandenberg (born Adrianus "Adje" van den Berg). The band was popular in the 80s, particularly in the US.
Canvas Of Life
Minor Detail
Minor Detail was an Irish pop rock band formed in 1982. They are remembered for being one of the few Irish bands that found success in America in the 1980s.
China
Red Rockers
Red Rockers were originally formed in New Orleans in 1979 as a hard-core punk band. Their music style, however, evolved into a more mainstream sound by the time they moved to San Francisco in the early 80s.
Come On Eileen
Dexy's Midnight Runners
Dexys Midnight Runners are a British pop band with soul influences, who achieved their major success in the early to mid-1980s. The band's name was originally "Dexedrine", after the brand name of a type of amphetamine diet pill, but fearing legal reprisals from the drug's manufacturer, the band changed the spelling.
Count On Me
Gerard McMahon
Gerard McMahon, also known by his stage name Gerard McMann and G Tom Mac, is an English singer-songwriter, multi-instrumentalist, and producer. He composed "Cry Little Sister", the theme song for the 1987 film The Lost Boys.
Curly Shuffle
The Jump In The Saddle Band
The Jump 'N the Saddle Band was an American country pop group from Chicago, Illinois. The group was formed in 1978, and was most commonly known for their minor 1984 hit, "The Curly Shuffle", a tribute to Curly Howard of the Three Stooges.
Der Kommissar
After The Fire
After the Fire (or ATF) were a British rock band that transitioned from playing progressive rock to new wave over their initial ten-year career, while having only one hit in the United States and one hit in the United Kingdom.
Do It Again/Billie Jean
Club House
Club House was an Italian house music studio group composed of Gianfranco Bortolotti, Carl Fanini, Hidalgo Serra, and Silvio Pozzoli. They climbed to number 75 on the U.S. Billboard Hot 100 in 1983 with their medley of Steely Dan's "Do It Again" and Michael Jackson's "Billie Jean."
Drop The Pilot
Joan Armatrading
Joan Armatrading is a British singer-songwriter and guitarist influential in the development of the UK's folk rock scene. She was the first black British female singer-songwriter to enjoy great success abroad.
Electric Avenue
Eddy Grant
Eddy Grant is a British-Guyanese musician known for his genre-blending style which incorporates elements of reggae, pop, and rock. His 1982 album "Killer on the Rampage" peaked at #10 on the Billboard 200 chart.
Escalator Of Life
Robert Hazard
Robert Hazard was an American musician best known for composing the song "Girls Just Want to Have Fun," which was later made famous by Cyndi Lauper. He was a pivotal figure in the 1980s Philadelphia music scene.
Everybody Knows Your Name (Cheers Theme)
Gary Portnoy
Gary Portnoy is an American musician and songwriter who co-wrote the theme songs for the sitcoms "Cheers" and "Punky Brewster." His contributions to television soundtracks earned him several ASCAP awards.
Fade Away
Loz Netto
Loz Netto is an English singer-songwriter and guitarist who was a member of the band Sniff 'n' the Tears, which scored a big hit in 1979 with the song "Driver's Seat."
Far From Over
Frank Stallone
Frank Stallone is an American actor, singer-songwriter and guitarist, best known for writing and performing the song "Far from Over" from the film "Staying Alive" (1983), which was directed by his brother, Sylvester Stallone.
Girls Don't Get Lonely
Glenn Shorrock
Glenn Shorrock is an English-born Australian singer-songwriter who was a founding member of rock bands The Twilights, Axiom, Little River Band, and post LRB spin-off trio Birtles Shorrock Goble.
I.O.U.
Freeze
Freeze was a British electronic music duo, known for their 1983 UK hit pop single, "I.O.U.". The song was produced by Arthur Baker and remixed by Jellybean Benitez and Baker.
I Couldn't Say No
Robert Ellis Orrall with Carlene Carter
Robert Ellis Orrall is an American singer, songwriter, and record producer. Before turning his attention to country music in the late 1980s, he recorded two pop albums. Carlene Carter is the daughter of June Carter and her first husband, Carl Smith.
I Eat Cannibals
Total Coelo
Total Coelo was a 1980s British new wave group, masterminded by producer Barry Blue. They are best known for their 1982 UK hit single "I Eat Cannibals", which reached No. 8 in the UK Singles Chart.
I Know There's Something Going On
Frida
Frida, also known as Anni-Frid Lyngstad, is a Norwegian-Swedish singer, songwriter and environmentalist, and is best known as one of the lead singers of the Swedish pop band ABBA.
I Melt With You
Modern English
Modern English are a new wave/post-punk band from Colchester, Essex, England formed in 1979. They're best known for their hit "I Melt with You", which has been covered by a variety of artists.
If Love Should Go
Streets
Streets was an American rock band formed in 1983 by Kansas drummer Steve Walsh. They were signed to Atlantic Records.
In a Big Country
Big Country
Big Country was a Scottish rock band formed in 1981. They were known for their use of Scottish folk instruments and themes, and for their distinctive sound that often resembled bagpipes.
It's Raining Men
The Weather Girls
The Weather Girls, originally known as Two Tons O' Fun, are an American musical duo consisting of Izora Armstead and Martha Wash. Wash also provided vocals for the disco hits of Sylvester and the dance band C+C Music Factory.
Juicy Fruit
Mtume
Mtume was a funk and soul group headed by musician James Mtume, who previously played with jazz legend Miles Davis. The group's biggest hit was "Juicy Fruit," which has been frequently sampled in hip hop music.
Just Got Lucky
JoBoxers
JoBoxers was a British new wave group formed in 1982. The band's members had previously been part of the group Subway Sect, which was a favorite of the BBC DJ John Peel.
Keep It Tight
Single Bullet Theory
Single Bullet Theory was an American new wave band from Philadelphia, Pennsylvania. They were a part of the local techno-pop scene of the early 1980s.
Let Me Go
Heaven 17
Heaven 17 is an English new wave and synth-pop band that formed in Sheffield in 1980. The band was a side project of the British Electric Foundation (B.E.F.), a production company led by Martyn Ware, a founding member of The Human League.
Let The Music Play
Shannon
Shannon is an American singer and songwriter of freestyle and dance-pop music. She is best known for her single "Let the Music Play", which topped the Billboard Dance Club Songs chart in 1983 and was nominated for a Grammy Award.
Major Tom
Peter Schilling
Peter Schilling is a German synthpop musician whose 1983 hit "Major Tom (Coming Home)" was a retelling of David Bowie's classic 1969 song "Space Oddity".
Maniac
Michael Sembello
Michael Sembello is an American singer-songwriter best known for his iconic '80s hit "Maniac" from the movie "Flashdance." He has also worked as a session guitarist for many popular artists including Stevie Wonder.
Maybe This Day
Kissing The Pink
Kissing The Pink was a British new wave/synthpop group from London, England. They had a Top 20 hit on the UK Singles Chart in 1983 with "The Last Film".
Mexican Radio
Wall of Voodoo
Wall of Voodoo was an American band from Los Angeles best known for the 1983 hit "Mexican Radio". They were a part of the early 80s L.A. New Wave/Alternative scene.
Midnight Blue
Louise Tucker
Louise Tucker is a British singer who gained fame through her synthesized reworking of classic operatic and symphonic compositions. Her parents were both classical musicians, and she herself studied at the Royal Academy of Music.
Never Tell An Angel (When Your Heart's On Fire)
The Stompers
The Stompers were an American rock band formed in Boston, Massachusetts in 1977. They gained local popularity and their song "Never Tell an Angel (When Your Heart's on Fire)" featured in the 1986 film, 'The Money Pit'.
Night Pulse
Double Image
Double Image was a new wave band based in the US. Despite their lack of mainstream success, their music was quite influential and encapsulated the electronic sound of the early '80s.
One Thing Leads To Another
The Fixx
The Fixx are a rock and new wave band from London, England. They're one of the few English bands of the 80s that enjoyed significant success in the U.S while being almost completely ignored in their homeland.
Our House
Madness
Madness, a British band, are one of the most prominent bands of the late 1970s and early 1980s 2 Tone ska revival scene in the UK. They continue to perform with their most recognised lineup of seven members.
Papa Was a Rollin' Stone
Wolf
Wolf was an American rock band that was active in the early 1980s. This band's rendition of "Papa Was a Rollin' Stone" was a funk rock version of the original by The Temptations.
Please Mr. Postman
Gentle Persuasion
Gentle Persuasion was an American soul band active in the early 1980s. Their cover of "Please Mr. Postman" showed the band's capacity to re-imagine classic Motown hits.
Puttin' On The Ritz
Taco
Taco Ockerse, known mononymously as Taco, is an Indonesian-born Dutch singer and entertainer. His synth-driven cover of Irving Berlin's "Puttin' On the Ritz" became an international hit in 1983.
Reap The Wild Wind
Ultravox
Ultravox are a British new wave band, formed in 1974 as Tiger Lily. They were one of the primary exponents of the British electronic pop music movement of the late 1970s/early 1980s.
Safety Dance
Men Without Hats
Men Without Hats are a Canadian new wave/synthpop group, originally from Montreal, Quebec. Their music is characterized by the distinctive baritone voice of their lead singer Ivan.
Scatterlings of Africa
Juluka
Juluka was a South African band formed in 1969 by Johnny Clegg and Sipho Mchunu. Juluka means "sweat", and was the name of a bull owned by Mchunu.
Searchin (I Gotta Find a man)
Hazell Dean
Hazell Dean is an English dance-pop singer, who achieved her biggest success in the 1980s. She was one of the first artists to work with the production team of Stock Aitken Waterman.
She Blinded Me With Science
Thomas Dolby
Thomas Dolby is an English musician, producer, and entrepreneur best known for his 1982 hit "She Blinded Me with Science", and for his work in the synthpop genre. Dolby has also worked extensively as a producer and a technology innovator.
She's A Beauty
The Tubes
The Tubes are a San Francisco-based rock band whose 1975 debut album included the hit single "White Punks on Dope". Their most memorable hit, "She's a Beauty", was a playful critique of beauty standards.
Shiny Shiny
Haysi Fantayzee
Haysi Fantayzee was a British new wave band of the early 1980s, featuring Kate Garner, Paul Caplin, and Jeremy Healy. The band was a one-hit wonder, with their most successful track being "John Wayne is Big Leggy".
Should I Love You
Cee Farrow
Christian F. Kruzinski, known by his stage name Cee Farrow, was a German singer signed to Rocshire Records. Farrow was openly gay and his music found a following within the LGBT community in the 1980s.
Slang Teacher/Chicken Outlaw
Wide Boy Awake
Wide Boy Awake was a British new wave band, active during the late 1980s. They were formed by Kevin Mooney, an ex-member of Adam & the Ants and had a unique musical style that was a fusion of punk, reggae, and soul.
So Many Men, So Little Time
Miquel Brown
Miquel Brown is a Canadian actress and disco/soul singer in the 1970s and 1980s, most popular for the songs "Close to Perfection" and the Hi-NRG songs "So Many Men, So Little Time" and "He's A Saint, He's A Sinner".
Solid Rock
Goanna
Goanna is an Australian rock group which formed in 1977 in Geelong, and integrated social protest with popular music. They are best known for their song "Solid Rock" which spoke about the indigenous Australian connection to land.
State of the Nation
Industry
Industry was a New York-based synth-pop band in the 1980s. Their most successful chart hit was "State of the Nation" in 1983.
Stop Doggin' Me Around
Klique
Klique was an American R&B trio, consisting of Howard Huntsberry, Debbie Hunter, and Isaac Suthers. They were best known for their covers of R&B classics, including "Stop Doggin' Me Around".
Swingin'
Jon Anderson
Jon Anderson is best known as the lead vocalist for the British rock band Yes, which achieved worldwide success with their progressive music, mystical lyrics, and elaborate album covers. Anderson left Yes in 1980 and began a successful solo career, including the hit single "Swingin'".
Take It Away
Big Ric
Big Ric, also known as Ric Sandler, is a musical artist and composer. He's known for his work on film scores, including popular movies like 'Rocky IV' and 'Transformers: The Movie.'
Talking In Your Sleep
The Romantics
The Romantics are an American rock band from Detroit, formed in 1977. The band adopted the name "The Romantics" because they formed on Valentine's Day.
The Fanatic
Felony
Felony was an American new wave and rock band formed in 1978 in Los Angeles. They are known for their 1983 hit single, "The Fanatic" which was played heavily on MTV and appeared on the soundtrack for the 1983 film 'Valley Girl.'
The Salt In My Tears
Martin Briley
Martin Briley is a British singer-songwriter and musician. He has released seven solo albums and written songs for a wide variety of artists, including *NSYNC, Pat Benatar, and Celine Dion.
Too Shy
Kajagoogoo
Kajagoogoo is a British synth-pop band that rose to popularity in the early 1980s. Band member, Nick Beggs, is noted for his pioneering work on the Chapman Stick, a unique string instrument.
What You Do To Me
Carl Wilson
Carl Wilson was an American musician and singer, best known as a founding member, lead guitarist, and occasional lead vocalist of The Beach Boys. Wilson's notably high voice was a prominent factor in establishing the band's sound.
Whirly Girl
Oxo
Oxo was a short-lived American dance-rock band of the 1980s, composed of Ish 'Angel' Ledesma, Frank Garcia, and Orlando Nuñez. Ledesma had formerly been a member of Foxy.
White Lines
Grandmaster Flash
Grandmaster Flash is an American musician and DJ considered one of the pioneers of hip-hop DJing, cutting, and mixing. He was the first DJ to physically manipulate the vinyl record in a way that produced real-time sound alterations.
Who's Behind The Door?
Zebra
Zebra is an American hard rock band that was formed in 1975 in New Orleans, Louisiana. It features Randy Jackson, who has been named as one of the most underrated guitarists by Gibson Guitar Corporation.
Why Me?
Planet P
Planet P Project is a pseudonym used by American rock musician and producer Tony Carey for his more experimental recordings. Carey was also the former keyboardist for the band Rainbow.
Words
F.R. David
F.R. David (born Elli Robert Fitoussi) is a Tunisian-born French singer, best known for his 1982 hit single "Words". He was also a part of the rock band Les Variations, which was the first French band to sign with a major American record label.