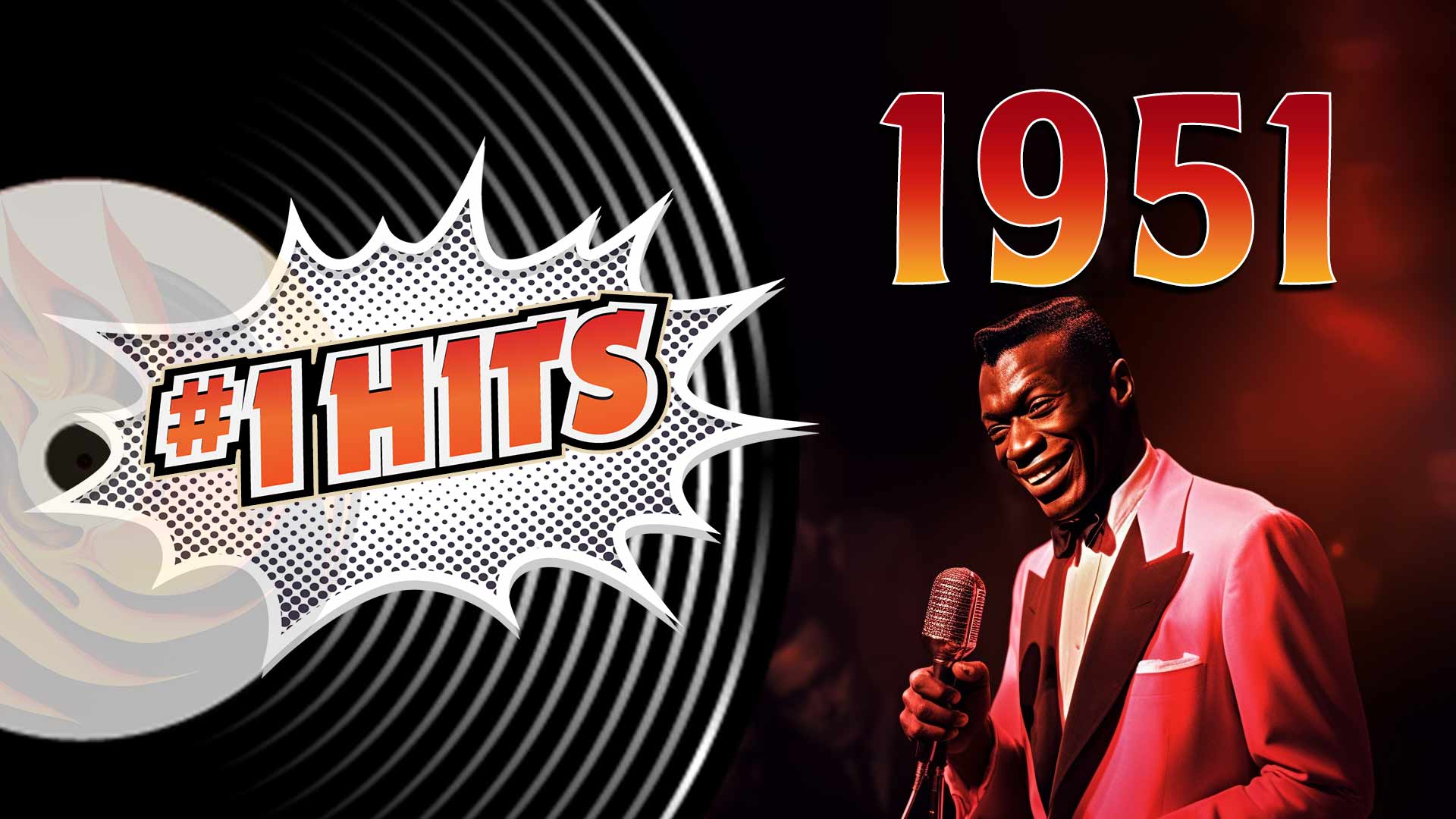 The Number One Hits Of 1951
Dec 30, 1950 – Mar 2, 1951
Patti Page
The Tennessee Waltz
Patti Page earned the nickname "The Singing Rage" due to her widespread popularity during her career.
"The Tennessee Waltz" became one of the best-selling singles of the early 1950s and a country music standard.
Mar 3, 1951 – Mar 9, 1951
Perry Como
If
Perry Como was an accomplished golfer and enjoyed the sport throughout his life, even competing in pro-am tournaments.
"If" was written by Robert Hargreaves, Stanley J. Damerell, and Tolchard Evans and became a hit for Perry Como.
Mar 10, 1951 – Apr 20, 1951
Mario Lanza
Be My Love
Mario Lanza was a talented tenor known for his powerful and expressive voice and his performances in Hollywood films.
"Be My Love" was composed by Nicholas Brodszky with lyrics by Sammy Cahn and became one of Lanza's best-known songs.
Apr 21, 1951 – Jun 22, 1951
Les Paul and Mary Ford
How High The Moon
Les Paul pioneered electric guitar design and multi-track recording, while Mary Ford was an accomplished vocalist.
"How High The Moon," a jazz standard, was composed by Morgan Lewis with lyrics by Nancy Hamilton and became a hit for the duo.
Jun 23, 1951 – Jul 27, 1951
Nat King Cole
Too Young
Nat King Cole was also an accomplished jazz pianist and formed the King Cole Trio in the 1930s.
"Too Young" was composed by Sidney Lippman with lyrics by Sylvia Dee and became a major hit for Nat King Cole.
Jul 28, 1951 – Sep 7, 1951
Rosemary Clooney
Come On-a My House
Rosemary Clooney was the aunt of actor George Clooney and had a successful acting career in addition to her singing.
"Come On-a My House" was written by Ross Bagdasarian and William Saroyan, showcasing Clooney's sultry vocal style.
Sep 8, 1951 – Nov 2, 1951
Tony Bennett
Because Of You
Tony Bennett is also a talented painter, exhibiting many of his works in galleries and museums.
"Because Of You," written by Arthur Hammerstein and Dudley Wilkinson, became one of Tony Bennett's first major hits.
Nov 3, 1951 – Dec 14, 1951
Tony Bennett
Cold, Cold Heart
Tony Bennett served in the U.S. Army during World War II before launching his music career.
"Cold, Cold Heart" was a country song written by Hank Williams, which Tony Bennett successfully adapted into a pop hit.
Dec 15, 1951 – Dec 28, 1951
Eddy Howard
Sin
Eddy Howard was a popular bandleader and vocalist known for his smooth, romantic singing style.
"Sin" was composed by Zolotow, David Mann, and George Hoven and became one of Eddy Howard's most successful hits.
Dec 29, 1951 – Mar 14, 1952
Johnnie Ray and The Four Lads
Cry
Johnnie Ray was known as "The Prince of Wails" for his emotional singing style, while The Four Lads were a popular Canadian vocal group.
"Cry" was written by Churchill Kohlman and became a major hit, showcasing Johnnie Ray's emotive vocal delivery with The Four Lads' harmonies.
The Biggest Pop Artists of 1951 include:
Charles Brown, The Clovers, The Dominoes, Eddie Howard, Four Aces, Frank Sinatra, Frankie Laine, Guy Mitchell, Hank Williams, Jo Stafford, Joe Turner, Johnny Ray, Les Paula & Mary Ford, Mario Lanza, Nat 'King' Cole, Perry Como, Rosemary Clooney, Tommy Edwards, Tony Bennett, Vaughn Monroe, Vic Damone, Dinah Washington, The Weavers
(HPS music data is compiled from charts, including Billboard's Pop, Rock, Airplay, R&B/Dance, and Singles Charts. The Hot 100 is the primary chart used for this list.)