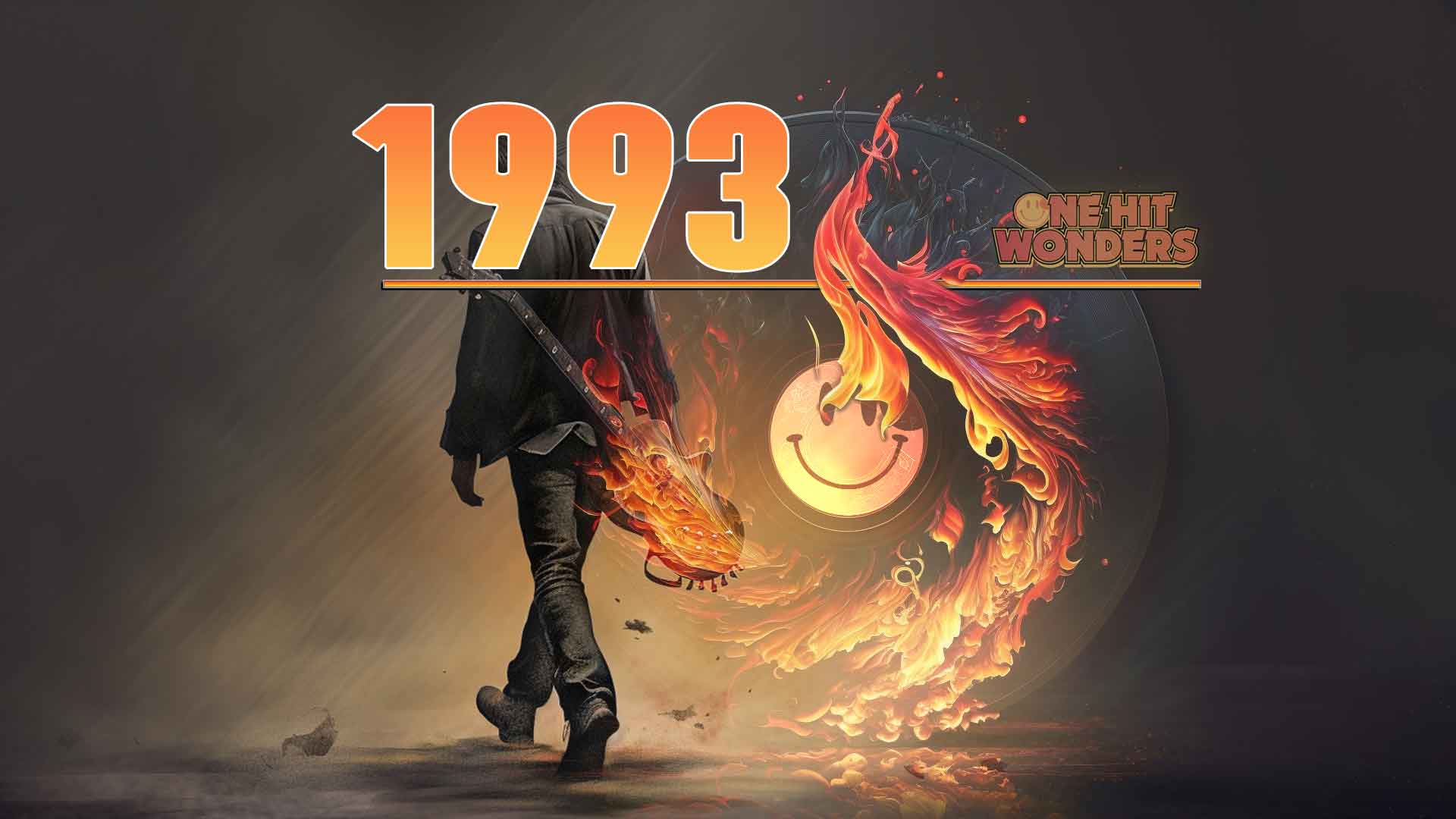 1993 One Hit Wonders & Artists Known For One Song
93 'Til Infinity
Souls Of Mischief
Souls of Mischief is an American hip hop group from Oakland, California, that is also part of the hip hop collective Hieroglyphics.
Bow Wow Wow
Funkdoobiest
Funkdoobiest is a Latin hip hop group from Los Angeles. The original members were Son Doobie, a Puerto Rican rapper, DJ Ralph M and Tomahawk Funk.
Cannonball
The Breeders
The Breeders is an American alternative rock band based in Dayton, Ohio, consisting of the twin sisters Kim and Kelley Deal.
Cantaloop
US3
US3 is a British jazz-rap group founded in London in 1991. A Horace Parlan record inspired their name.
Closer
Remedy
Remedy is an American rapper and producer associated with the Wu-Tang Clan, being the first white rapper affiliated with the group.
Come Baby Come
K7
K7 is an American musician and former lead vocalist of freestyle music group TKA.
Come In Out of the Rain
Wendy Moten
Wendy Moten is an American singer, who is best known for this 1992 song, which reached number 8 on the Billboard Adult Contemporary chart.
Cry No More
II D Extreme
II D Extreme was an American new jack swing group from the early 1990s that included D'Extra Wiley, Randy Gill and Jermaine Mickey.
Dazzey Dukes
Duice
Duice is a rap duo consisting of I Smooth 7 and Johnny Z, who are known for their racy lyrics and booming bass.
Deeper
Boss
Boss is an American rapper from Detroit, Michigan, and one of the first female rappers to be signed to a major record label.
Ditty
Paperboy
Paperboy is an American rapper best known for his song "Ditty", which led to his album "The Nine Yards" going Platinum.
Dizz Knee Land
dada
dada is an American rock band formed in California in 1992, composed of Michael Gurley, Joie Calio and Phil Leavitt.
Do Da What
1 Of The Girls
1 Of The Girls was an American R&B girl group in the 1990s, which consisted of quartet members Nina Creque, Tresan Raphael, Lemechia Griffin and Mitzi Quinn.
Dur Dur D'Etre Bebe! (It's Tough To Be A Baby!)
Jordy
Jordy is a French singer and was the youngest singer to have a number 1 hit at the age of 4.
Falling In Love
New Born
New Born was a short-lived R&B group of the 90s, they only released a single album.
Feed The Tree
Belly
Belly is an alternative rock band formed in 1991 by former Throwing Muses member Tanya Donelly.
Flex
Mad Cobra
Mad Cobra is a Jamaican reggae musician who became popular in the early 1990s and is best known for his hardcore dancehall sound.
Foreplay
Raab
Raab is an R&B singer known for his soulful voice and romantic ballads.
Gangsta Bitch
Apache
Apache was an American rapper from New Jersey and a member of the Flavor Unit, a hip hop collective.
Gangsta Lean
D.R.S.
D.R.S. was a vocal group from Sacramento, California. They were named after the members' surnames initials – Driver, Reid, and Sparks.
Give Him A Love He Can Feel
Tene Williams
Tene Williams is an American singer who is the cousin of the legendary singer Al B. Sure!.
Give It To You
Martha Wash
Martha Wash is a two-time Grammy nominee, known for her powerful mezzo-soprano vocals. She was also part of the duo The Weather Girls.
Give It Up
The Goodmen
The Goodmen is a house music duo from the Netherlands, composed of DJ Zki & Dobre.
Happy
Legacy of Sound
Legacy of Sound was a Swedish dance music group, with the lead singer Meja before her successful solo career.
Hey Mr. DJ
Zhane
Zhane was an American R&B and hip hop soul duo, composed of members Renée Neufville and Jean Norris. They were one of the most successful R&B acts during the 1990s.
I Got A Man
Positive K
Positive K is an American MC and songwriter from the Bronx, New York City, who is well-known for his hits during the late 1980s and early 1990s.
I Love You Period
Dan Baird
Dan Baird is an American musician, singer, and songwriter, best known as the lead singer and rhythm guitarist from the chart-topping rock band The Georgia Satellites.
I'm Gonna Be (500 Miles)
The Proclaimers
The Proclaimers are a Scottish rock duo composed of identical twin brothers Charlie and Craig Reid. They are known for performing in their regional Edinburgh accents.
I'm Gonna Get You
Bizarre Inc
Bizarre Inc was an English techno group originally formed in 1989 by English DJs Dean Meredith and Mark "Aaron" Archer.
Indo Smoke
Mista Grimm
Mista Grimm is a rapper known for his West Coast style and collaborations with artists like Warren G.
Informer
Snow
Snow is a Canadian reggae musician best known for his 1992 single "Informer", which spent seven weeks at No. 1 on the US Billboard Hot 100.
Insane in the Brain
Cypress Hill
Cypress Hill is an American hip-hop group from South Gate, California, known for being the first Latino American hip hop group to have platinum and multi-platinum albums.
Into Your Arms
The Lemonheads
The Lemonheads is an American alternative rock band first formed in 1986 by Evan Dando, Ben Deily, and Jesse Peretz.
It's Gonna Be A Lovely Day
The S.O.U.L. S.Y.S.T.E.M.
The S.O.U.L. S.Y.S.T.E.M. was a project assembled by Robert Clivilles and David Cole, the production duo behind C+C Music Factory.
It's My Life
Dr Alban
Dr Alban is a Nigerian-Swedish musician and producer, his music can best be described as a Eurodance/hip-hop reggae in a dancehall style.
Knockin Da Boots
H-Town
H-Town is an American R&B vocal group from Houston, Texas, known for their #1 hit "Knockin' Da Boots".
La La Love
Bobby Ross Avila
Bobby Ross Avila is a Grammy-winning artist, producer, and songwriter, who has worked with Usher, Janet Jackson, and Mary J. Blige among others.
Lonely
Anthrax
Anthrax is a New York City American heavy metal band formed in 1981. The group is considered one of the leaders of the thrash metal scene.
Love Me The Right Way
Rapination and Kym Mazelle
Kym Mazelle is an American singer-songwriter known as "The First Lady of House Music." Rapination was a short-lived project of the British producers Ian Levine and Danny D.
Love U More
Sunscreem
Sunscreem is a band from Essex, England that scored a number of hits on the US Hot Dance Music/Club Play chart in the 1990s.
Loving Arms
Darden Smith
Darden Smith is an Austin-based singer-songwriter known for his blend of Americana and country music.
More and More
Captain Hollywood Project
Captain Hollywood Project is a German Eurodance music project best known for the hits "More and More," and "Only with You."
Murder She Wrote
Chaka Demus and Pliers
Chaka Demus and Pliers are a Jamaican reggae duo known for their hits in the '90s. They are the first Jamaican act to have three consecutive Top 5 hits on the UK Singles Chart.
Mr. Vain
Culture Beat
Culture Beat is a German Eurodance project formed in 1989 by Torsten Fenslau. "Mr. Vain" was a number one hit in 13 countries.
No Rain
Blind Melon
Blind Melon is an American rock band best known for their 1992 hit "No Rain", and for its late frontman Shannon Hoon's distinctive vocal style.
Nothin My Love Can't Fix
Joey Lawrence
Joey Lawrence is an American actor, singer, and game show host known for his work on TV shows like "Blossom" and "Brotherly Love". He reached #19 on the Billboard Hot 100 chart with this song.
Push The Feeling On
Nightcrawlers
Nightcrawlers is a Scottish house music project, assembled by producer, DJ and vocalist John Reid.
Rebirth of Slick (Cool Like Dat)
Digable Planets
Digable Planets is an American hip hop trio from Brooklyn, New York, composed of Ishmael "Butterfly" Butler, Mary Ann "Ladybug Mecca" Vieira, and Craig "Doodlebug" Irving.
Roll Wit Tha Flava
The Flavor Unit MCs
The Flavor Unit MCs is a crew of emcees and DJs from New York City and Northern New Jersey. It is now known as The Unit and is led by Queen Latifah.
Same Ol Sh*t
MC Ren
MC Ren is an American rapper, songwriter and record producer from Compton, California, and a founding member of the influential group N.W.A.
Save Your Love
Bad Boys Blue
Bad Boys Blue is a multinational pop group that was formed in Cologne, Germany, known for their catchy, simple melodies and lyrics.
Shoop Shoop (Never Stop Givin' You Love)
Michael Cooper
Michael Cooper is an American R&B singer, best known as the lead vocalist of the funk band Con Funk Shun.
Show Me Love
Robin S
Robin S is an American house music singer and songwriter, who scored success in the 1990s with her hit singles "Show Me Love" and "Luv 4 Luv".
Slam
Onyx
Onyx is an American hardcore hip hop group from South Jamaica, Queens, New York City, consisting of Fredro Starr, Sticky Fingaz, Sonny Seeza, and the late Big DS.
Sleeping Satellite
Tasmin Archer
Tasmin Archer is an English soul/pop/rock singer, known for her soulful voice. Her first record, Great Expectations, spawned the hit "Sleeping Satellite," which reached number one on the UK Singles Chart.
So Alone
Men At Large
Men At Large is an American R&B group from Cleveland, Ohio, whose members, David L. Tolliver and Jason Champion, frequently changed throughout their active years.
So Close
Dina Carroll
Dina Carroll is a British singer of Scottish and African heritage who had a string of hits from the late 80s to the mid-90s including her biggest hit "Don't Be a Stranger".
Speed
Alpha Team
Alpha Team was an American Electronic dance music group. They were best known for their song "Speed," which reached number 2 on the Billboard Dance Club Songs chart.
Streight Up Menace
MC Eiht
MC Eiht is an American rapper and actor, many know him as one of the pioneers of gangsta rap with his raw narratives of life on the streets.
Supermodel (You Better Work)
RuPaul
RuPaul is an American drag queen, actor, model, singer, and television personality, known for his reality competition series RuPaul's Drag Race.
Tap The Bottle
Young Black Teenagers
Young Black Teenagers were an American hip hop group from Long Island, New York, despite the group members being white.
Teddy Bear
G – Wiz
G – Wiz is an American rapper and hip-hop artist who was active in the early 1990s.
The Three Little Pigs
Green Jelly
Green Jelly is an American comedy rock band known for their sophomoric humor, theatrical performances, and intentionally crude musicianship.
Trashy Women
Confederate Railroad
Confederate Railroad is an American country rock–Southern rock band founded in 1987 in Marietta, Georgia.
Typical Reasons (Swing My Way)
Prince Markie Dee
Prince Markie Dee was a member of the pioneering hip-hop group the Fat Boys, and later achieved success as a songwriter and producer.
Understand This Groove
Sound Factory
Sound Factory was a dance music project by music producers Robert Clivillés and David Cole, best known for being part of C+C Music Factory.
Very Special
Big Daddy Kane
Big Daddy Kane is a Grammy Award-winning American rapper and actor who started his career in 1986 as a member of the Juice Crew rap collective.
Voice of Freedom
Freedom Williams
Freedom Williams is an American hip hop and dance music performer, who gained fame as the lead vocalist on C+C Music Factory's biggest hits.
We Getz Buzy
Illegal
Illegal was a short-lived hip hop duo composed of Jamal Phillips and Malik Edwards, that was signed to Rowdy Records.
What Is Love
Haddaway
Haddaway is a Trinidadian-German singer best known for his 1993 hit "What Is Love", which topped the charts in several countries.
What's Up
4 Non Blondes
4 Non Blondes was a San Francisco, California American rock band, formed in 1989. Bassist Christa Hillhouse, guitarist Shaunna Hall, drummer Wanda Day, and vocalist and guitarist Linda Perry formed the group.
Whoomp! (There It Is)
Tag Team
Tag Team is an American hip hop/pop duo from Atlanta, Georgia, best known for their 1993 hit "Whoomp! (There It Is)".
Whoot, There It is
95 South
95 South is an American hip hop group from Jacksonville, Florida, best known for their hit singles "Whoot, There It Is", and "Rodeo".
Yolanda
Reality
Reality was a short-lived music group formed in New York City in 1992.
You Make Me Smile
Dave Koz
Dave Koz is an American smooth jazz saxophonist, known for his high-energy performances and musical ingenuity.