1993 One Hit Wonders & Artists Known For One Song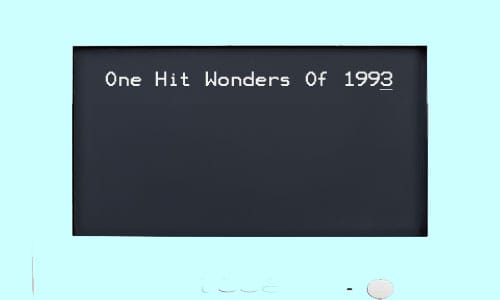 93 'Til Infinity – Souls Of Mischief
Bow Wow Wow – Funkdoobiest
Cannonball – The Breeders
Cantaloop – US3
Closer – Remedy
Come Baby Come – K7
Come In Out of the Rain – Wendy Moten
Cry No More – II D Extreme
Dazzey Dukes – Duice
Deeper – Boss
Ditty – Paperboy
Dizz Knee Land – dada
Do Da What – 1 Of The Girls
Dur Dur D'Etre Bebe! (It's Tough To Be A Baby!) – Jordy
Falling In Love – New Born
Feed The Tree – Belly
Flex – Mad Cobra
Foreplay – Raab
Gangsta Bitch – Apache
Gangsta Lean – D.R.S.
Give Him A Love He Can Feel – Tene Williams
Give It To You – Martha Wash
(Martha was also part of the Weather Girls, C+C Music Factory, Black Box and others)
Give It Up – The Goodmen
Happy – Legacy of Sound
Hey Mr. DJ – Zhane
I Got A Man – Positive K
I Love You Period – Dan Baird
I'm Gonna Be (500 Miles) – The Proclaimers
I'm Gonna Get You – Bizarre Inc
Indo Smoke – Mista Grimm
Informer – Snow
Insane in the Brain – Cypress Hill
Into Your Arms – The Lemonheads
It's Gonna Be A Lovely Day – The S.O.U.L. S.Y.S.T.E.M.
It's My Life – Dr Alban
Knockin Da Boots – H-Town
La La Love – Bobby Ross Avila
Lonely – Anthrax
Love Me The Right Way – Rapination and Kym Mazelle
Love U More – Sunscreem
Loving Arms – Darden Smith
More and More – Captain Hollywood Project
Murder She Wrote – Chaka Demus and Pliers
Mr. Vain – Culture Beat
No Rain – Blind Melon
Nothin My Love Can't Fix – Joey Lawrence
Push The Feeling On – Nightcrawlers
Rebirth of Slick (Cool Like Dat) – Digable Planets
Roll Wit Tha Flava – The Flavor Unit MCs
Same Ol Sh*t – MC Ren
Save Your Love – Bad Boys Blue
Shoop Shoop (Never Stop Givin' You Love) – Michael Cooper
Show Me Love – Robin S
Slam – Onyx
Sleeping Satellite – Tasmin Archer
So Alone – Men At Large
So Close – Dina Carroll
Speed – Alpha Team
Streight Up Menace – MC Eiht
Supermodel (You Better Work) – RuPaul
Tap The Bottle – Young Black Teenagers
Teddy Bear – G – Wiz
The Three Little Pigs – Green Jelly
Trashy Women – Confederate Railroad
Typical Reasonsa (Swing My Way) – Prince Markie Dee
Understand This Groove – Sound Factory
Very Special – Big Daddy Kane
Voice of Freedom – Freedom Williams
We Getz Buzy – Illegal
What Is Love – Haddaway
What's Up – 4 Non Blondes
Whoomp! (There It Is) – Tag Team
Whoot, There It is – 95 South
Yolanda – Reality
You Make Me Smile – Dave Koz . .