Born in 1974? Find Your Conception Song!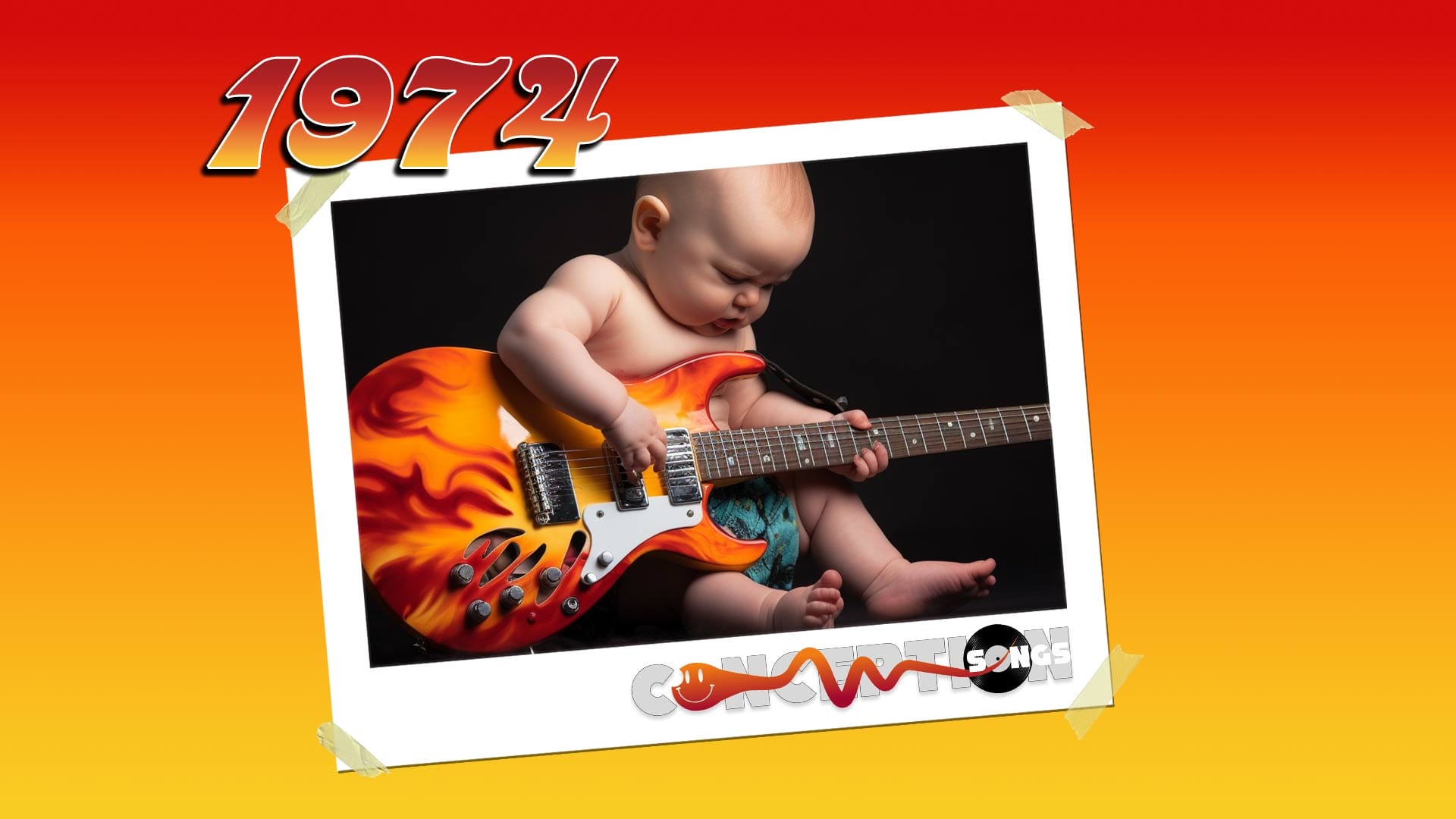 Born this year?
Some of the songs Mom & Dad were listening to on the radio included: Let's Get It On by Marvin Gaye, Touch Me In The Morning by Diana Ross and Little Willie by The Sweet.
Check the date to find the # 1 song when you were conceived, nine months ago!
The average length of human gestation (Your 'Conception Era') is 280 days, or 40 weeks, from the first day of the woman's last menstrual period. The medical term for the due date is estimated date of confinement (EDC).
If you were born late, or a bit premature, add or subtract those days.
This Year's Euphemism: Tying a yellow ribbon around the old oak tree
Your Birthday:
January 1st, 1974:
The O'Jays – Love Train
January 2nd, 1974:
The O'Jays – Love Train
January 3rd, 1974:
The O'Jays – Love Train
January 4th, 1974:
The O'Jays – Love Train
January 5th, 1974:
The O'Jays – Love Train
January 6th, 1974:
The O'Jays – Love Train
January 7th, 1974:
The O'Jays – Love Train
January 8th, 1974:
The O'Jays – Love Train
January 9th, 1974:
The O'Jays – Love Train
January 10th, 1974:
The O'Jays – Love Train
January 11th, 1974:
The O'Jays – Love Train
January 12th, 1974:
The O'Jays – Love Train
January 13th, 1974:
Vicki Lawrence – The Night the Lights Went Out in Georgia
January 14th, 1974:
Vicki Lawrence – The Night the Lights Went Out in Georgia
January 15th, 1974:
Vicki Lawrence – The Night the Lights Went Out in Georgia
January 16th, 1974:
Vicki Lawrence – The Night the Lights Went Out in Georgia
January 17th, 1974:
Vicki Lawrence – The Night the Lights Went Out in Georgia
January 18th, 1974:
Vicki Lawrence – The Night the Lights Went Out in Georgia
January 19th, 1974:
Vicki Lawrence – The Night the Lights Went Out in Georgia
January 20th, 1974:
Vicki Lawrence – The Night the Lights Went Out in Georgia
January 21st, 1974:
Vicki Lawrence – The Night the Lights Went Out in Georgia
January 22nd, 1974:
Vicki Lawrence – The Night the Lights Went Out in Georgia
January 23rd, 1974:
Vicki Lawrence – The Night the Lights Went Out in Georgia
January 24th, 1974:
Vicki Lawrence – The Night the Lights Went Out in Georgia
January 25th, 1974:
Vicki Lawrence – The Night the Lights Went Out in Georgia
January 26th, 1974:
Tony Orlando and Dawn – Tie a Yellow Ribbon Round the Ole Oak Tree
January 27th, 1974:
Tony Orlando and Dawn – Tie a Yellow Ribbon Round the Ole Oak Tree
January 28th, 1974:
Tony Orlando and Dawn – Tie a Yellow Ribbon Round the Ole Oak Tree
January 29th, 1974:
Tony Orlando and Dawn – Tie a Yellow Ribbon Round the Ole Oak Tree
January 30th, 1974:
Tony Orlando and Dawn – Tie a Yellow Ribbon Round the Ole Oak Tree
January 31st, 1974:
Tony Orlando and Dawn – Tie a Yellow Ribbon Round the Ole Oak Tree
February 1st, 1974:
Tony Orlando and Dawn – Tie a Yellow Ribbon Round the Ole Oak Tree
February 2nd, 1974:
Tony Orlando and Dawn – Tie a Yellow Ribbon Round the Ole Oak Tree
February 3rd, 1974:
Tony Orlando and Dawn – Tie a Yellow Ribbon Round the Ole Oak Tree
February 4th, 1974:
Tony Orlando and Dawn – Tie a Yellow Ribbon Round the Ole Oak Tree
February 5th, 1974:
Tony Orlando and Dawn – Tie a Yellow Ribbon Round the Ole Oak Tree
February 6th, 1974:
Tony Orlando and Dawn – Tie a Yellow Ribbon Round the Ole Oak Tree
February 7th, 1974:
Tony Orlando and Dawn – Tie a Yellow Ribbon Round the Ole Oak Tree
February 8th, 1974:
Tony Orlando and Dawn – Tie a Yellow Ribbon Round the Ole Oak Tree
February 9th, 1974:
Tony Orlando and Dawn – Tie a Yellow Ribbon Round the Ole Oak Tree
February 10th, 1974:
Tony Orlando and Dawn – Tie a Yellow Ribbon Round the Ole Oak Tree
February 11th, 1974:
Tony Orlando and Dawn – Tie a Yellow Ribbon Round the Ole Oak Tree
February 12th, 1974:
Tony Orlando and Dawn – Tie a Yellow Ribbon Round the Ole Oak Tree
February 13th, 1974:
Tony Orlando and Dawn – Tie a Yellow Ribbon Round the Ole Oak Tree
February 14th, 1974:
Tony Orlando and Dawn – Tie a Yellow Ribbon Round the Ole Oak Tree
February 15th, 1974:
Tony Orlando and Dawn – Tie a Yellow Ribbon Round the Ole Oak Tree
February 16th, 1974:
Tony Orlando and Dawn – Tie a Yellow Ribbon Round the Ole Oak Tree
February 17th, 1974:
Tony Orlando and Dawn – Tie a Yellow Ribbon Round the Ole Oak Tree
February 18th, 1974:
Tony Orlando and Dawn – Tie a Yellow Ribbon Round the Ole Oak Tree
February 19th, 1974:
Tony Orlando and Dawn – Tie a Yellow Ribbon Round the Ole Oak Tree
February 20th, 1974:
Tony Orlando and Dawn – Tie a Yellow Ribbon Round the Ole Oak Tree
February 21st, 1974:
Tony Orlando and Dawn – Tie a Yellow Ribbon Round the Ole Oak Tree
February 22nd, 1974:
Tony Orlando and Dawn – Tie a Yellow Ribbon Round the Ole Oak Tree
February 23rd, 1974:
Stevie Wonder – You Are the Sunshine of My Life
February 24th, 1974:
Stevie Wonder – You Are the Sunshine of My Life
February 25th, 1974:
Stevie Wonder – You Are the Sunshine of My Life
February 26th, 1974:
Stevie Wonder – You Are the Sunshine of My Life
February 27th, 1974:
Stevie Wonder – You Are the Sunshine of My Life
February 28th, 1974:
Stevie Wonder – You Are the Sunshine of My Life
March 1st, 1974:
The Edgar Winter Group – Frankenstein
March 2nd, 1974:
The Edgar Winter Group – Frankenstein
March 3rd, 1974:
The Edgar Winter Group – Frankenstein
March 4th, 1974:
The Edgar Winter Group – Frankenstein
March 5th, 1974:
The Edgar Winter Group – Frankenstein
March 6th, 1974:
The Edgar Winter Group – Frankenstein
March 7th, 1974:
The Edgar Winter Group – Frankenstein
March 8th, 1974:
Paul McCartney and Wings – My Love
March 9th, 1974:
Paul McCartney and Wings – My Love
March 10th, 1974:
Paul McCartney and Wings – My Love
March 11th, 1974:
Paul McCartney and Wings – My Love
March 12th, 1974:
Paul McCartney and Wings – My Love
March 13th, 1974:
Paul McCartney and Wings – My Love
March 14th, 1974:
Paul McCartney and Wings – My Love
March 15th, 1974:
Paul McCartney and Wings – My Love
March 16th, 1974:
Paul McCartney and Wings – My Love
March 17th, 1974:
Paul McCartney and Wings – My Love
March 18th, 1974:
Paul McCartney and Wings – My Love
March 19th, 1974:
Paul McCartney and Wings – My Love
March 20th, 1974:
Paul McCartney and Wings – My Love
March 21st, 1974:
Paul McCartney and Wings – My Love
March 22nd, 1974:
Paul McCartney and Wings – My Love
March 23rd, 1974:
Paul McCartney and Wings – My Love
March 24th, 1974:
Paul McCartney and Wings – My Love
March 25th, 1974:
Paul McCartney and Wings – My Love
March 26th, 1974:
Paul McCartney and Wings – My Love
March 27th, 1974:
Paul McCartney and Wings – My Love
March 28th, 1974:
Paul McCartney and Wings – My Love
March 29th, 1974:
Paul McCartney and Wings – My Love
March 30th, 1974:
Paul McCartney and Wings – My Love
March 31st, 1974:
Paul McCartney and Wings – My Love
April 1st, 1974:
Paul McCartney and Wings – My Love
April 2nd, 1974:
Paul McCartney and Wings – My Love
April 3rd, 1974:
Paul McCartney and Wings – My Love
April 4th, 1974:
Paul McCartney and Wings – My Love
April 5th, 1974:
Paul McCartney and Wings – My Love
April 6th, 1974:
George Harrison – Give Me Love (Give Me Peace On Earth)
April 7th, 1974:
George Harrison – Give Me Love (Give Me Peace On Earth)
April 8th, 1974:
George Harrison – Give Me Love (Give Me Peace On Earth)
April 9th, 1974:
George Harrison – Give Me Love (Give Me Peace On Earth)
April 10th, 1974:
George Harrison – Give Me Love (Give Me Peace On Earth)
April 11th, 1974:
George Harrison – Give Me Love (Give Me Peace On Earth)
April 12th, 1974:
George Harrison – Give Me Love (Give Me Peace On Earth)
April 13th, 1974:
Billy Preston – Will It Go Round in Circles
April 14th, 1974:
Billy Preston – Will It Go Round in Circles
April 15th, 1974:
Billy Preston – Will It Go Round in Circles
April 16th, 1974:
Billy Preston – Will It Go Round in Circles
April 17th, 1974:
Billy Preston – Will It Go Round in Circles
April 18th, 1974:
Billy Preston – Will It Go Round in Circles
April 19th, 1974:
Billy Preston – Will It Go Round in Circles
April 20th, 1974:
Billy Preston – Will It Go Round in Circles
April 21st, 1974:
Billy Preston – Will It Go Round in Circles
April 22nd, 1974:
Billy Preston – Will It Go Round in Circles
April 23rd, 1974:
Billy Preston – Will It Go Round in Circles
April 24th, 1974:
Billy Preston – Will It Go Round in Circles
April 25th, 1974:
Billy Preston – Will It Go Round in Circles
April 26th, 1974:
Billy Preston – Will It Go Round in Circles
April 27th, 1974:
Jim Croce – Bad, Bad Leroy Brown
April 28th, 1974:
Jim Croce – Bad, Bad Leroy Brown
April 29th, 1974:
Jim Croce – Bad, Bad Leroy Brown
April 30th, 1974:
Jim Croce – Bad, Bad Leroy Brown
May 1st, 1974:
Jim Croce – Bad, Bad Leroy Brown
May 2nd, 1974:
Jim Croce – Bad, Bad Leroy Brown
May 3rd, 1974:
Jim Croce – Bad, Bad Leroy Brown
May 4th, 1974:
Jim Croce – Bad, Bad Leroy Brown
May 5th, 1974:
Jim Croce – Bad, Bad Leroy Brown
May 6th, 1974:
Jim Croce – Bad, Bad Leroy Brown
May 7th, 1974:
Jim Croce – Bad, Bad Leroy Brown
May 8th, 1974:
Jim Croce – Bad, Bad Leroy Brown
May 9th, 1974:
Jim Croce – Bad, Bad Leroy Brown
May 10th, 1974:
Jim Croce – Bad, Bad Leroy Brown
May 11th, 1974:
Maureen McGovern – The Morning After
May 12th, 1974:
Maureen McGovern – The Morning After
May 13th, 1974:
Maureen McGovern – The Morning After
May 14th, 1974:
Maureen McGovern – The Morning After
May 15th, 1974:
Maureen McGovern – The Morning After
May 16th, 1974:
Maureen McGovern – The Morning After
May 17th, 1974:
Maureen McGovern – The Morning After
May 18th, 1974:
Maureen McGovern – The Morning After
May 19th, 1974:
Maureen McGovern – The Morning After
May 20th, 1974:
Maureen McGovern – The Morning After
May 21st, 1974:
Maureen McGovern – The Morning After
May 22nd, 1974:
Maureen McGovern – The Morning After
May 23rd, 1974:
Maureen McGovern – The Morning After
May 24th, 1974:
Maureen McGovern – The Morning After
May 25th, 1974:
Diana Ross – Touch Me in the Morning
May 26th, 1974:
Diana Ross – Touch Me in the Morning
May 27th, 1974:
Diana Ross – Touch Me in the Morning
May 28th, 1974:
Diana Ross – Touch Me in the Morning
May 29th, 1974:
Diana Ross – Touch Me in the Morning
May 30th, 1974:
Diana Ross – Touch Me in the Morning
May 31st, 1974:
Diana Ross – Touch Me in the Morning
June 1st, 1974:
Stories – Brother Louie
June 2nd, 1974:
Stories – Brother Louie
June 3rd, 1974:
Stories – Brother Louie
June 4th, 1974:
Stories – Brother Louie
June 5th, 1974:
Stories – Brother Louie
June 6th, 1974:
Stories – Brother Louie
June 7th, 1974:
Stories – Brother Louie
June 8th, 1974:
Stories – Brother Louie
June 9th, 1974:
Stories – Brother Louie
June 10th, 1974:
Stories – Brother Louie
June 11th, 1974:
Stories – Brother Louie
June 12th, 1974:
Stories – Brother Louie
June 13th, 1974:
Stories – Brother Louie
June 14th, 1974:
Stories – Brother Louie
June 15th, 1974:
Marvin Gaye – Let's Get It On
June 16th, 1974:
Marvin Gaye – Let's Get It On
June 17th, 1974:
Marvin Gaye – Let's Get It On
June 18th, 1974:
Marvin Gaye – Let's Get It On
June 19th, 1974:
Marvin Gaye – Let's Get It On
June 20th, 1974:
Marvin Gaye – Let's Get It On
June 21st, 1974:
Marvin Gaye – Let's Get It On
June 22nd, 1974:
Marvin Gaye – Let's Get It On
June 23rd, 1974:
Marvin Gaye – Let's Get It On
June 24th, 1974:
Marvin Gaye – Let's Get It On
June 25th, 1974:
Marvin Gaye – Let's Get It On
June 26th, 1974:
Marvin Gaye – Let's Get It On
June 27th, 1974:
Marvin Gaye – Let's Get It On
June 28th, 1974:
Marvin Gaye – Let's Get It On
June 29th, 1974:
Helen Reddy – Delta Dawn
June 30th, 1974:
Helen Reddy – Delta Dawn
July 1st, 1974:
Helen Reddy – Delta Dawn
July 2nd, 1974:
Helen Reddy – Delta Dawn
July 3rd, 1974:
Helen Reddy – Delta Dawn
July 4th, 1974:
Helen Reddy – Delta Dawn
July 5th, 1974:
Helen Reddy – Delta Dawn
July 6th, 1974:
Grand Funk – We're an American Band
July 7th, 1974:
Grand Funk – We're an American Band
July 8th, 1974:
Grand Funk – We're an American Band
July 9th, 1974:
Grand Funk – We're an American Band
July 10th, 1974:
Grand Funk – We're an American Band
July 11th, 1974:
Grand Funk – We're an American Band
July 12th, 1974:
Grand Funk – We're an American Band
July 13th, 1974:
Cher – Half-Breed
July 14th, 1974:
Cher – Half-Breed
July 15th, 1974:
Cher – Half-Breed
July 16th, 1974:
Cher – Half-Breed
July 17th, 1974:
Cher – Half-Breed
July 18th, 1974:
Cher – Half-Breed
July 19th, 1974:
Cher – Half-Breed
July 20th, 1974:
Cher – Half-Breed
July 21st, 1974:
Cher – Half-Breed
July 22nd, 1974:
Cher – Half-Breed
July 23rd, 1974:
Cher – Half-Breed
July 24th, 1974:
Cher – Half-Breed
July 25th, 1974:
Cher – Half-Breed
July 26th, 1974:
Cher – Half-Breed
July 27th, 1974:
The Rolling Stones – Angie
July 28th, 1974:
The Rolling Stones – Angie
July 29th, 1974:
The Rolling Stones – Angie
July 30th, 1974:
The Rolling Stones – Angie
July 31st, 1974:
The Rolling Stones – Angie
August 1st, 1974:
The Rolling Stones – Angie
August 2nd, 1974:
The Rolling Stones – Angie
August 3rd, 1974:
Gladys Knight & the Pips – Midnight Train to Georgia
August 4th, 1974:
Gladys Knight & the Pips – Midnight Train to Georgia
August 5th, 1974:
Gladys Knight & the Pips – Midnight Train to Georgia
August 6th, 1974:
Gladys Knight & the Pips – Midnight Train to Georgia
August 7th, 1974:
Gladys Knight & the Pips – Midnight Train to Georgia
August 8th, 1974:
Gladys Knight & the Pips – Midnight Train to Georgia
August 9th, 1974:
Gladys Knight & the Pips – Midnight Train to Georgia
August 10th, 1974:
Gladys Knight & the Pips – Midnight Train to Georgia
August 11th, 1974:
Gladys Knight & the Pips – Midnight Train to Georgia
August 12th, 1974:
Gladys Knight & the Pips – Midnight Train to Georgia
August 13th, 1974:
Gladys Knight & the Pips – Midnight Train to Georgia
August 14th, 1974:
Gladys Knight & the Pips – Midnight Train to Georgia
August 15th, 1974:
Gladys Knight & the Pips – Midnight Train to Georgia
August 16th, 1974:
Gladys Knight & the Pips – Midnight Train to Georgia
August 17th, 1974:
Eddie Kendricks – Keep On Truckin'
August 18th, 1974:
Eddie Kendricks – Keep On Truckin'
August 19th, 1974:
Eddie Kendricks – Keep On Truckin'
August 20th, 1974:
Eddie Kendricks – Keep On Truckin'
August 21st, 1974:
Eddie Kendricks – Keep On Truckin'
August 22nd, 1974:
Eddie Kendricks – Keep On Truckin'
August 23rd, 1974:
Eddie Kendricks – Keep On Truckin'
August 24th, 1974:
Eddie Kendricks – Keep On Truckin'
August 25th, 1974:
Eddie Kendricks – Keep On Truckin'
August 26th, 1974:
Eddie Kendricks – Keep On Truckin'
August 27th, 1974:
Eddie Kendricks – Keep On Truckin'
August 28th, 1974:
Eddie Kendricks – Keep On Truckin'
August 29th, 1974:
Eddie Kendricks – Keep On Truckin'
August 30th, 1974:
Eddie Kendricks – Keep On Truckin'
August 31st, 1974:
Ringo Starr – Photograph
September 1st, 1974:
Ringo Starr – Photograph
September 2nd, 1974:
Ringo Starr – Photograph
September 3rd, 1974:
Ringo Starr – Photograph
September 4th, 1974:
Ringo Starr – Photograph
September 5th, 1974:
Ringo Starr – Photograph
September 6th, 1974:
Ringo Starr – Photograph
September 7th, 1974:
The Carpenters – Top of the World
September 8th, 1974:
The Carpenters – Top of the World
September 9th, 1974:
The Carpenters – Top of the World
September 10th, 1974:
The Carpenters – Top of the World
September 11th, 1974:
The Carpenters – Top of the World
September 12th, 1974:
The Carpenters – Top of the World
September 13th, 1974:
The Carpenters – Top of the World
September 14th, 1974:
The Carpenters – Top of the World
September 15th, 1974:
The Carpenters – Top of the World
September 16th, 1974:
The Carpenters – Top of the World
September 17th, 1974:
The Carpenters – Top of the World
September 18th, 1974:
The Carpenters – Top of the World
September 19th, 1974:
The Carpenters – Top of the World
September 20th, 1974:
The Carpenters – Top of the World
September 21st, 1974:
Charlie Rich – The Most Beautiful Girl
September 22nd, 1974:
Charlie Rich – The Most Beautiful Girl
September 23rd, 1974:
Charlie Rich – The Most Beautiful Girl
September 24th, 1974:
Charlie Rich – The Most Beautiful Girl
September 25th, 1974:
Charlie Rich – The Most Beautiful Girl
September 26th, 1974:
Charlie Rich – The Most Beautiful Girl
September 27th, 1974:
Charlie Rich – The Most Beautiful Girl
September 28th, 1974:
Charlie Rich – The Most Beautiful Girl
September 29th, 1974:
Charlie Rich – The Most Beautiful Girl
September 30th, 1974:
Charlie Rich – The Most Beautiful Girl
October 1st, 1974:
Charlie Rich – The Most Beautiful Girl
October 2nd, 1974:
Charlie Rich – The Most Beautiful Girl
October 3rd, 1974:
Charlie Rich – The Most Beautiful Girl
October 4th, 1974:
Charlie Rich – The Most Beautiful Girl
October 5th, 1974:
Jim Croce – Time in a Bottle
October 6th, 1974:
Jim Croce – Time in a Bottle
October 7th, 1974:
Jim Croce – Time in a Bottle
October 8th, 1974:
Jim Croce – Time in a Bottle
October 9th, 1974:
Jim Croce – Time in a Bottle
October 10th, 1974:
Jim Croce – Time in a Bottle
October 11th, 1974:
Jim Croce – Time in a Bottle
October 12th, 1974:
Jim Croce – Time in a Bottle
October 13th, 1974:
Jim Croce – Time in a Bottle
October 14th, 1974:
Jim Croce – Time in a Bottle
October 15th, 1974:
Jim Croce – Time in a Bottle
October 16th, 1974:
Jim Croce – Time in a Bottle
October 17th, 1974:
Jim Croce – Time in a Bottle
October 18th, 1974:
Jim Croce – Time in a Bottle
October 19th, 1974:
Steve Miller Band – The Joker
October 20th, 1974:
Steve Miller Band – The Joker
October 21st, 1974:
Steve Miller Band – The Joker
October 22nd, 1974:
Steve Miller Band – The Joker
October 23rd, 1974:
Steve Miller Band – The Joker
October 24th, 1974:
Steve Miller Band – The Joker
October 25th, 1974:
Steve Miller Band – The Joker
October 26th, 1974:
Al Wilson – Show and Tell
October 27th, 1974:
Al Wilson – Show and Tell
October 28th, 1974:
Al Wilson – Show and Tell
October 29th, 1974:
Al Wilson – Show and Tell
October 30th, 1974:
Al Wilson – Show and Tell
October 31st, 1974:
Al Wilson – Show and Tell
November 1st, 1974:
Al Wilson – Show and Tell
November 2nd, 1974:
Ringo Starr – You're Sixteen
November 3rd, 1974:
Ringo Starr – You're Sixteen
November 4th, 1974:
Ringo Starr – You're Sixteen
November 5th, 1974:
Ringo Starr – You're Sixteen
November 6th, 1974:
Ringo Starr – You're Sixteen
November 7th, 1974:
Ringo Starr – You're Sixteen
November 8th, 1974:
Ringo Starr – You're Sixteen
November 9th, 1974:
Barbra Streisand – The Way We Were
November 10th, 1974:
Barbra Streisand – The Way We Were
November 11th, 1974:
Barbra Streisand – The Way We Were
November 12th, 1974:
Barbra Streisand – The Way We Were
November 13th, 1974:
Barbra Streisand – The Way We Were
November 14th, 1974:
Barbra Streisand – The Way We Were
November 15th, 1974:
Barbra Streisand – The Way We Were
November 16th, 1974:
Love Unlimited Orchestra – Love's Theme
November 17th, 1974:
Love Unlimited Orchestra – Love's Theme
November 18th, 1974:
Love Unlimited Orchestra – Love's Theme
November 19th, 1974:
Love Unlimited Orchestra – Love's Theme
November 20th, 1974:
Love Unlimited Orchestra – Love's Theme
November 21st, 1974:
Love Unlimited Orchestra – Love's Theme
November 22nd, 1974:
Love Unlimited Orchestra – Love's Theme
November 23rd, 1974:
Love Unlimited Orchestra – Love's Theme
November 24th, 1974:
Love Unlimited Orchestra – Love's Theme
November 25th, 1974:
Love Unlimited Orchestra – Love's Theme
November 26th, 1974:
Love Unlimited Orchestra – Love's Theme
November 27th, 1974:
Love Unlimited Orchestra – Love's Theme
November 28th, 1974:
Love Unlimited Orchestra – Love's Theme
November 29th, 1974:
Love Unlimited Orchestra – Love's Theme
November 30th, 1974:
Love Unlimited Orchestra – Love's Theme
December 1st, 1974:
Love Unlimited Orchestra – Love's Theme
December 2nd, 1974:
Love Unlimited Orchestra – Love's Theme
December 3rd, 1974:
Love Unlimited Orchestra – Love's Theme
December 4th, 1974:
Love Unlimited Orchestra – Love's Theme
December 5th, 1974:
Love Unlimited Orchestra – Love's Theme
December 6th, 1974:
Love Unlimited Orchestra – Love's Theme
December 7th, 1974:
Love Unlimited Orchestra – Love's Theme
December 8th, 1974:
Terry Jacks – Seasons in the Sun
December 9th, 1974:
Terry Jacks – Seasons in the Sun
December 10th, 1974:
Terry Jacks – Seasons in the Sun
December 11th, 1974:
Terry Jacks – Seasons in the Sun
December 12th, 1974:
Terry Jacks – Seasons in the Sun
December 13th, 1974:
Terry Jacks – Seasons in the Sun
December 14th, 1974:
Terry Jacks – Seasons in the Sun
December 15th, 1974:
Terry Jacks – Seasons in the Sun
December 16th, 1974:
Terry Jacks – Seasons in the Sun
December 17th, 1974:
Terry Jacks – Seasons in the Sun
December 18th, 1974:
Terry Jacks – Seasons in the Sun
December 19th, 1974:
Terry Jacks – Seasons in the Sun
December 20th, 1974:
Terry Jacks – Seasons in the Sun
December 21st, 1974:
Terry Jacks – Seasons in the Sun
December 22nd, 1974:
Terry Jacks – Seasons in the Sun
December 23rd, 1974:
Terry Jacks – Seasons in the Sun
December 24th, 1974:
Terry Jacks – Seasons in the Sun
December 25th, 1974:
Terry Jacks – Seasons in the Sun
December 26th, 1974:
Terry Jacks – Seasons in the Sun
December 27th, 1974:
Terry Jacks – Seasons in the Sun
December 28th, 1974:
Terry Jacks – Seasons in the Sun
December 29th, 1974:
Cher – Dark Lady
December 30th, 1974:
Cher – Dark Lady
December 31st, 1974:
Cher – Dark Lady