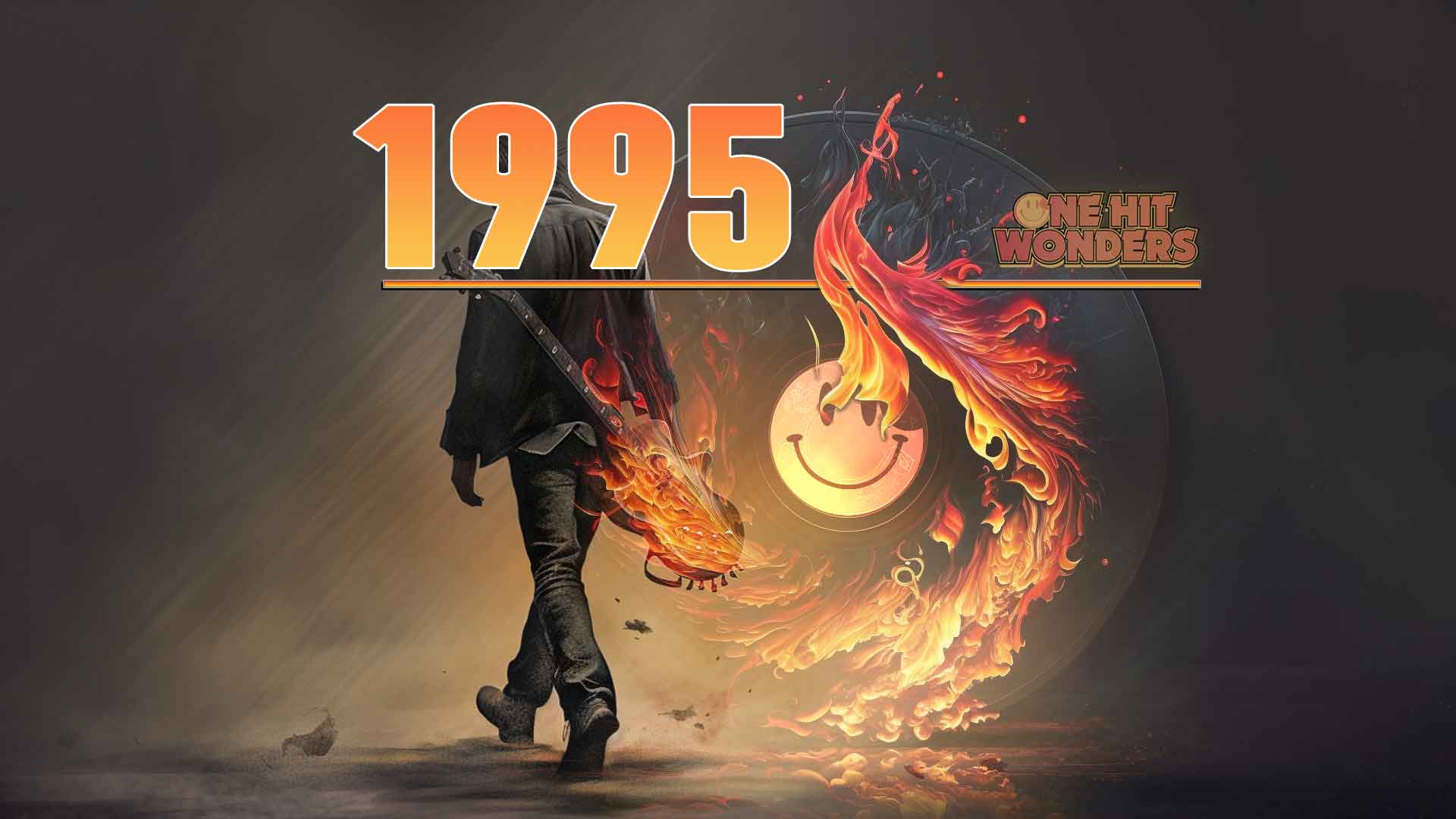 1995 One Hit Wonders & Artists Known For One Song
"Danger"
Blahzay Blahzay
This is a hip-hop duo from Brooklyn, New York, consisting of DJ PF Cuttin and MC Out Loud.
( I Could Only) Whisper Your Name
Harry Connick, Jr.
Renowned American singer, composer, actor, and television host. Has received multiple Grammy and Emmy Awards.
A Girl Like You
Edwyn Collins
Scottish musician, producer and record label owner from Edinburgh, Scotland.
A Mover La Colita
Artie the One-Man Party
Miami-based DJ and producer known for his energetic dance mixes.
Anything
3T
American R&B/pop music group featuring the three sons of Tito Jackson (from the Jackson 5) and Delores "Dee Dee" Jackson.
Back For Good
Take That
British boy band that enjoyed major success in the early to mid-1990s. Known for their elaborate dance routines and harmonies.
Bad Reputation
Freedy Johnston
American singer-songwriter best known for his song "Bad Reputation". Raised in Kinsley, Kansas.
Better Than Nothing
Jennifer Trynin
American rock singer from Boston who quit the music business in the late 1990s to become a writer.
Boom Boom Boom
The Outhere Brothers
American hip hop duo from Chicago, Illinois, consisting of lyricist Malik and producer/remixer Hula.
Cotton Eye Joe
Rednex
Swedish musical group known globally for their unique sound that combines pop, EDM, and country.
Crimson And Clover
SF Spanish Fly
Freestyle music group from San Francisco, California. Considered a staple in the genre of Latin freestyle music.
Died In Your Arms
Intonation featuring JOEE
Canadian Eurodance project that Franco Rago and Gino Crescenza organized. Joée was one of the contributors to the project.
Doll Parts
Hole
American alternative rock band formed in Los Angeles, California in 1989. Singer/actress Courtney Love fronted it.
Down By The Water
PJ Harvey
English musician and singer-songwriter known for her wide range of stylistic experimentation in her music.
Fast Life
Kool G Rap
Highly influential American rapper from Queens, New York. Often cited as one of the pioneers of hardcore hip-hop and mafioso rap.
Freak Like Me
Adina Howard
American singer and songwriter who rose to fame during the mid-1990s with her debut album, 'Do You Wanna Ride?' and her debut single, 'Freak Like Me'.
Freedom
Panther Soundtrack
The Panther soundtrack was a movie soundtrack for the 1995 film Panther and was released by Mercury Records, centered around the Black Panther Party.
Friends Of P.
The Rentals
American rock band fronted by vocalist Matt Sharp, former bassist for Weezer.
Girlstown
Super Cat
Super Cat is a Jamaican deejay who became popular during the late 1980s and early 1990s dancehall movement. He is known as the "Don Dada".
Hallelujah
Jeff Buckley
Jeff Buckley was an American singer-songwriter and guitarist known for his ethereal singing voice and eclectic musical influences.
He's Mine
MoKenStef
MoKenStef was a female American R&B trio from Los Angeles, California, active from 1994 until 1995. The group name was a combination of the first syllable of each member's name: Monifa, Kenya, and Stephanie.
Hold On
Jamie Walters
Jamie Walters is an American actor and pop singer, known for his role on the TV show Beverly Hills, 90210 and his number one single "Hold On".
How High
Redman
Redman is an American rapper, DJ, record producer, and actor known for his collaborations with Method Man and his membership in the Def Squad.
I Could Fall in Love
Selena
Selena was an American singer, songwriter, spokesperson, model, actress, and fashion designer. Referred to as the "Queen of Tejano music", her contributions to music and fashion made her one of the most celebrated Mexican-American entertainers of the late 20th century.
I Got A Girl
Tripping Daisy
Tripping Daisy is an alternative rock band that formed in Dallas, Texas, USA in 1990.
I Got 5 on It
Luniz
Luniz is a platinum-selling hip-hop duo from Oakland, California, formed by Yukmouth & Numskull, two members of the LuniTunes, a group of emcees from 1989.
I Kissed A Girl
Jill Sobule
Jill Sobule is an American singer-songwriter best known for her 1995 single "I Kissed a Girl", and "Supermodel" from the soundtrack of the 1995 film Clueless.
I Know
Dionne Farris
Dionne Farris is an American singer, songwriter, producer and actress. Began singing in high school and was invited to join hip hop group Arrested Development.
I Like
Kut Klose
Kut Klose is an American R&B trio that was formed in Atlanta in 1993 by Athena Cage, Lavonn Battle and Tabitha Duncan. The three female singers were discovered by Keith Sweat who produced their debut album.
I Miss You
NIIU
NIIU is a South Korean boy group formed by Rainbow Bridge World in 2017. The group debuted on June 1, 2017, with their first extended play W, Here.
I Saw You Dancing
Yaki-Da
Yaki-Da is a Swedish pop group, consisting of singers Marie Knutsen and Linda Schönberg. They were put together by Ace of Base band member and producer Jonas "Joker" Berggren.
I Wish
Skee-Lo
Skee-Lo is an American rapper. He is best known for his 1995 song, "I Wish", which became a hit in several countries and reached No. 13 on the Billboard Hot 100.
I Wanna Love Like That
Tony Thompson
Tony Thompson was an American singer–songwriter. Thompson was the lead vocalist of the R&B group Hi-Five, which had hit singles such as "I Like the Way (The Kissing Game)" and "I Can't Wait Another Minute".
I'd Rather Be Alone
IV Xample
IV Xample was an American R&B group from Los Angeles, California. The group was active in the mid 1990s and was signed to MCA Records.
I'll Be There For You
The Rembrandts
The Rembrandts are an American pop rock duo, formed by Danny Wilde and Phil Solem in 1989. They are best known for "I'll Be There for You", which was used as the theme song for the sitcom Friends.
Just Roll
Fabu
Fabu is an American rapper known for her single "Just Roll" which was released in 1995.
Lick It
Roula
Roula is a dance and house music artist who released "Lick It" in 1995. The song reached the Top 40 on the Billboard Hot 100.
Love Spreads
The Stone Roses
The Stone Roses are an English rock band formed in Manchester in 1983. They were one of the pioneering groups of the Madchester movement in the late 1980s and early 1990s.
Mad Izm
Channel Live
Channel Live is an American hip hop duo composed of Hakim Green and Vincent "Tuffy" Morgan from New York City.
Magic Carpet Ride
The Mighty Dub Kats
The Mighty Dub Kats is one of many aliases used by the British house music duo Basement Jaxx, who are known for their unique and eclectic music style.
Mishale
Andru Donalds
Andru Donalds is a Jamaican musician and vocalist with a previous solo career, who is now working in collaboration with the Enigma project as lead vocalist.
Mockingbird Girl
The Magnificent Bastards
The Magnificent Bastards were a rock band formed in 1995 by Scott Weiland following the hiatus of Stone Temple Pilots.
More Human Than Human
White Zombie
White Zombie was an American heavy metal band that formed in 1985. The group was named after the 1932 film White Zombie.
Never Find Someone Like You
Keith Martin
Keith Martin is an American R&B singer-songwriter and record producer who was scored a hit with his ballad "Because of You".
New Age Girl
Deadeye Dick
Deadeye Dick is a rock band from New Orleans, Louisiana, known for their 1994 hit "New Age Girl".
Nika
Vicious
Vicious is a Jamaican dancehall MC who began his career at the age of 14. His debut album, "The Don of All Dons," was produced by the legendary DJ and artist Bobby Konders.
Not On Your Love
Jeff Carson
Jeff Carson is an American former country music artist known for his eponymous debut album, which produced a Number One hit in "Not On Your Love".
Possum Kingdom
Toadies
Toadies are an American rock band from Fort Worth, Texas, best known for their 1995 hit single "Possum Kingdom".
Round & Round
Twinz
Twinz are a hip-hop duo from Long Beach, California, consisting of Deon "Trip Locc" Williams and his twin brother Deonne "Wayniac" Williams.
Scatman
Scatman John
Scatman John was an American jazz musician and singer who created a fusion of scat singing and dance music, best known for his 1995 hit "Scatman".
Send Me On My Way
Rusted Root
Rusted Root is a band from Pittsburgh, Pennsylvania known for their fusion of acoustic, rock, world and other styles of music.
Set U Free
Planet Soul
Planet Soul was a house duo from Miami, Florida, composed of producer George Acosta and singer Nadine Renee.
She Don't Use Jelly
The Flaming Lips
The Flaming Lips are an American rock band formed in 1983 and are known for their psychedelic music and elaborate live shows.
Shirt Dick Man
20 Fingers
20 Fingers is an American production team consisting of producers and DJs Carlos "Charlie Babie" Rosario, Manfred "Manny" Mohr, J.J. Flores and Onofrio Lollino.
Sick Of Myself
Matthew Sweet
Matthew Sweet is an American singer-songwriter and rock musician who was part of the burgeoning music scene in Athens, Georgia during the 1980s.
Sour Times ( Nobody Loves Me)
Portishead
Portishead is an English band formed in 1991 in Bristol. They are named after the nearby town of the same name.
Stars
Hum
Hum is an alternative rock band from Champaign, Illinois. They are best known for their 1995 radio hit "Stars".
Sugar Hill
AZ
AZ is an American rapper from Brooklyn, New York. He is known for being a long-time and frequent collaborator of Nas.
Sukiyaki
4 P.M.
4 P.M. is an American male R&B group best known for their cover version of "Sukiyaki", which reached the top 10 in the US Billboard Hot 100.
That's Just What You Are
Aimee Mann
Aimee Mann is an American singer-songwriter who began her career as the lead vocalist of the new wave band 'Til Tuesday.
The Bomb!
The Buckheards
The Bucketheads was a house music project by producer and remixer Kenny "Dope" Gonzales, known for the hit track "The Bomb!".
Tomorrow
Silverchair
Silverchair is an Australian rock band, which formed in 1992. The band members were just 15 years old when their single "Tomorrow" topped the Australian charts.
Total Eclipse Of The Heart
Nicki French
Nicki French is a British singer and actress who is best known for her 1995 dance cover version of "Total Eclipse of the Heart".
Walk This World
Heather Nova
Heather Nova is a Bermudian singer-songwriter and poet who gained critical acclaim with her 1994 album "Oyster".
Warm Summer Daze
Vybe
Vybe was an R&B group that was signed to Polygram Records. The group released their debut album in 1995.
We Are Family
Babes in Toyland
Babes in Toyland is an American punk rock band formed in Minneapolis, Minnesota in 1987.
Weird – Out
Dandelion
Dandelion is an alternative rock band from Philadelphia, Pennsylvania.
Where Ever You Are
Terry Ellis
Terry Ellis is an American R&B singer best known as a member of the all-female R&B group En Vogue.
Whutcha Want?
Nine
Nine is a rapper from The Bronx, New York City, New York. He is known for his deep, gravelly voice.
Wynona's Big Brown Beaver
Primus
Primus is an American rock band formed in El Sobrante, California in 1984 is known for their unique "funk metal" sound.