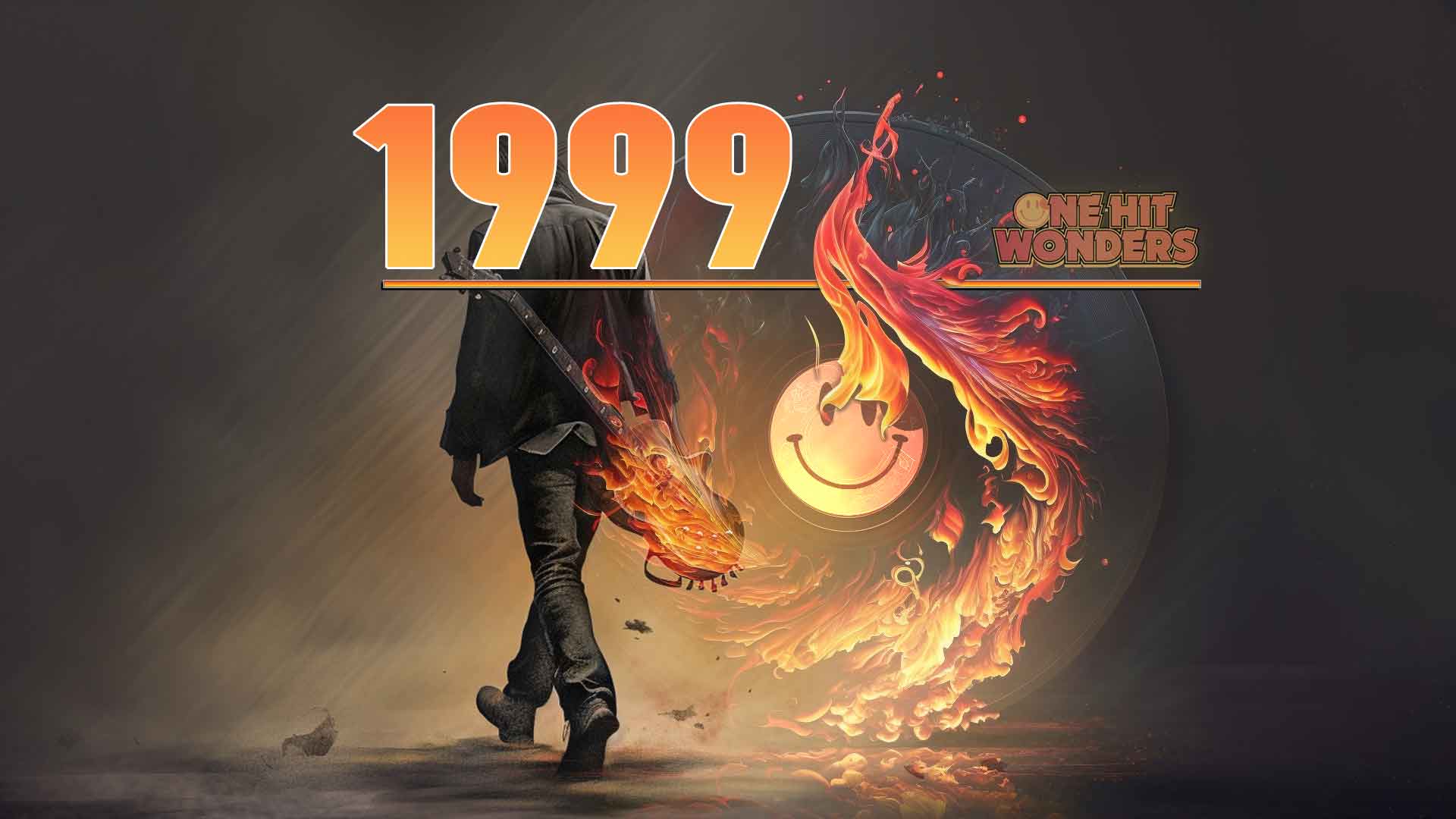 1999 One Hit Wonders & Artists Known For One Song
123
Amyth
The R&B group Amyth consisted of three members and was formed in the late 90s.
4,5,6
Sole
Sole, an American rapper from Kansas City, was married to the popular R&B singer, Ginuwine, from 2003 to 2015.
15 Minutes
Marc Nelson
Marc Nelson was an original member of Boyz II Men while still attending high school.
A Bitter End
Deryl Dodd
Deryl Dodd is a Texas native who started his career as a backup guitarist for Martina McBride.
A Whole Lot Of Gangstas Die
Flexx G
Flexx G is a less-known artist in the Hip Hop industry, keeping a low profile.
All I Know
Rahzel
Rahzel is known as the "Godfather of Noyze" and is an acclaimed beatboxer, formerly a member of The Roots.
Baby
Before Dark
Before Dark was an R&B girl group from the late 90s and early 2000s that consisted of three members.
B-Boy Document 99
The High and Mighty
The High and Mighty duo, Eon and DJ Mighty Mi, formed their own record label, Eastern Conference Records.
Better Days (and the Bottom Drops Out)
Citizen King
Citizen King was a band from Milwaukee, Wisconsin, that formed in 1993.
Better Than Me
Terry Dexter
Terry Dexter, an American contemporary R&B singer, is also a songwriter and actress.
Blue (Da Ba Dee)
Eiffel 65
Eiffel 65 is an Italian electronic music group consisting of three members.
Blue Monday
Orgy
Orgy is a synth-pop band from California known for their cover songs and distinctive visual style.
C'est La Vie
B*Witched
B*Witched is an Irish girl group that enjoyed success in the late 90s with a string of number one hits in the UK.
Can't Get Enough
Patty Loveless
Patty Loveless has been one of country music's most popular female singers since the 1980s.
Chante's Got A Man
Chante Moore
Chante Moore has won an NAACP Image Award and an American Music Award.
Come Get It
DJ Hurricane
DJ Hurricane was the longtime DJ for the Beastie Boys.
Damn (Should Have Treated U Right)
So Plush
So Plush is an American R&B group that featured singer Ja Rule on their biggest hit.
Dog Food
Forshe
Forshe is a relatively obscure artist who contributed to the diverse landscape of 90s hip-hop.
Don't Say You Love Me
M2M
M2M was a pop duo from Norway that started their career at a young age.
everybody's free (to wear Sunscreen)
Baz Luhrmann
Baz Luhrmann is a film director from Australia known for his unique style.
Everyone Falls In Love
Tanto Metro & Devonte
Tanto Metro and Devonte are a reggae fusion duo from Jamaica.
Get None
Tamar
Tamar is the younger sister of R&B singer Toni Braxton.
Ghetto Cowboy
Mo Thugs
Mo Thugs is a collective of various artists, spearheaded by the group Bone Thugs-n-Harmony.
Give It To You
Jordan Knight
Jordan Knight was a member of New Kids on the Block, a boy band popular in the late 80s and early 90s.
Family Tree
Bone Thugs-n-Harmony
Bone Thugs-n-Harmony is an American hip hop group known for their fast-paced rapping style and harmonizing vocals.
Girls Night Out
UWF All-Stars
UWF All-Stars were a one-time group of artists collaborating for this single.
Give It To You
Jordan Knight
Jordan Knight, a member of the boy band New Kids on the Block, pursued a solo career in the late 90s.
Harmless
Mulberry Lane
Mulberry Lane is an all-female American pop music group from Omaha, Nebraska.
Here I Go
Infamous Syndicate
Infamous Syndicate is a female hip-hop duo from Chicago.
How Do I deal
Jennifer Love Hewitt
Besides her acting career, Jennifer Love Hewitt has released several albums as a pop singer.
I Ain't The One
Profile
Profile is a relatively lesser-known artist in the R&B genre.
I Don't Care
No Question
No Question is an American R&B group from Philadelphia.
I Don't Want To Miss A Thing
Mark Chestnut
Mark Chestnut is a leading country music singer known for his neo-traditionalist country style.
I Will Be There For You
Jessica Andrews
Jessica Andrews is a country music artist who had her biggest hit at the age of 15.
If You Really Wanna Know
Marc Dorsey
Marc Dorsey is an R&B singer who also provided vocals for several film soundtracks.
I'll Be Your Everything
Youngstown
Youngstown was an American boy band formed in the late 90s.
In The Game
O
O is an obscure artist with limited information available.
Lately
Divine
Divine was an American R&B girl group best known for their 1998 hit single "Lately".
Lighthouse
New Direction
New Direction is a gospel music group that won several Stellar Awards and Dove nominations.
Lost In You
Chris Gaines (Garth Brooks)
Chris Gaines was a fictional rock persona created as an alter ego for country music artist Garth Brooks.
Lullaby
Shaun Michaels
Shaun Michaels is a less-known artist with limited available information.
Luv at First Sight
Children of Da Ghetto
Children of Da Ghetto is a relatively lesser-known R&B group.
Mambo # 5
Lou Bega
Lou Bega is a German musician and singer-songwriter known for his fusion of 40's style big band and modern beats.
My Own Worst Enemy
Lit
Lit is an American rock band, formed in 1988 in Fullerton, California.
Nasty Trick
Gangsta Boo
Gangsta Boo is a rapper from Memphis, Tennessee and was the first and only female member of the Memphis-based hip hop group Three 6 Mafia.
No Pigeons
Sporty Thievz
Sporty Thievz was a hip-hop group from Yonkers, New York, known for their 1999 hit single, "No Pigeons".
No Place That Far
Sara Evans
Sara Evans is a multi-platinum country music singer and songwriter with five No. 1 country singles including "Suds in the Bucket" and "A Real Fine Place to Start."
One More Chance
Julio Iglesias Jr.
Julio Iglesias Jr. is a Spanish singer, model, and actor. He's the son of Julio Iglesias, one of the best-selling Latin artists in history.
One-Nine-Nine-Nine
Common Sense
Common, formerly known as Common Sense, is a Grammy award-winning rapper, actor, and writer from Chicago.
Pimpin' Ain't No Illusion
Underground Kings
Underground Kings, also known as UGK, was an influential American hip-hop duo from Port Arthur, Texas, known for their Southern rap style.
Pretty Fly (For A White Guy)
The Offspring
The Offspring is an American rock band known for their punk and grunge influence. They have sold over 40 million records worldwide.
Save Tonight
Eagle-Eye Cherry
Eagle-Eye Cherry is a Swedish musician known for his hit single "Save Tonight". He's the son of jazz artist Don Cherry and the half-brother of Neneh Cherry.
Say Hey (I Love You)
Michael Franti & Spearhead
Michael Franti is an American musician and social activist known for his work with Spearhead, a band that blends hip hop with a variety of other styles including funk, reggae, jazz, folk, and rock.
She Wants You
Billie
Billie Piper is a British singer, dancer, and actress. She transitioned from singing to acting, starring in notable productions like "Doctor Who" and "Secret Diary of a Call Girl."
She's So High
Tal Bachman
Tal Bachman is a Canadian singer-songwriter and musician. He's the son of Randy Bachman, the lead guitarist of The Guess Who and Bachman-Turner Overdrive.
Simon Says
Pharoahe Monch
Pharoahe Monch is an American rapper known for his complex lyrics and delivery style. He was also a part of the rap duo, Organized Konfusion.
Slave To The Habit
Shane Minor
Shane Minor is an American country music artist. After his singing career, he transitioned into songwriting, penning hits for other country artists like Diamond Rio and Kenny Chesney.
Sol, Arena y Mar
Luis Miguel
Luis Miguel is a Puerto Rican-born Mexican singer and icon in Latin America, often referred to as El Sol de México (The Sun of Mexico). He's won numerous awards including several Grammy and Latin Grammy Awards.
Steal My Sunshine
Len
Len is a Canadian indie pop band. Despite their multi-platinum single "Steal My Sunshine," the group has largely remained a one-hit wonder.
Summertime
Another Level
Another Level was a British soul and R&B influenced boy band that had a string of hits in the late '90s.
Suavemente
Elvis Crespo
Elvis Crespo is a Puerto Rican-American Grammy and Latin Grammy Award-winning Merengue singer.
Sunshine
Coko
Coko, born as Cheryl Elizabeth Clemons, is an American gospel and R&B singer, and lead singer of R&B group Sisters With Voices (SWV).
Take A Lick
Akinyele
Akinyele Adams, known by his stage name Akinyele, is an American rapper who primarily gained popularity in the mid-90s.
Take A Picture
Filter
Filter is an American rock band formed in 1993 by Richard Patrick, a former guitarist with Nine Inch Nails.
Talk Show Shhh!
Shae Jones
Shae Jones is an R&B singer who was signed to Uptown Records. She released her debut album in 1999.
The Anthem
Sway and King Tech
Sway & King Tech is an American hip hop duo composed of Sway Calloway and DJ King Tech. Sway Calloway is known for hosting several MTV and radio shows.
The Dirty Bird Groove
The ATL Al-Stars
The ATL All-Stars was a collaboration of artists from Atlanta, Georgia, showcasing the city's musical talent.
This Time Around
Michael Fredo
Michael Fredo, a pop singer-songwriter, was signed by Tommy Mottola to a deal with Sony/Qwest Records. He's the nephew of fashion designers Dean and Dan Caten.
Until You Loved Me
The Moffatts
The Moffatts are a Canadian pop/rock band composed of brothers Scott, Clint, Bob and Dave Moffatt. They were the youngest band to have ever signed a record deal with a major label.
U-Way (How We Do It)
Youngbloodz
YoungBloodZ is an American Southern rap duo from Atlanta, Georgia.
Vivrant Thing
Q-Tip
Q-Tip is a critically acclaimed American rapper, singer, actor, record producer, and DJ known for his role as the frontman of the influential hip-hop group A Tribe Called Quest.
Wait Till I Get Home
Latin Lou & The Mambo All-Stars
Latin Lou & The Mambo All-Stars was a Latin pop group active in the late '90s.
Wanna Be A Baller
Lil' Troy
Lil' Troy is an American rapper from Houston, Texas. He's known for his 1998 hit single "Wanna Be a Baller."
Watch For The Hook
Cool Breeze
Cool Breeze is an American rapper and member of Atlanta's Dungeon Family, a hip-hop collective known for having produced OutKast and Goodie Mob.
We Be Puttin It Down
Bad Azz
Bad Azz was an American rapper and member of Tha Dogg Pound Gangsta Crips, a collective of West Coast rappers signed to Death Row Records.
We Like To Party
Vengaboys
Vengaboys is a Dutch Eurodance group that scored several hits in the late '90s to early 2000s.
What I Wanna Do
No Authority
No Authority was an American boyband, who Michael Jackson discovered, and later signed to his MJJ Music label division at Sony Music Entertainment.
What It's Like
Everlast
Everlast is an American musician, singer, and songwriter, known for his solo hit "What It's Like" and as the front-man for rap group House of Pain.
Who Dat
JT Money
JT Money is an American rap artist and a member of the Miami-based hip-hop group Poison Clan.
Why-O-Why
B.C.
B.C. is an American rapper who was active during the late '90s.
With You
Lila McCann
Lila McCann is an American country music singer who rose to fame as a teenager in the late '90s.
You and Me
The Spies
The Spies is a music group that primarily performed during the late '90s.
You Get What You Give
New Radicals
New Radicals was an American alternative rock band, known for their single "You Get What You