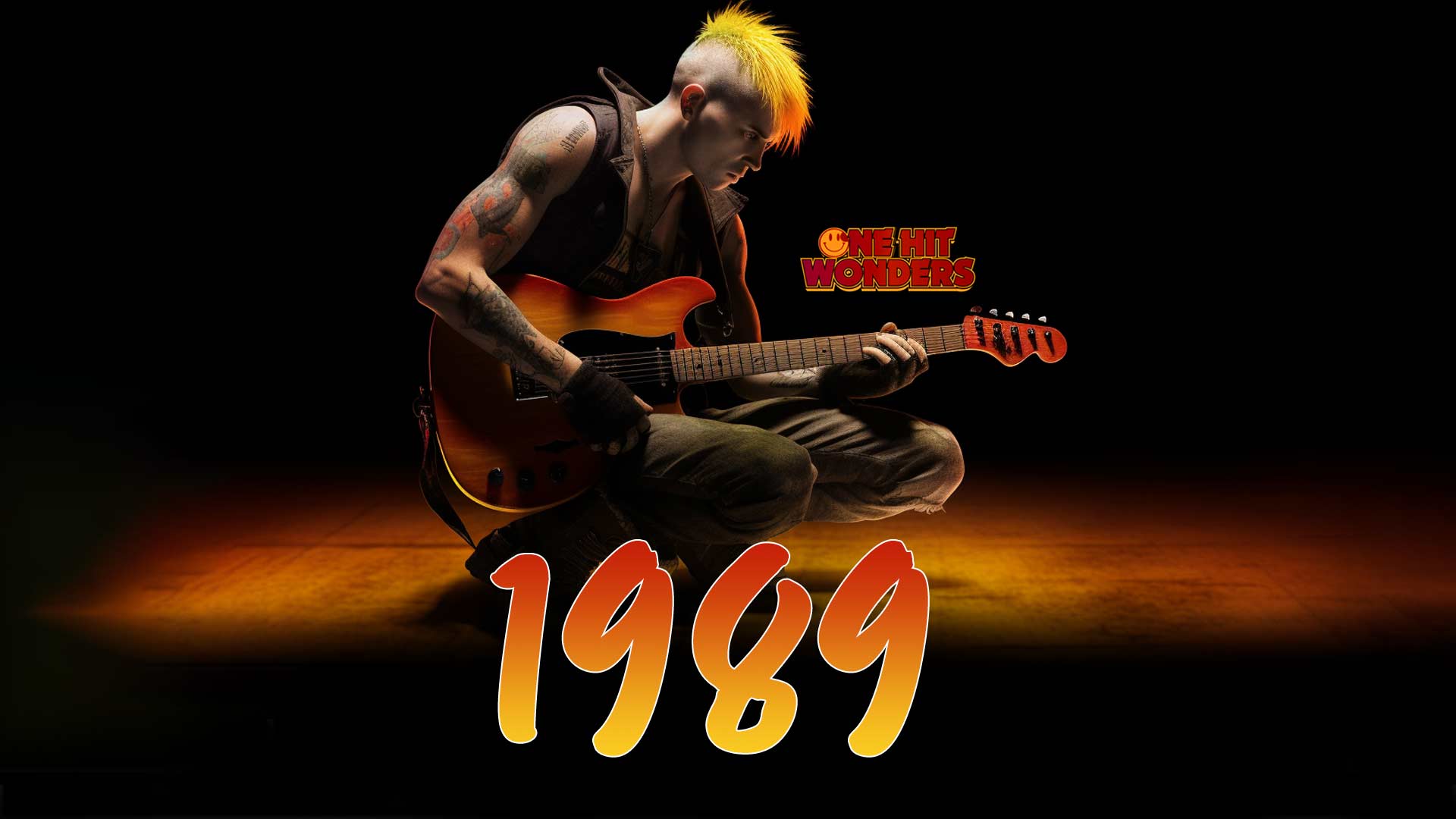 1989 One Hit Wonders & Artists Known For One Song

Anchorage
Michelle Shocked
Michelle Shocked is a singer-songwriter and guitarist known for her eclectic folk style and politically active lyrics.
Angel Eyes
Jeff Healey Band
Jeff Healey was a Canadian blues-rock musician known for his exceptional guitar playing, despite losing his sight as a child.
Bust A Move
Young MC
Young MC is a British-born American singer, rapper and actor, known for his clever and humorous lyrics.
Come Out Fighting
Easterhouse
Easterhouse was a British indie rock band from the mid-1980s, named after the Easterhouse area of Glasgow, Scotland.
Congratulations
Vesta
Vesta Williams was an American R&B singer known for her four-octave vocal range.
Cry
Waterfront
Waterfront was a British pop duo from the late 1980s, best known for their 1989 hit single "Cry".
Cuddly Toy (Feel For Me)
Roachford
Andrew Roachford is a British singer-songwriter and the main force behind the band Roachford, which had a string of hits in the late 80s and early 90s.
Dancing In Heaven (Orbital Be–Bop)
Q-Feel
Q-Feel was a British synthpop group, the main project of musician/producer Martin Page.
Dear God
Midge Ure
Midge Ure is a Scottish musician, singer-songwriter and producer known for his work with the bands Ultravox and Band Aid.
Disappointed
Public Image Limited
Public Image Limited is an English post-punk band formed by vocalist John Lydon, a.k.a. Johnny Rotten, after the breakup of the Sex Pistols.
Doctorin' The Tardis
The Timelords
The Timelords was a pseudonym for The KLF, a British electronic band known for their novel approach to music production and provocative antics.
Don't Close Your Eyes
Kix
Kix is an American glam metal band known for their energetic live performances.
Downtown
One 2 Many
One 2 Many was a short-lived Norwegian band consisting of Dag Kolsrud, Camilla Griehsel and Jan Gisle Ytterdal.
French Kiss
Lil Louis
Lil Louis is an American house-music producer and DJ, widely known as one of the founding fathers of house music.
Gimme Your Good Lovin'
Diving For Pearls
Diving For Pearls was a short-lived American rock band from Texas known for their high-energy performances.
Halleluiah Man
Love & Money
Love & Money was a rock/soul/funk band formed in 1985 in Glasgow, Scotland.
Heaven Help Me
Deon Estus and George Michael
Deon Estus is an American bassist and singer, best known as the bass player of Wham! and as George Michael's bassist on his first two solo projects.
I Already Know
Miz Princess
Miz Princess is a lesser-known artist from the late 1980s.
I Don't Want A Lover
Texas
Texas is a Scottish pop rock band, fronted by lead singer Sharleen Spiteri. They have had a string of hits in the UK and worldwide.
I Love To Bass
Bardeux
Bardeux was an American dance duo formed by music producers Jon St. James and synth player Donnie Sterling in the late 1980s.
I Remember Holding You
Boys Club
Boys Club was an American pop duo consisting of Gene Hunt and Joe Pasquale, and was the only American act to have a hit on the UK Singles Chart in 1989.
I'll Be You
The Replacements
The Replacements are an American alternative rock band from Minneapolis, Minnesota, who were influential in the development of alternative rock.
Iko Iko
The Belle Stars (featured in Rain Man)
The Belle Stars was an all-female British pop band from the 1980s.
Lay Down Your Arms
The Graces
The Graces were an American band featuring Charlotte Caffey of The Go-Go's, Meredith Brooks and Gia Ciambotti.
Oh Daddy
Adrian Below
Adrian Belew is an American musician, songwriter, and producer, primarily known as a guitarist and singer, and his work with King Crimson.
Love Cries
Stage Dolls
Stage Dolls is a Norwegian hard rock band, that had success in the 1980s.
Love Train
Holly Johnson
Holly Johnson is an English artist, musician, and writer, best known as the lead vocalist of Frankie Goes to Hollywood.
Mayor of Simpleton
XTC
XTC was an English rock band formed in Swindon in 1972, known for their smart lyrics and eclectic mix of sounds.
Moonlight On Water
Kevin Raleigh
Kevin Raleigh is a solo artist and member of the Michael Stanley Band, popular in their home city of Cleveland, Ohio.
My One Temptation
Mica Paris
Mica Paris is one of the UK's most respected female singers with a career full of Top 10 hit singles and albums worldwide.
Name and Number
Big Noise
Big Noise was a short-lived British band from the late 1980s.
On The Line
Tangier
Tangier was an American hard rock band from Philadelphia, Pennsylvania.
Once Bitten Twice Shy
Great White
Great White is an American hard rock band, known for their blues-based sound and the raspy vocals of lead singer Jack Russell.
Owwww!
Chunky A
Chunky A is an alias for Arsenio Hall, an American comedian, talk show host, actor, writer and producer.
Perfect
Fairground Attraction
Fairground Attraction was a British folk and soft rock band, best known for their hit song "Perfect", and the distinctive vocals of Eddi Reader.
Realistic
Shirley Lewis
Shirley Lewis is a British singer who has worked extensively as a backing vocalist for famous artists like George Michael and Sting.
Right Back Where We Started From
Sinatta
Sinitta is an American-British singer, known for her hit records in the 1980s including "So Macho", "Toy Boy", and her cover of "Right Back Where We Started From".
Rock ON
Michael Damian
Michael Damian is an American actor, recording artist and producer, best known for his role as Danny Romalotti on the soap opera The Young and the Restless.
Run To Paradise
Choirboys
Choirboys is an Australian hard rock and pub rock band, best known for their hits like "Run to Paradise" and "Boys Will Be Boys".
Send Me An Angel
Real Life (first released in 1984)
Real Life is an Australian new wave and synth-pop band that had an international hit with "Send Me An Angel" in 1983.
Serious Kinda Girl
Christopher Max
Christopher Max is a singer-songwriter who released several albums in the 1980s and 1990s.
So Alive
Love and Rockets
Love and Rockets was an English alternative rock band formed by former Bauhaus members Daniel Ash, David J, and Kevin Haskins.
Stop
Sam Brown
Sam Brown is an English female singer-songwriter, known for her soulful vocals. She is also the daughter of famous rock and roll musician Joe Brown.
Tears Run Rings
Marc Almond
Marc Almond is an English singer-songwriter and musician, who originally found fame as half of the synth pop duo Soft Cell.
That's When I Think Of You
1927
1927 is an Australian pop/rock band, best known for their debut album "…ish".
The Great Commandment
Camouflage
Camouflage is a German synth-pop trio, that gained popularity in the 1980s.
The Way To Your Heart
Soulsister
Soulsister is a Belgian music band consisting of Jan Leyers and Paul Michiels, initially gaining success in Europe.
Thinking of You
Sa-Fire
Sa-Fire is a Puerto Rican singer and the first Latina artist to have four English language hits on Billboard's dance chart.
This Time
Kiara with Shanice Wilson
Kiara is an American R&B and pop singer, known for her duet "This Time" with Shanice Wilson. Shanice is best known for her 1991 hit "I Love Your Smile".
Tribute (Right On)
The Pasadenas
The Pasadenas were a R&B/pop group from the United Kingdom, a hit in the late 1980s and early 1990s.
Walk The Dinosaur
Was (Not Was)
Was (Not Was) is an American pop rock group founded by David Weiss (David Was) and Don Fagenson (Don Was). Don Was has since become a prominent record producer.
Walkin' Shoes
Tora Tora
Tora Tora is an American hard rock band formed in Memphis, Tennessee in 1985.
When The Radio Is On
Paul Shaffer
Paul Shaffer is a Canadian singer, composer, actor, author, and music director, best known for his work as David Letterman's musical director and ban