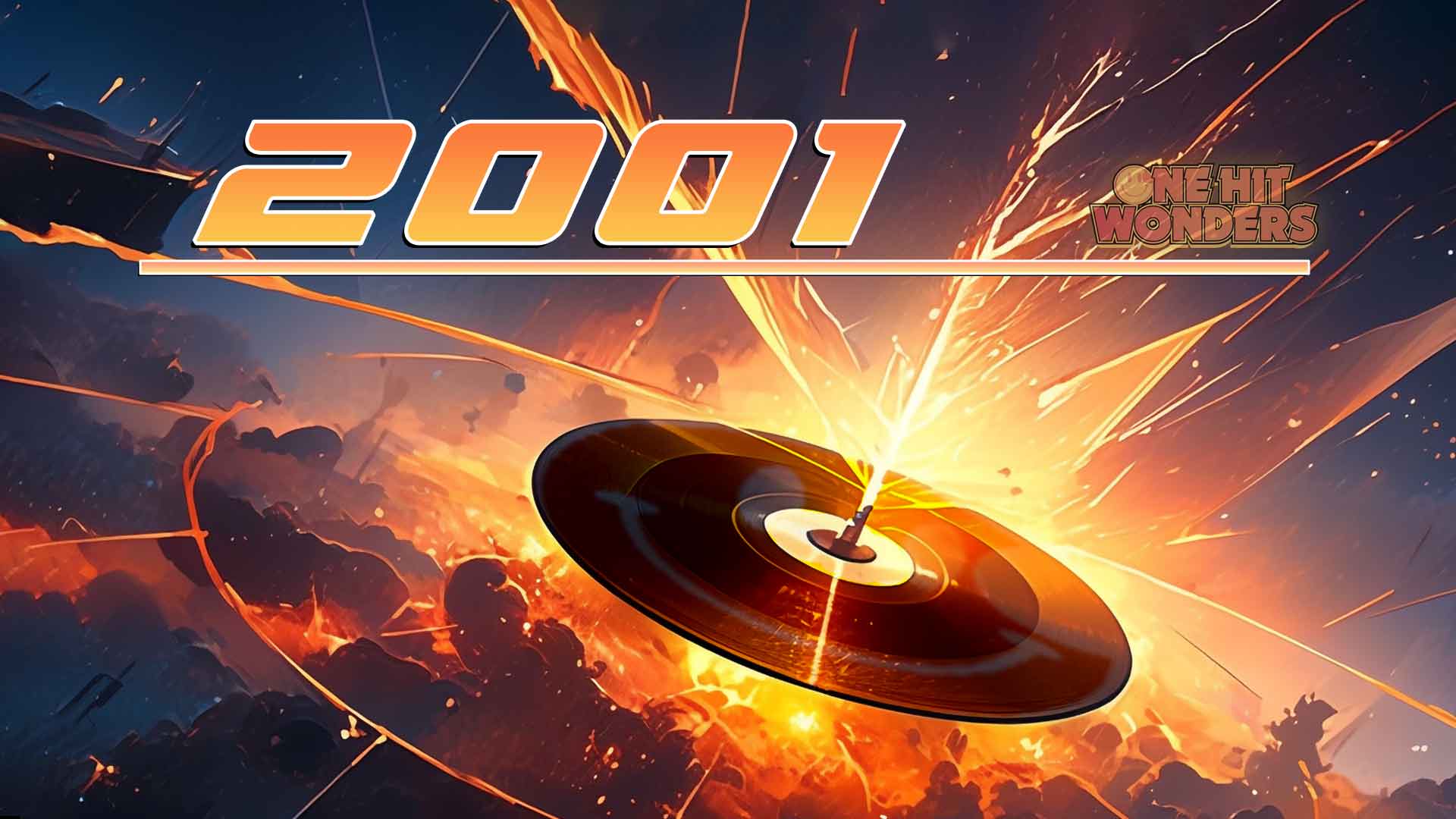 Year 2001 One Hit Wonders & Artists Known For One Song
After Party
Koffee Brown
Koffee Brown is an American R&B and neo-soul duo consisting of male singer Falonte "Fonz" Moore and female vocalist Vernell "Vee" Sales. They were active in the early 2000s.
Angels In Waiting
Tammy Cochran
Tammy Cochran is an American country music artist, who was named the Academy of Country Music's top new female vocalist in 2002.
Around The World (La La La La La)
ATC
ATC, also known as A Touch of Class, was a pop group based in Germany, although the four members each came from different countries—Joseph "Joey" Murray (from New Zealand), Livio Salvi (from Italy), Sarah Egglestone (from Australia) and Tracey Elizabeth Packham (from the UK).
Babylon
David Gray
David Gray is a British singer-songwriter who first gained popularity in the late 1990s with his album 'White Ladder'.
Because I Got High
Afroman
Afroman, real name Joseph Edgar Foreman, is an American rapper who came to prominence with his singles "Because I Got High" and "Crazy Rap".
Bizounce
Olivia
Olivia Longott is an American singer best known as the first lady of hip-hop group G-Unit. She had her breakthrough with her single "Bizounce" which made it to the top 20 on the Billboard charts.
Bodies
Drowning Pool
Drowning Pool is an American rock band formed in Dallas, Texas in 1996. They are known for their energetic live performances.
Breakdown
Tantric
Tantric is a rock band from Louisville, Kentucky, known for incorporating elements of post-grunge and alternative metal into their music.
Breathless
The Corrs
The Corrs are an Irish band that combines pop rock with traditional Irish themes within their music. They are one of the most successful bands from Ireland.
Butterfly
Crazy Town
Crazy Town is an American rap rock band, formed in 1995 by Bret Mazur and Seth Binzer who go by the names Epic Mazur and Shifty Shellshock respectively.
Castles In The Sky
Ian Van Dahl
Ian Van Dahl is a Belgian trance group, which originally started as a trio in 2000 but later became a duo.
Cha-Cha Slide
Mr C The Slide Man
Mr. C The Slide Man, also known as DJ Casper, is an American slide dance artist best known for the songs "Cha Cha Slide" and "Casper Slide Pt. 2".
Chickenhead
Project Pat
Project Pat is an American rapper from Memphis, Tennessee. He is the older brother of Juicy J, the co-founder of the famous southern hip-hop group Three 6 Mafia.
Crazy For This Girl
Evan & Jaron
Evan and Jaron are an American pop-rock duo from Atlanta. They are identical twins.
Cross the Border
Philly's Most Wanted
Philly's Most Wanted was an American rap duo from Philadelphia, Pennsylvania. The group was composed of Al "Boo-Bonic" Holly and Joel "Mr. Man" Witherspoon.
Everybody Doesn't
Amanda
Amanda Latona is an American pop singer, television host and model. She later became a successful fitness model and bodybuilder.
Fat Lip
Sum 41
Sum 41 is a Canadian rock band from Ajax, Ontario. The band was nominated for a Grammy Award for Best Hard Rock Performance in 2003.
Flavor of the Week
American Hi-Fi
American Hi-Fi is a rock band formed in Boston, Massachusetts in 1998. The band consists of vocalist Stacy Jones, guitarist Jamie Arentzen, bassist Drew Parsons, and drummer Brian Nolan.
Get Crunked Up
Iconz
Iconz was an American hip hop group from Miami, Florida. The group was composed of emcees LucDuc, Tony Manshino, Phatboi, and Charlie Black.
Get Over Yourself
Eden's Crush
Eden's Crush was a girl group who were created on the American TV show Popstars, which aired on the now defunct WB network.
God Bless America
Daniel Rodriguez
Daniel Rodriguez is a former New York City police officer turned operatic tenor, whose singing talent was revealed during the events of 9/11.
Heard It All Before
Sunshine Anderson
Sunshine Anderson is an R&B and soul singer and songwriter. She was discovered by Macy Gray while singing on a demo tape.
Hit 'Em Upstyle
Blu Cantrell
Blu Cantrell is an American R&B and soul singer-songwriter who achieved fame in the early 2000s, earning three Grammy nominations.
I Wanna Be Bad
Willa Ford
Willa Ford is an American pop singer, songwriter, dancer, model, television personality and film actress. She was also a contestant on Dancing with the Stars.
I'll Fly With You (L'Amour Toujours)
Gigi D'Agostino
Gigi D'Agostino is an Italian DJ, remixer and record producer, who is known for his unique style which blends progressive trance and Italian dance.
It's Been Awhile
Staind
Staind is an American rock band formed in 1995. They have sold over 15 million records worldwide.
La Bomba
Azul Azul
Azul Azul is a music group from Bolivia, known for their Latin dance tunes. "La Bomba" was a hit in Latin America, Europe, and the U.S.
Lady (hear me tonight)
Modjo
Modjo was a French house musical duo made up of producer Romain Tranchart and vocalist Yann Destagnol. They are best known for their 2000 single "Lady (Hear Me Tonight)".
Like, Wow!
Leslie Carter
Leslie Carter was an American pop singer known as the sister of Backstreet Boys member Nick Carter and singer Aaron Carter.
Look At Us
Sarina Paris
Sarina Paris is a Canadian pop singer who gained fame in the early 2000s. She was nominated for a Juno Award in 2001 for Best Dance Recording.
Maybe I Deserve
Tank
Tank is an American R&B singer-songwriter and producer. He has written and produced songs for many major artists, including Aaliyah, Beyoncé, and Jamie Foxx.
Midwest Swing
St. Lunatics
St. Lunatics is a hip-hop group from St. Louis, Missouri, formed by Nelly and his friends in high school.
Miss California
Dante Thomas
Dante Thomas is an American R&B singer and musician, who became popular in the early 2000s.
Mrs. Steven Rudy
Mark McGuinn
Mark McGuinn is an American country music artist. He was named Top New Male Vocalist by the Academy of Country Music in 2001.
My Baby
Lil Romeo
Lil' Romeo, now known as Romeo Miller, is an American rapper, actor, and model. He is the son of rapper and entrepreneur Master P and former rapper Sonya C.
Never Had A Dream Come True
S Club 7
S Club 7 was a British pop group from London, created by former Spice Girls manager Simon Fuller. The group had a popular TV series, "Miami 7", which aired on CBBC in the UK and on Fox Family in the U.S.
Oochie Wally
QB Finest
QB Finest was a compilation album that featured Nas and a number of other rappers from Queensbridge projects, including Mobb Deep and Capone.
Project Chick
Cash Money Millionaires
Cash Money Millionaires was a supergroup made up of Cash Money recording artists from the late 90s and early 2000s. The group was composed of Big Tymers, Lil Wayne, Juvenile, and Turk.
Rapture (Taste So Sweet)
iiO
iiO was a New York City-based house music act composed of songwriter and record producer Markus Moser and singer and songwriter Nadia Ali.
Sandstorm
Darude
Darude is a Finnish DJ and record producer known mainly for his electronic music. He was voted the #1 DJ in Finland four times and he was the first Finnish DJ to be placed in the Top 100 DJs list.
Schism
Tool
Tool is an American rock band that is known for its dynamic changes, variant rhythms and layering, and lengthy songs.
Smooth Criminal
Alien Ant Farm
Alien Ant Farm is an American rock band that formed in Riverside, California, United States, in 1996. They have won a Grammy and two Billboard Music Awards.
So In Love With Two
Mikaila
Mikaila Enriquez is a pop singer from Edmond, Oklahoma. She was 14 when her debut album was released.
She's All I Got
Jimmy Cozier
Jimmy Cozier is an American R&B singer and songwriter. He is best known for his hit single "She's All I Got".
Start The Commotion
The Wiseguys
The Wiseguys were a British electronic duo that became well known in the late 90s. They were comprised of Touché, also known as Theo Keating, and Regal, also known as Paul Eve.
What I Really Meant To Say
Cyndi Thomson
Cyndi Thomson is an American country music artist who retired in 2002 only to return to music in 2006.
What's Going On
Artists Against AIDS
Artists Against AIDS was a group of artists who came together in 2001 to re-record Marvin Gaye's "What's Going On" to benefit AIDS programs in Africa and other impoverished regions.
Wherever You Will Go
The Calling
The Calling is a rock band from Los Angeles, California. The group is best known for its hit single "Wherever You Will Go", which topped the Adult Top 40 for 23 weeks.