Born in 1979? Find Your Conception Song!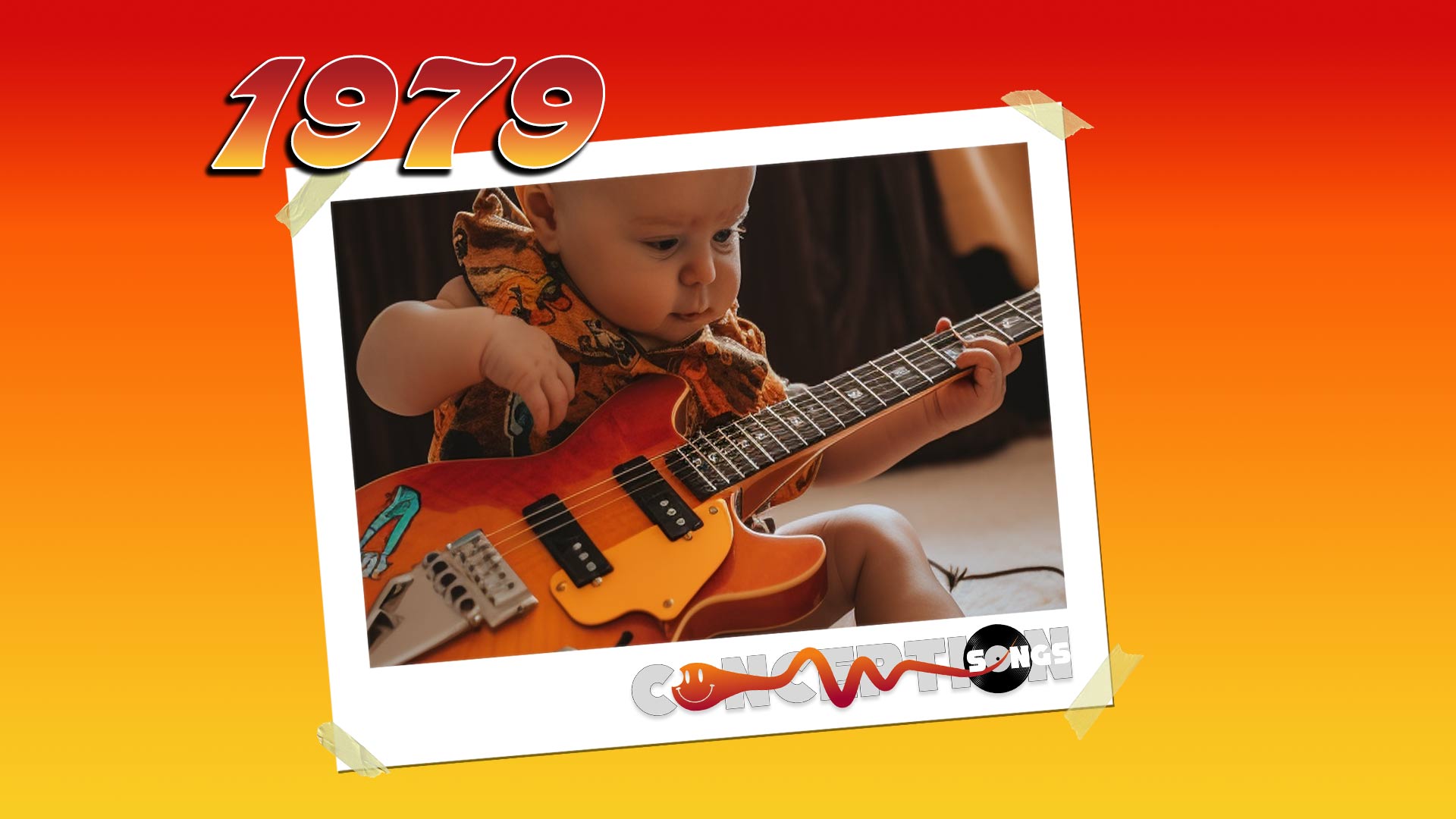 Which Song Best Describes Your Parent's Love Life in Your Conception Era?
A. Sometimes When We Touch (Dan Hill)
B. Don't Stop 'Til You Get Enough (Michael Jackson)
C. Le Freak (Chic)
D. Do Ya Think I'm Sexy? – (Rod Stewart)
E. Kiss You All Over (Exile)
F. Night Fever (Bee Gees)
G. Grease (Franki Valli)
Born in 1979?
Check the date to find the # 1 song when you were conceived, nine months ago!
The average length of human gestation (Your 'Conception Era') is 280 days, or 40 weeks, from the first day of the woman's last menstrual period. The medical term for the due date is estimated date of confinement (EDC).
If you were born late, or a bit premature, add or subtract those days.
This Year's Euphemisms: Dancing the night away and Shadow Dancing

Your Birthday:
January 1st, 1979:
Bee Gees – Night Fever
January 2nd, 1979:
Bee Gees – Night Fever
January 3rd, 1979:
Bee Gees – Night Fever
January 4th, 1979:
Bee Gees – Night Fever
January 5th, 1979:
Bee Gees – Night Fever
January 6th, 1979:
Bee Gees – Night Fever
January 7th, 1979:
Bee Gees – Night Fever
January 8th, 1979:
Bee Gees – Night Fever
January 9th, 1979:
Bee Gees – Night Fever
January 10th, 1979:
Bee Gees – Night Fever
January 11th, 1979:
Bee Gees – Night Fever
January 12th, 1979:
Bee Gees – Night Fever
January 13th, 1979:
Bee Gees – Night Fever
January 14th, 1979:
Bee Gees – Night Fever
January 15th, 1979:
Bee Gees – Night Fever
January 16th, 1979:
Bee Gees – Night Fever
January 17th, 1979:
Bee Gees – Night Fever
January 18th, 1979:
Bee Gees – Night Fever
January 19th, 1979:
Bee Gees – Night Fever
January 20th, 1979:
Bee Gees – Night Fever
January 21st, 1979:
Bee Gees – Night Fever
January 22nd, 1979:
Bee Gees – Night Fever
January 23rd, 1979:
Bee Gees – Night Fever
January 24th, 1979:
Bee Gees – Night Fever
January 25th, 1979:
Bee Gees – Night Fever
January 26th, 1979:
Bee Gees – Night Fever
January 27th, 1979:
Bee Gees – Night Fever
January 28th, 1979:
Bee Gees – Night Fever
January 29th, 1979:
Bee Gees – Night Fever
January 30th, 1979:
Bee Gees – Night Fever
January 31st, 1979:
Bee Gees – Night Fever
February 1st, 1979:
Bee Gees – Night Fever
February 2nd, 1979:
Bee Gees – Night Fever
February 3rd, 1979:
Bee Gees – Night Fever
February 4th, 1979:
Bee Gees – Night Fever
February 5th, 1979:
Bee Gees – Night Fever
February 6th, 1979:
Bee Gees – Night Fever
February 7th, 1979:
Bee Gees – Night Fever
February 8th, 1979:
Bee Gees – Night Fever
February 9th, 1979:
Bee Gees – Night Fever
February 10th, 1979:
Bee Gees – Night Fever
February 11th, 1979:
Bee Gees – Night Fever
February 12th, 1979:
Bee Gees – Night Fever
February 13th, 1979:
Bee Gees – Night Fever
February 14th, 1979:
Bee Gees – Night Fever
February 15th, 1979:
Bee Gees – Night Fever
February 16th, 1979:
Bee Gees – Night Fever
February 17th, 1979:
Yvonne Elliman – If I Can't Have You
February 18th, 1979:
Yvonne Elliman – If I Can't Have You
February 19th, 1979:
Yvonne Elliman – If I Can't Have You
February 20th, 1979:
Yvonne Elliman – If I Can't Have You
February 21st, 1979:
Yvonne Elliman – If I Can't Have You
February 22nd, 1979:
Yvonne Elliman – If I Can't Have You
February 23rd, 1979:
Yvonne Elliman – If I Can't Have You
February 24th, 1979:
Wings – With a Little Luck
February 25th, 1979:
Wings – With a Little Luck
February 26th, 1979:
Wings – With a Little Luck
February 27th, 1979:
Wings – With a Little Luck
February 28th, 1979:
Wings – With a Little Luck
March 1st, 1979:
Wings – With a Little Luck
March 2nd, 1979:
Wings – With a Little Luck
March 3rd, 1979:
Wings – With a Little Luck
March 4th, 1979:
Wings – With a Little Luck
March 5th, 1979:
Wings – With a Little Luck
March 6th, 1979:
Wings – With a Little Luck
March 7th, 1979:
Wings – With a Little Luck
March 8th, 1979:
Wings – With a Little Luck
March 9th, 1979:
Johnny Mathis and Deniece Williams – Too Much, Too Little, Too Late
March 10th, 1979:
Johnny Mathis and Deniece Williams – Too Much, Too Little, Too Late
March 11th, 1979:
Johnny Mathis and Deniece Williams – Too Much, Too Little, Too Late
March 12th, 1979:
Johnny Mathis and Deniece Williams – Too Much, Too Little, Too Late
March 13th, 1979:
Johnny Mathis and Deniece Williams – Too Much, Too Little, Too Late
March 14th, 1979:
Johnny Mathis and Deniece Williams – Too Much, Too Little, Too Late
March 15th, 1979:
Johnny Mathis and Deniece Williams – Too Much, Too Little, Too Late
March 16th, 1979:
Johnny Mathis and Deniece Williams – Too Much, Too Little, Too Late
March 17th, 1979:
John Travolta and Olivia Newton-John – You're the One That I Want
March 18th, 1979:
John Travolta and Olivia Newton-John – You're the One That I Want
March 19th, 1979:
John Travolta and Olivia Newton-John – You're the One That I Want
March 20th, 1979:
John Travolta and Olivia Newton-John – You're the One That I Want
March 21st, 1979:
John Travolta and Olivia Newton-John – You're the One That I Want
March 22nd, 1979:
John Travolta and Olivia Newton-John – You're the One That I Want
March 23rd, 1979:
John Travolta and Olivia Newton-John – You're the One That I Want
March 24th, 1979:
Andy Gibb – Shadow Dancing
March 25th, 1979:
Andy Gibb – Shadow Dancing
March 26th, 1979:
Andy Gibb – Shadow Dancing
March 27th, 1979:
Andy Gibb – Shadow Dancing
March 28th, 1979:
Andy Gibb – Shadow Dancing
March 29th, 1979:
Andy Gibb – Shadow Dancing
March 30th, 1979:
Andy Gibb – Shadow Dancing
March 31st, 1979:
Andy Gibb – Shadow Dancing
April 1st, 1979:
Andy Gibb – Shadow Dancing
April 2nd, 1979:
Andy Gibb – Shadow Dancing
April 3rd, 1979:
Andy Gibb – Shadow Dancing
April 4th, 1979:
Andy Gibb – Shadow Dancing
April 5th, 1979:
Andy Gibb – Shadow Dancing
April 6th, 1979:
Andy Gibb – Shadow Dancing
April 7th, 1979:
Andy Gibb – Shadow Dancing
April 8th, 1979:
Andy Gibb – Shadow Dancing
April 9th, 1979:
Andy Gibb – Shadow Dancing
April 10th, 1979:
Andy Gibb – Shadow Dancing
April 11th, 1979:
Andy Gibb – Shadow Dancing
April 12th, 1979:
Andy Gibb – Shadow Dancing
April 13th, 1979:
Andy Gibb – Shadow Dancing
April 14th, 1979:
Andy Gibb – Shadow Dancing
April 15th, 1979:
Andy Gibb – Shadow Dancing
April 16th, 1979:
Andy Gibb – Shadow Dancing
April 17th, 1979:
Andy Gibb – Shadow Dancing
April 18th, 1979:
Andy Gibb – Shadow Dancing
April 19th, 1979:
Andy Gibb – Shadow Dancing
April 20th, 1979:
Andy Gibb – Shadow Dancing
April 21st, 1979:
Andy Gibb – Shadow Dancing
April 22nd, 1979:
Andy Gibb – Shadow Dancing
April 23rd, 1979:
Andy Gibb – Shadow Dancing
April 24th, 1979:
Andy Gibb – Shadow Dancing
April 25th, 1979:
Andy Gibb – Shadow Dancing
April 26th, 1979:
Andy Gibb – Shadow Dancing
April 27th, 1979:
Andy Gibb – Shadow Dancing
April 28th, 1979:
Andy Gibb – Shadow Dancing
April 29th, 1979:
Andy Gibb – Shadow Dancing
April 30th, 1979:
Andy Gibb – Shadow Dancing
May 1st, 1979:
Andy Gibb – Shadow Dancing
May 2nd, 1979:
Andy Gibb – Shadow Dancing
May 3rd, 1979:
Andy Gibb – Shadow Dancing
May 4th, 1979:
Andy Gibb – Shadow Dancing
May 5th, 1979:
Andy Gibb – Shadow Dancing
May 6th, 1979:
Andy Gibb – Shadow Dancing
May 7th, 1979:
Andy Gibb – Shadow Dancing
May 8th, 1979:
Andy Gibb – Shadow Dancing
May 9th, 1979:
Andy Gibb – Shadow Dancing
May 10th, 1979:
Andy Gibb – Shadow Dancing
May 11th, 1979:
Andy Gibb – Shadow Dancing
May 12th, 1979:
The Rolling Stones – Miss You
May 13th, 1979:
The Rolling Stones – Miss You
May 14th, 1979:
The Rolling Stones – Miss You
May 15th, 1979:
The Rolling Stones – Miss You
May 16th, 1979:
The Rolling Stones – Miss You
May 17th, 1979:
The Rolling Stones – Miss You
May 18th, 1979:
The Rolling Stones – Miss You
May 19th, 1979:
Commodores – Three Times a Lady
May 20th, 1979:
Commodores – Three Times a Lady
May 21st, 1979:
Commodores – Three Times a Lady
May 22nd, 1979:
Commodores – Three Times a Lady
May 23rd, 1979:
Commodores – Three Times a Lady
May 24th, 1979:
Commodores – Three Times a Lady
May 25th, 1979:
Commodores – Three Times a Lady
May 26th, 1979:
Commodores – Three Times a Lady
May 27th, 1979:
Commodores – Three Times a Lady
May 28th, 1979:
Commodores – Three Times a Lady
May 29th, 1979:
Commodores – Three Times a Lady
May 30th, 1979:
Commodores – Three Times a Lady
May 31st, 1979:
Commodores – Three Times a Lady
June 1st, 1979:
Commodores – Three Times a Lady
June 2nd, 1979:
Frankie Valli – Grease
June 3rd, 1979:
Frankie Valli – Grease
June 4th, 1979:
Frankie Valli – Grease
June 5th, 1979:
Frankie Valli – Grease
June 6th, 1979:
Frankie Valli – Grease
June 7th, 1979:
Frankie Valli – Grease
June 8th, 1979:
Frankie Valli – Grease
June 9th, 1979:
Frankie Valli – Grease
June 10th, 1979:
Frankie Valli – Grease
June 11th, 1979:
Frankie Valli – Grease
June 12th, 1979:
Frankie Valli – Grease
June 13th, 1979:
Frankie Valli – Grease
June 14th, 1979:
Frankie Valli – Grease
June 15th, 1979:
Frankie Valli – Grease
June 16th, 1979:
A Taste of Honey – Boogie Oogie Oogie
June 17th, 1979:
A Taste of Honey – Boogie Oogie Oogie
June 18th, 1979:
A Taste of Honey – Boogie Oogie Oogie
June 19th, 1979:
A Taste of Honey – Boogie Oogie Oogie
June 20th, 1979:
A Taste of Honey – Boogie Oogie Oogie
June 21st, 1979:
A Taste of Honey – Boogie Oogie Oogie
June 22nd, 1979:
A Taste of Honey – Boogie Oogie Oogie
June 23rd, 1979:
A Taste of Honey – Boogie Oogie Oogie
June 24th, 1979:
A Taste of Honey – Boogie Oogie Oogie
June 25th, 1979:
A Taste of Honey – Boogie Oogie Oogie
June 26th, 1979:
A Taste of Honey – Boogie Oogie Oogie
June 27th, 1979:
A Taste of Honey – Boogie Oogie Oogie
June 28th, 1979:
A Taste of Honey – Boogie Oogie Oogie
June 29th, 1979:
A Taste of Honey – Boogie Oogie Oogie
June 30th, 1979:
A Taste of Honey – Boogie Oogie Oogie
July 1st, 1979:
A Taste of Honey – Boogie Oogie Oogie
July 2nd, 1979:
A Taste of Honey – Boogie Oogie Oogie
July 3rd, 1979:
A Taste of Honey – Boogie Oogie Oogie
July 4th, 1979:
A Taste of Honey – Boogie Oogie Oogie
July 5th, 1979:
A Taste of Honey – Boogie Oogie Oogie
July 6th, 1979:
A Taste of Honey – Boogie Oogie Oogie
July 7th, 1979:
Exile – Kiss You All Over
July 8th, 1979:
Exile – Kiss You All Over
July 9th, 1979:
Exile – Kiss You All Over
July 10th, 1979:
Exile – Kiss You All Over
July 11th, 1979:
Exile – Kiss You All Over
July 12th, 1979:
Exile – Kiss You All Over
July 13th, 1979:
Exile – Kiss You All Over
July 14th, 1979:
Exile – Kiss You All Over
July 15th, 1979:
Exile – Kiss You All Over
July 16th, 1979:
Exile – Kiss You All Over
July 17th, 1979:
Exile – Kiss You All Over
July 18th, 1979:
Exile – Kiss You All Over
July 19th, 1979:
Exile – Kiss You All Over
July 20th, 1979:
Exile – Kiss You All Over
July 21st, 1979:
Exile – Kiss You All Over
July 22nd, 1979:
Exile – Kiss You All Over
July 23rd, 1979:
Exile – Kiss You All Over
July 24th, 1979:
Exile – Kiss You All Over
July 25th, 1979:
Exile – Kiss You All Over
July 26th, 1979:
Exile – Kiss You All Over
July 27th, 1979:
Exile – Kiss You All Over
July 28th, 1979:
Exile – Kiss You All Over
July 29th, 1979:
Exile – Kiss You All Over
July 30th, 1979:
Exile – Kiss You All Over
July 31st, 1979:
Exile – Kiss You All Over
August 1st, 1979:
Exile – Kiss You All Over
August 2nd, 1979:
Exile – Kiss You All Over
August 3rd, 1979:
Exile – Kiss You All Over
August 4th, 1979:
Nick Gilder – Hot Child in the City
August 5th, 1979:
Nick Gilder – Hot Child in the City
August 6th, 1979:
Nick Gilder – Hot Child in the City
August 7th, 1979:
Nick Gilder – Hot Child in the City
August 8th, 1979:
Nick Gilder – Hot Child in the City
August 9th, 1979:
Nick Gilder – Hot Child in the City
August 10th, 1979:
Nick Gilder – Hot Child in the City
August 11th, 1979:
Anne Murray – You Needed Me
August 12th, 1979:
Anne Murray – You Needed Me
August 13th, 1979:
Anne Murray – You Needed Me
August 14th, 1979:
Anne Murray – You Needed Me
August 15th, 1979:
Anne Murray – You Needed Me
August 16th, 1979:
Anne Murray – You Needed Me
August 17th, 1979:
Anne Murray – You Needed Me
August 18th, 1979:
Donna Summer – MacArthur Park
August 19th, 1979:
Donna Summer – MacArthur Park
August 20th, 1979:
Donna Summer – MacArthur Park
August 21st, 1979:
Donna Summer – MacArthur Park
August 22nd, 1979:
Donna Summer – MacArthur Park
August 23rd, 1979:
Donna Summer – MacArthur Park
August 24th, 1979:
Donna Summer – MacArthur Park
August 25th, 1979:
Donna Summer – MacArthur Park
August 26th, 1979:
Donna Summer – MacArthur Park
August 27th, 1979:
Donna Summer – MacArthur Park
August 28th, 1979:
Donna Summer – MacArthur Park
August 29th, 1979:
Donna Summer – MacArthur Park
August 30th, 1979:
Donna Summer – MacArthur Park
August 31st, 1979:
Donna Summer – MacArthur Park
September 1st, 1979:
Donna Summer – MacArthur Park
September 2nd, 1979:
Donna Summer – MacArthur Park
September 3rd, 1979:
Donna Summer – MacArthur Park
September 4th, 1979:
Donna Summer – MacArthur Park
September 5th, 1979:
Donna Summer – MacArthur Park
September 6th, 1979:
Donna Summer – MacArthur Park
September 7th, 1979:
Donna Summer – MacArthur Park
September 8th, 1979:
Barbra Streisand and Neil Diamond – You Don't Bring Me Flowers
September 9th, 1979:
Barbra Streisand and Neil Diamond – You Don't Bring Me Flowers
September 10th, 1979:
Barbra Streisand and Neil Diamond – You Don't Bring Me Flowers
September 11th, 1979:
Barbra Streisand and Neil Diamond – You Don't Bring Me Flowers
September 12th, 1979:
Barbra Streisand and Neil Diamond – You Don't Bring Me Flowers
September 13th, 1979:
Barbra Streisand and Neil Diamond – You Don't Bring Me Flowers
September 14th, 1979:
Barbra Streisand and Neil Diamond – You Don't Bring Me Flowers
September 15th, 1979:
Chic – Le Freak
September 16th, 1979:
Chic – Le Freak
September 17th, 1979:
Chic – Le Freak
September 18th, 1979:
Chic – Le Freak
September 19th, 1979:
Chic – Le Freak
September 20th, 1979:
Chic – Le Freak
September 21st, 1979:
Chic – Le Freak
September 22nd, 1979:
Chic – Le Freak
September 23rd, 1979:
Chic – Le Freak
September 24th, 1979:
Chic – Le Freak
September 25th, 1979:
Chic – Le Freak
September 26th, 1979:
Chic – Le Freak
September 27th, 1979:
Chic – Le Freak
September 28th, 1979:
Chic – Le Freak
September 29th, 1979:
Chic – Le Freak
September 30th, 1979:
Chic – Le Freak
October 1st, 1979:
Chic – Le Freak
October 2nd, 1979:
Chic – Le Freak
October 3rd, 1979:
Chic – Le Freak
October 4th, 1979:
Chic – Le Freak
October 5th, 1979:
Chic – Le Freak
October 6th, 1979:
Chic – Le Freak
October 7th, 1979:
Chic – Le Freak
October 8th, 1979:
Chic – Le Freak
October 9th, 1979:
Chic – Le Freak
October 10th, 1979:
Chic – Le Freak
October 11th, 1979:
Chic – Le Freak
October 12th, 1979:
Chic – Le Freak
October 13th, 1979:
Bee Gees – Too Much Heaven
October 14th, 1979:
Bee Gees – Too Much Heaven
October 15th, 1979:
Bee Gees – Too Much Heaven
October 16th, 1979:
Bee Gees – Too Much Heaven
October 17th, 1979:
Bee Gees – Too Much Heaven
October 18th, 1979:
Bee Gees – Too Much Heaven
October 19th, 1979:
Bee Gees – Too Much Heaven
October 20th, 1979:
Bee Gees – Too Much Heaven
October 21st, 1979:
Bee Gees – Too Much Heaven
October 22nd, 1979:
Bee Gees – Too Much Heaven
October 23rd, 1979:
Bee Gees – Too Much Heaven
October 24th, 1979:
Bee Gees – Too Much Heaven
October 25th, 1979:
Bee Gees – Too Much Heaven
October 26th, 1979:
Bee Gees – Too Much Heaven
October 27th, 1979:
Bee Gees – Too Much Heaven
October 28th, 1979:
Bee Gees – Too Much Heaven
October 29th, 1979:
Bee Gees – Too Much Heaven
October 30th, 1979:
Bee Gees – Too Much Heaven
October 31st, 1979:
Bee Gees – Too Much Heaven
November 1st, 1979:
Bee Gees – Too Much Heaven
November 2nd, 1979:
Bee Gees – Too Much Heaven
November 3rd, 1979:
Bee Gees – Too Much Heaven
November 4th, 1979:
Bee Gees – Too Much Heaven
November 5th, 1979:
Bee Gees – Too Much Heaven
November 6th, 1979:
Bee Gees – Too Much Heaven
November 7th, 1979:
Bee Gees – Too Much Heaven
November 8th, 1979:
Bee Gees – Too Much Heaven
November 9th, 1979:
Bee Gees – Too Much Heaven
November 10th, 1979:
Bee Gees – Too Much Heaven
November 11th, 1979:
Bee Gees – Too Much Heaven
November 12th, 1979:
Bee Gees – Too Much Heaven
November 13th, 1979:
Bee Gees – Too Much Heaven
November 14th, 1979:
Bee Gees – Too Much Heaven
November 15th, 1979:
Bee Gees – Too Much Heaven
November 16th, 1979:
Bee Gees – Too Much Heaven
November 17th, 1979:
Rod Stewart – Da Ya Think I'm Sexy
November 18th, 1979:
Rod Stewart – Da Ya Think I'm Sexy
November 19th, 1979:
Rod Stewart – Da Ya Think I'm Sexy
November 20th, 1979:
Rod Stewart – Da Ya Think I'm Sexy
November 21st, 1979:
Rod Stewart – Da Ya Think I'm Sexy
November 22nd, 1979:
Rod Stewart – Da Ya Think I'm Sexy
November 23rd, 1979:
Rod Stewart – Da Ya Think I'm Sexy
November 24th, 1979:
Rod Stewart – Da Ya Think I'm Sexy
November 25th, 1979:
Rod Stewart – Da Ya Think I'm Sexy
November 26th, 1979:
Rod Stewart – Da Ya Think I'm Sexy
November 27th, 1979:
Rod Stewart – Da Ya Think I'm Sexy
November 28th, 1979:
Rod Stewart – Da Ya Think I'm Sexy
November 29th, 1979:
Rod Stewart – Da Ya Think I'm Sexy
November 30th, 1979:
Rod Stewart – Da Ya Think I'm Sexy
December 1st, 1979:
Rod Stewart – Da Ya Think I'm Sexy
December 2nd, 1979:
Rod Stewart – Da Ya Think I'm Sexy
December 3rd, 1979:
Rod Stewart – Da Ya Think I'm Sexy
December 4th, 1979:
Rod Stewart – Da Ya Think I'm Sexy
December 5th, 1979:
Rod Stewart – Da Ya Think I'm Sexy
December 6th, 1979:
Rod Stewart – Da Ya Think I'm Sexy
December 7th, 1979:
Rod Stewart – Da Ya Think I'm Sexy
December 8th, 1979:
Rod Stewart – Da Ya Think I'm Sexy
December 9th, 1979:
Rod Stewart – Da Ya Think I'm Sexy
December 10th, 1979:
Rod Stewart – Da Ya Think I'm Sexy
December 11th, 1979:
Rod Stewart – Da Ya Think I'm Sexy
December 12th, 1979:
Rod Stewart – Da Ya Think I'm Sexy
December 13th, 1979:
Rod Stewart – Da Ya Think I'm Sexy
December 14th, 1979:
Rod Stewart – Da Ya Think I'm Sexy
December 15th, 1979:
Rod Stewart – Da Ya Think I'm Sexy
December 16th, 1979:
Gloria Gaynor – I Will Survive
December 17th, 1979:
Gloria Gaynor – I Will Survive
December 18th, 1979:
Gloria Gaynor – I Will Survive
December 19th, 1979:
Gloria Gaynor – I Will Survive
December 20th, 1979:
Gloria Gaynor – I Will Survive
December 21st, 1979:
Gloria Gaynor – I Will Survive
December 22nd, 1979:
Gloria Gaynor – I Will Survive
December 23rd, 1979:
Gloria Gaynor – I Will Survive
December 24th, 1979:
Gloria Gaynor – I Will Survive
December 25th, 1979:
Gloria Gaynor – I Will Survive
December 26th, 1979:
Gloria Gaynor – I Will Survive
December 27th, 1979:
Gloria Gaynor – I Will Survive
December 28th, 1979:
Gloria Gaynor – I Will Survive
December 29th, 1979:
Gloria Gaynor – I Will Survive
December 30th, 1979:
Bee Gees – Tragedy
December 31st, 1979:
Bee Gees – Tragedy