Born in 1982? Find Your Conception Song!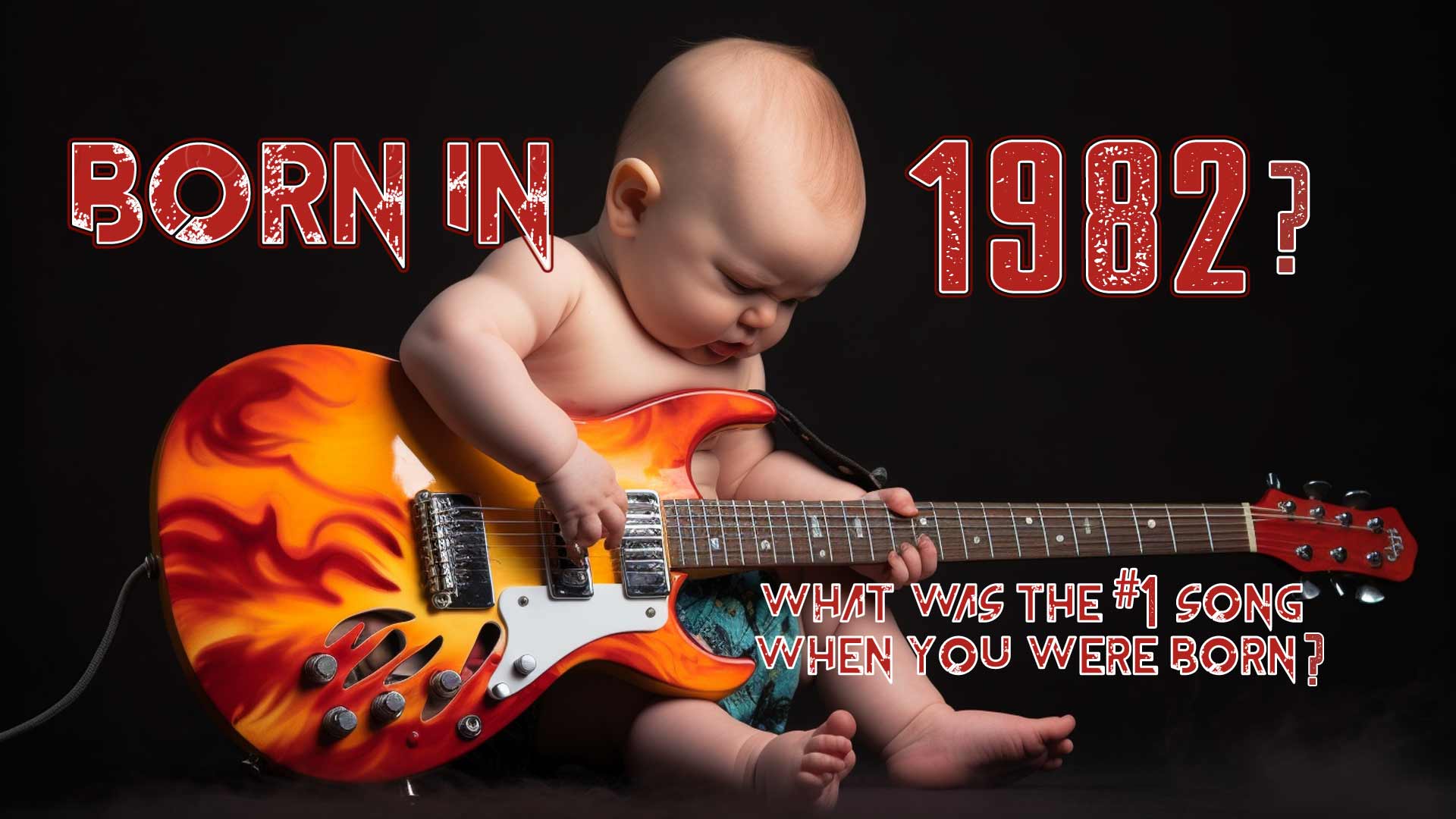 On the radio, your parents were listening to Physical by Olivia Newton-John, Urgent by Foreignor, Hurt So Good by John Cougar (Melloncamp), Superfreak by Rick James and Centerfold by The J. Geils Band.
Probably not at your moment of conception, but probably earlier that same day.
Born in 1982?
Check the date to find the # 1 song when you were conceived, nine months ago!
The average length of human gestation (Your 'Conception Era') is 280 days, or 40 weeks, from the first day of the woman's last menstrual period. The medical term for the due date is estimated date of confinement (EDC).
If you were born late, or a bit premature, add or subtract those days.
This Year's Euphemism: Phoning home or Shocking the monkey

Your Birthday:
January 1st, 1982:
REO Speedwagon – Keep On Loving You
January 2nd, 1982:
REO Speedwagon – Keep On Loving You
January 3rd, 1982:
Blondie – Rapture
January 4th, 1982:
Blondie – Rapture
January 5th, 1982:
Blondie – Rapture
January 6th, 1982:
Blondie – Rapture
January 7th, 1982:
Blondie – Rapture
January 8th, 1982:
Blondie – Rapture
January 9th, 1982:
Blondie – Rapture
January 10th, 1982:
Blondie – Rapture
January 11th, 1982:
Blondie – Rapture
January 12th, 1982:
Blondie – Rapture
January 13th, 1982:
Blondie – Rapture
January 14th, 1982:
Blondie – Rapture
January 15th, 1982:
Blondie – Rapture
January 16th, 1982:
Daryl Hall and John Oates – Kiss on My List
January 17th, 1982:
Daryl Hall and John Oates – Kiss on My List
January 18th, 1982:
Daryl Hall and John Oates – Kiss on My List
January 19th, 1982:
Daryl Hall and John Oates – Kiss on My List
January 20th, 1982:
Daryl Hall and John Oates – Kiss on My List
January 21st, 1982:
Daryl Hall and John Oates – Kiss on My List
January 22nd, 1982:
Daryl Hall and John Oates – Kiss on My List
January 23rd, 1982:
Daryl Hall and John Oates – Kiss on My List
January 24th, 1982:
Daryl Hall and John Oates – Kiss on My List
January 25th, 1982:
Daryl Hall and John Oates – Kiss on My List
January 26th, 1982:
Daryl Hall and John Oates – Kiss on My List
January 27th, 1982:
Daryl Hall and John Oates – Kiss on My List
January 28th, 1982:
Daryl Hall and John Oates – Kiss on My List
January 29th, 1982:
Daryl Hall and John Oates – Kiss on My List
January 30th, 1982:
Daryl Hall and John Oates – Kiss on My List
January 31st, 1982:
Daryl Hall and John Oates – Kiss on My List
February 1st, 1982:
Daryl Hall and John Oates – Kiss on My List
February 2nd, 1982:
Daryl Hall and John Oates – Kiss on My List
February 3rd, 1982:
Daryl Hall and John Oates – Kiss on My List
February 4th, 1982:
Daryl Hall and John Oates – Kiss on My List
February 5th, 1982:
Daryl Hall and John Oates – Kiss on My List
February 6th, 1982:
Sheena Easton – Morning Train (Nine to Five)
February 7th, 1982:
Sheena Easton – Morning Train (Nine to Five)
February 8th, 1982:
Sheena Easton – Morning Train (Nine to Five)
February 9th, 1982:
Sheena Easton – Morning Train (Nine to Five)
February 10th, 1982:
Sheena Easton – Morning Train (Nine to Five)
February 11th, 1982:
Sheena Easton – Morning Train (Nine to Five)
February 12th, 1982:
Sheena Easton – Morning Train (Nine to Five)
February 13th, 1982:
Sheena Easton – Morning Train (Nine to Five)
February 14th, 1982:
Sheena Easton – Morning Train (Nine to Five)
February 15th, 1982:
Sheena Easton – Morning Train (Nine to Five)
February 16th, 1982:
Sheena Easton – Morning Train (Nine to Five)
February 17th, 1982:
Sheena Easton – Morning Train (Nine to Five)
February 18th, 1982:
Sheena Easton – Morning Train (Nine to Five)
February 19th, 1982:
Sheena Easton – Morning Train (Nine to Five)
February 20th, 1982:
Kim Carnes – Bette Davis Eyes
February 21st, 1982:
Kim Carnes – Bette Davis Eyes
February 22nd, 1982:
Kim Carnes – Bette Davis Eyes
February 23rd, 1982:
Kim Carnes – Bette Davis Eyes
February 24th, 1982:
Kim Carnes – Bette Davis Eyes
February 25th, 1982:
Kim Carnes – Bette Davis Eyes
February 26th, 1982:
Kim Carnes – Bette Davis Eyes
February 27th, 1982:
Kim Carnes – Bette Davis Eyes
February 28th, 1982:
Kim Carnes – Bette Davis Eyes
March 1st, 1982:
Kim Carnes – Bette Davis Eyes
March 2nd, 1982:
Kim Carnes – Bette Davis Eyes
March 3rd, 1982:
Kim Carnes – Bette Davis Eyes
March 4th, 1982:
Kim Carnes – Bette Davis Eyes
March 5th, 1982:
Kim Carnes – Bette Davis Eyes
March 6th, 1982:
Kim Carnes – Bette Davis Eyes
March 7th, 1982:
Kim Carnes – Bette Davis Eyes
March 8th, 1982:
Kim Carnes – Bette Davis Eyes
March 9th, 1982:
Kim Carnes – Bette Davis Eyes
March 10th, 1982:
Kim Carnes – Bette Davis Eyes
March 11th, 1982:
Kim Carnes – Bette Davis Eyes
March 12th, 1982:
Kim Carnes – Bette Davis Eyes
March 13th, 1982:
Kim Carnes – Bette Davis Eyes
March 14th, 1982:
Kim Carnes – Bette Davis Eyes
March 15th, 1982:
Kim Carnes – Bette Davis Eyes
March 16th, 1982:
Kim Carnes – Bette Davis Eyes
March 17th, 1982:
Kim Carnes – Bette Davis Eyes
March 18th, 1982:
Kim Carnes – Bette Davis Eyes
March 19th, 1982:
Kim Carnes – Bette Davis Eyes
March 20th, 1982:
Kim Carnes – Bette Davis Eyes
March 21st, 1982:
Kim Carnes – Bette Davis Eyes
March 22nd, 1982:
Kim Carnes – Bette Davis Eyes
March 23rd, 1982:
Kim Carnes – Bette Davis Eyes
March 24th, 1982:
Kim Carnes – Bette Davis Eyes
March 25th, 1982:
Kim Carnes – Bette Davis Eyes
March 26th, 1982:
Kim Carnes – Bette Davis Eyes
March 27th, 1982:
Stars on 45 – Medley: Intro Venus / Sugar Sugar / No Reply / I'll Be Back / Drive My Car / Do You Want to Know a Secret / We Can Work It Out / I Should Have Known Better / Nowhere Man / You're Going to Lose That Girl / Stars on 45
March 28th, 1982:
Stars on 45 – Medley: Intro Venus / Sugar Sugar / No Reply / I'll Be Back / Drive My Car / Do You Want to Know a Secret / We Can Work It Out / I Should Have Known Better / Nowhere Man / You're Going to Lose That Girl / Stars on 45
March 29th, 1982:
Stars on 45 – Medley: Intro Venus / Sugar Sugar / No Reply / I'll Be Back / Drive My Car / Do You Want to Know a Secret / We Can Work It Out / I Should Have Known Better / Nowhere Man / You're Going to Lose That Girl / Stars on 45
March 30th, 1982:
Stars on 45 – Medley: Intro Venus / Sugar Sugar / No Reply / I'll Be Back / Drive My Car / Do You Want to Know a Secret / We Can Work It Out / I Should Have Known Better / Nowhere Man / You're Going to Lose That Girl / Stars on 45
March 31st, 1982:
Stars on 45 – Medley: Intro Venus / Sugar Sugar / No Reply / I'll Be Back / Drive My Car / Do You Want to Know a Secret / We Can Work It Out / I Should Have Known Better / Nowhere Man / You're Going to Lose That Girl / Stars on 45
April 1st, 1982:
Stars on 45 – Medley: Intro Venus / Sugar Sugar / No Reply / I'll Be Back / Drive My Car / Do You Want to Know a Secret / We Can Work It Out / I Should Have Known Better / Nowhere Man / You're Going to Lose That Girl / Stars on 45
April 2nd, 1982:
Stars on 45 – Medley: Intro Venus / Sugar Sugar / No Reply / I'll Be Back / Drive My Car / Do You Want to Know a Secret / We Can Work It Out / I Should Have Known Better / Nowhere Man / You're Going to Lose That Girl / Stars on 45
April 3rd, 1982:
Stars on 45 – Medley: Intro Venus / Sugar Sugar / No Reply / I'll Be Back / Drive My Car / Do You Want to Know a Secret / We Can Work It Out / I Should Have Known Better / Nowhere Man / You're Going to Lose That Girl / Stars on 45
April 4th, 1982:
Stars on 45 – Medley: Intro Venus / Sugar Sugar / No Reply / I'll Be Back / Drive My Car / Do You Want to Know a Secret / We Can Work It Out / I Should Have Known Better / Nowhere Man / You're Going to Lose That Girl / Stars on 45
April 5th, 1982:
Stars on 45 – Medley: Intro Venus / Sugar Sugar / No Reply / I'll Be Back / Drive My Car / Do You Want to Know a Secret / We Can Work It Out / I Should Have Known Better / Nowhere Man / You're Going to Lose That Girl / Stars on 45
April 6th, 1982:
Stars on 45 – Medley: Intro Venus / Sugar Sugar / No Reply / I'll Be Back / Drive My Car / Do You Want to Know a Secret / We Can Work It Out / I Should Have Known Better / Nowhere Man / You're Going to Lose That Girl / Stars on 45
April 7th, 1982:
Stars on 45 – Medley: Intro Venus / Sugar Sugar / No Reply / I'll Be Back / Drive My Car / Do You Want to Know a Secret / We Can Work It Out / I Should Have Known Better / Nowhere Man / You're Going to Lose That Girl / Stars on 45
April 8th, 1982:
Stars on 45 – Medley: Intro Venus / Sugar Sugar / No Reply / I'll Be Back / Drive My Car / Do You Want to Know a Secret / We Can Work It Out / I Should Have Known Better / Nowhere Man / You're Going to Lose That Girl / Stars on 45
April 9th, 1982:
Stars on 45 – Medley: Intro Venus / Sugar Sugar / No Reply / I'll Be Back / Drive My Car / Do You Want to Know a Secret / We Can Work It Out / I Should Have Known Better / Nowhere Man / You're Going to Lose That Girl / Stars on 45
April 10th, 1982:
Stars on 45 – Medley: Intro Venus / Sugar Sugar / No Reply / I'll Be Back / Drive My Car / Do You Want to Know a Secret / We Can Work It Out / I Should Have Known Better / Nowhere Man / You're Going to Lose That Girl / Stars on 45
April 11th, 1982:
Stars on 45 – Medley: Intro Venus / Sugar Sugar / No Reply / I'll Be Back / Drive My Car / Do You Want to Know a Secret / We Can Work It Out / I Should Have Known Better / Nowhere Man / You're Going to Lose That Girl / Stars on 45
April 12th, 1982:
Stars on 45 – Medley: Intro Venus / Sugar Sugar / No Reply / I'll Be Back / Drive My Car / Do You Want to Know a Secret / We Can Work It Out / I Should Have Known Better / Nowhere Man / You're Going to Lose That Girl / Stars on 45
April 13th, 1982:
Stars on 45 – Medley: Intro Venus / Sugar Sugar / No Reply / I'll Be Back / Drive My Car / Do You Want to Know a Secret / We Can Work It Out / I Should Have Known Better / Nowhere Man / You're Going to Lose That Girl / Stars on 45
April 14th, 1982:
Stars on 45 – Medley: Intro Venus / Sugar Sugar / No Reply / I'll Be Back / Drive My Car / Do You Want to Know a Secret / We Can Work It Out / I Should Have Known Better / Nowhere Man / You're Going to Lose That Girl / Stars on 45
April 15th, 1982:
Stars on 45 – Medley: Intro Venus / Sugar Sugar / No Reply / I'll Be Back / Drive My Car / Do You Want to Know a Secret / We Can Work It Out / I Should Have Known Better / Nowhere Man / You're Going to Lose That Girl / Stars on 45
April 16th, 1982:
Stars on 45 – Medley: Intro Venus / Sugar Sugar / No Reply / I'll Be Back / Drive My Car / Do You Want to Know a Secret / We Can Work It Out / I Should Have Known Better / Nowhere Man / You're Going to Lose That Girl / Stars on 45
April 17th, 1982:
Stars on 45 – Medley: Intro Venus / Sugar Sugar / No Reply / I'll Be Back / Drive My Car / Do You Want to Know a Secret / We Can Work It Out / I Should Have Known Better / Nowhere Man / You're Going to Lose That Girl / Stars on 45
April 18th, 1982:
Stars on 45 – Medley: Intro Venus / Sugar Sugar / No Reply / I'll Be Back / Drive My Car / Do You Want to Know a Secret / We Can Work It Out / I Should Have Known Better / Nowhere Man / You're Going to Lose That Girl / Stars on 45
April 19th, 1982:
Stars on 45 – Medley: Intro Venus / Sugar Sugar / No Reply / I'll Be Back / Drive My Car / Do You Want to Know a Secret / We Can Work It Out / I Should Have Known Better / Nowhere Man / You're Going to Lose That Girl / Stars on 45
April 20th, 1982:
Stars on 45 – Medley: Intro Venus / Sugar Sugar / No Reply / I'll Be Back / Drive My Car / Do You Want to Know a Secret / We Can Work It Out / I Should Have Known Better / Nowhere Man / You're Going to Lose That Girl / Stars on 45
April 21st, 1982:
Stars on 45 – Medley: Intro Venus / Sugar Sugar / No Reply / I'll Be Back / Drive My Car / Do You Want to Know a Secret / We Can Work It Out / I Should Have Known Better / Nowhere Man / You're Going to Lose That Girl / Stars on 45
April 22nd, 1982:
Stars on 45 – Medley: Intro Venus / Sugar Sugar / No Reply / I'll Be Back / Drive My Car / Do You Want to Know a Secret / We Can Work It Out / I Should Have Known Better / Nowhere Man / You're Going to Lose That Girl / Stars on 45
April 23rd, 1982:
Stars on 45 – Medley: Intro Venus / Sugar Sugar / No Reply / I'll Be Back / Drive My Car / Do You Want to Know a Secret / We Can Work It Out / I Should Have Known Better / Nowhere Man / You're Going to Lose That Girl / Stars on 45
April 24th, 1982:
Stars on 45 – Medley: Intro Venus / Sugar Sugar / No Reply / I'll Be Back / Drive My Car / Do You Want to Know a Secret / We Can Work It Out / I Should Have Known Better / Nowhere Man / You're Going to Lose That Girl / Stars on 45
April 25th, 1982:
Stars on 45 – Medley: Intro Venus / Sugar Sugar / No Reply / I'll Be Back / Drive My Car / Do You Want to Know a Secret / We Can Work It Out / I Should Have Known Better / Nowhere Man / You're Going to Lose That Girl / Stars on 45
April 26th, 1982:
Stars on 45 – Medley: Intro Venus / Sugar Sugar / No Reply / I'll Be Back / Drive My Car / Do You Want to Know a Secret / We Can Work It Out / I Should Have Known Better / Nowhere Man / You're Going to Lose That Girl / Stars on 45
April 27th, 1982:
Stars on 45 – Medley: Intro Venus / Sugar Sugar / No Reply / I'll Be Back / Drive My Car / Do You Want to Know a Secret / We Can Work It Out / I Should Have Known Better / Nowhere Man / You're Going to Lose That Girl / Stars on 45
April 28th, 1982:
Stars on 45 – Medley: Intro Venus / Sugar Sugar / No Reply / I'll Be Back / Drive My Car / Do You Want to Know a Secret / We Can Work It Out / I Should Have Known Better / Nowhere Man / You're Going to Lose That Girl / Stars on 45
April 29th, 1982:
Stars on 45 – Medley: Intro Venus / Sugar Sugar / No Reply / I'll Be Back / Drive My Car / Do You Want to Know a Secret / We Can Work It Out / I Should Have Known Better / Nowhere Man / You're Going to Lose That Girl / Stars on 45
April 30th, 1982:
Stars on 45 – Medley: Intro Venus / Sugar Sugar / No Reply / I'll Be Back / Drive My Car / Do You Want to Know a Secret / We Can Work It Out / I Should Have Known Better / Nowhere Man / You're Going to Lose That Girl / Stars on 45
May 1st, 1982:
Air Supply – The One That You Love
May 2nd, 1982:
Air Supply – The One That You Love
May 3rd, 1982:
Air Supply – The One That You Love
May 4th, 1982:
Air Supply – The One That You Love
May 5th, 1982:
Air Supply – The One That You Love
May 6th, 1982:
Air Supply – The One That You Love
May 7th, 1982:
Air Supply – The One That You Love
May 8th, 1982:
Rick Springfield – Jessie's Girl
May 9th, 1982:
Rick Springfield – Jessie's Girl
May 10th, 1982:
Rick Springfield – Jessie's Girl
May 11th, 1982:
Rick Springfield – Jessie's Girl
May 12th, 1982:
Rick Springfield – Jessie's Girl
May 13th, 1982:
Rick Springfield – Jessie's Girl
May 14th, 1982:
Rick Springfield – Jessie's Girl
May 15th, 1982:
Rick Springfield – Jessie's Girl
May 16th, 1982:
Rick Springfield – Jessie's Girl
May 17th, 1982:
Rick Springfield – Jessie's Girl
May 18th, 1982:
Rick Springfield – Jessie's Girl
May 19th, 1982:
Rick Springfield – Jessie's Girl
May 20th, 1982:
Rick Springfield – Jessie's Girl
May 21st, 1982:
Rick Springfield – Jessie's Girl
May 22nd, 1982:
Diana Ross and Lionel Richie – Endless Love
May 23rd, 1982:
Diana Ross and Lionel Richie – Endless Love
May 24th, 1982:
Diana Ross and Lionel Richie – Endless Love
May 25th, 1982:
Diana Ross and Lionel Richie – Endless Love
May 26th, 1982:
Diana Ross and Lionel Richie – Endless Love
May 27th, 1982:
Diana Ross and Lionel Richie – Endless Love
May 28th, 1982:
Diana Ross and Lionel Richie – Endless Love
May 29th, 1982:
Diana Ross and Lionel Richie – Endless Love
May 30th, 1982:
Diana Ross and Lionel Richie – Endless Love
May 31st, 1982:
Diana Ross and Lionel Richie – Endless Love
June 1st, 1982:
Diana Ross and Lionel Richie – Endless Love
June 2nd, 1982:
Diana Ross and Lionel Richie – Endless Love
June 3rd, 1982:
Diana Ross and Lionel Richie – Endless Love
June 4th, 1982:
Diana Ross and Lionel Richie – Endless Love
June 5th, 1982:
Diana Ross and Lionel Richie – Endless Love
June 6th, 1982:
Diana Ross and Lionel Richie – Endless Love
June 7th, 1982:
Diana Ross and Lionel Richie – Endless Love
June 8th, 1982:
Diana Ross and Lionel Richie – Endless Love
June 9th, 1982:
Diana Ross and Lionel Richie – Endless Love
June 10th, 1982:
Diana Ross and Lionel Richie – Endless Love
June 11th, 1982:
Diana Ross and Lionel Richie – Endless Love
June 12th, 1982:
Diana Ross and Lionel Richie – Endless Love
June 13th, 1982:
Diana Ross and Lionel Richie – Endless Love
June 14th, 1982:
Diana Ross and Lionel Richie – Endless Love
June 15th, 1982:
Diana Ross and Lionel Richie – Endless Love
June 16th, 1982:
Diana Ross and Lionel Richie – Endless Love
June 17th, 1982:
Diana Ross and Lionel Richie – Endless Love
June 18th, 1982:
Diana Ross and Lionel Richie – Endless Love
June 19th, 1982:
Diana Ross and Lionel Richie – Endless Love
June 20th, 1982:
Diana Ross and Lionel Richie – Endless Love
June 21st, 1982:
Diana Ross and Lionel Richie – Endless Love
June 22nd, 1982:
Diana Ross and Lionel Richie – Endless Love
June 23rd, 1982:
Diana Ross and Lionel Richie – Endless Love
June 24th, 1982:
Diana Ross and Lionel Richie – Endless Love
June 25th, 1982:
Diana Ross and Lionel Richie – Endless Love
June 26th, 1982:
Diana Ross and Lionel Richie – Endless Love
June 27th, 1982:
Diana Ross and Lionel Richie – Endless Love
June 28th, 1982:
Diana Ross and Lionel Richie – Endless Love
June 29th, 1982:
Diana Ross and Lionel Richie – Endless Love
June 30th, 1982:
Diana Ross and Lionel Richie – Endless Love
July 1st, 1982:
Diana Ross and Lionel Richie – Endless Love
July 2nd, 1982:
Diana Ross and Lionel Richie – Endless Love
July 3rd, 1982:
Diana Ross and Lionel Richie – Endless Love
July 4th, 1982:
Diana Ross and Lionel Richie – Endless Love
July 5th, 1982:
Diana Ross and Lionel Richie – Endless Love
July 6th, 1982:
Diana Ross and Lionel Richie – Endless Love
July 7th, 1982:
Diana Ross and Lionel Richie – Endless Love
July 8th, 1982:
Diana Ross and Lionel Richie – Endless Love
July 9th, 1982:
Diana Ross and Lionel Richie – Endless Love
July 10th, 1982:
Diana Ross and Lionel Richie – Endless Love
July 11th, 1982:
Diana Ross and Lionel Richie – Endless Love
July 12th, 1982:
Diana Ross and Lionel Richie – Endless Love
July 13th, 1982:
Diana Ross and Lionel Richie – Endless Love
July 14th, 1982:
Diana Ross and Lionel Richie – Endless Love
July 15th, 1982:
Diana Ross and Lionel Richie – Endless Love
July 16th, 1982:
Diana Ross and Lionel Richie – Endless Love
July 17th, 1982:
Diana Ross and Lionel Richie – Endless Love
July 18th, 1982:
Diana Ross and Lionel Richie – Endless Love
July 19th, 1982:
Diana Ross and Lionel Richie – Endless Love
July 20th, 1982:
Diana Ross and Lionel Richie – Endless Love
July 21st, 1982:
Diana Ross and Lionel Richie – Endless Love
July 22nd, 1982:
Diana Ross and Lionel Richie – Endless Love
July 23rd, 1982:
Diana Ross and Lionel Richie – Endless Love
July 24th, 1982:
Christopher Cross – Arthur's Theme (Best That You Can Do)
July 25th, 1982:
Christopher Cross – Arthur's Theme (Best That You Can Do)
July 26th, 1982:
Christopher Cross – Arthur's Theme (Best That You Can Do)
July 27th, 1982:
Christopher Cross – Arthur's Theme (Best That You Can Do)
July 28th, 1982:
Christopher Cross – Arthur's Theme (Best That You Can Do)
July 29th, 1982:
Christopher Cross – Arthur's Theme (Best That You Can Do)
July 30th, 1982:
Christopher Cross – Arthur's Theme (Best That You Can Do)
July 31st, 1982:
Christopher Cross – Arthur's Theme (Best That You Can Do)
August 1st, 1982:
Christopher Cross – Arthur's Theme (Best That You Can Do)
August 2nd, 1982:
Christopher Cross – Arthur's Theme (Best That You Can Do)
August 3rd, 1982:
Christopher Cross – Arthur's Theme (Best That You Can Do)
August 4th, 1982:
Christopher Cross – Arthur's Theme (Best That You Can Do)
August 5th, 1982:
Christopher Cross – Arthur's Theme (Best That You Can Do)
August 6th, 1982:
Christopher Cross – Arthur's Theme (Best That You Can Do)
August 7th, 1982:
Christopher Cross – Arthur's Theme (Best That You Can Do)
August 8th, 1982:
Christopher Cross – Arthur's Theme (Best That You Can Do)
August 9th, 1982:
Christopher Cross – Arthur's Theme (Best That You Can Do)
August 10th, 1982:
Christopher Cross – Arthur's Theme (Best That You Can Do)
August 11th, 1982:
Christopher Cross – Arthur's Theme (Best That You Can Do)
August 12th, 1982:
Christopher Cross – Arthur's Theme (Best That You Can Do)
August 13th, 1982:
Christopher Cross – Arthur's Theme (Best That You Can Do)
August 14th, 1982:
Daryl Hall and John Oates – Private Eyes
August 15th, 1982:
Daryl Hall and John Oates – Private Eyes
August 16th, 1982:
Daryl Hall and John Oates – Private Eyes
August 17th, 1982:
Daryl Hall and John Oates – Private Eyes
August 18th, 1982:
Daryl Hall and John Oates – Private Eyes
August 19th, 1982:
Daryl Hall and John Oates – Private Eyes
August 20th, 1982:
Daryl Hall and John Oates – Private Eyes
August 21st, 1982:
Daryl Hall and John Oates – Private Eyes
August 22nd, 1982:
Daryl Hall and John Oates – Private Eyes
August 23rd, 1982:
Daryl Hall and John Oates – Private Eyes
August 24th, 1982:
Daryl Hall and John Oates – Private Eyes
August 25th, 1982:
Daryl Hall and John Oates – Private Eyes
August 26th, 1982:
Daryl Hall and John Oates – Private Eyes
August 27th, 1982:
Daryl Hall and John Oates – Private Eyes
August 28th, 1982:
Olivia Newton-John – Physical
August 29th, 1982:
Olivia Newton-John – Physical
August 30th, 1982:
Olivia Newton-John – Physical
August 31st, 1982:
Olivia Newton-John – Physical
September 1st, 1982:
Olivia Newton-John – Physical
September 2nd, 1982:
Olivia Newton-John – Physical
September 3rd, 1982:
Olivia Newton-John – Physical
September 4th, 1982:
Olivia Newton-John – Physical
September 5th, 1982:
Olivia Newton-John – Physical
September 6th, 1982:
Olivia Newton-John – Physical
September 7th, 1982:
Olivia Newton-John – Physical
September 8th, 1982:
Olivia Newton-John – Physical
September 9th, 1982:
Olivia Newton-John – Physical
September 10th, 1982:
Olivia Newton-John – Physical
September 11th, 1982:
Olivia Newton-John – Physical
September 12th, 1982:
Olivia Newton-John – Physical
September 13th, 1982:
Olivia Newton-John – Physical
September 14th, 1982:
Olivia Newton-John – Physical
September 15th, 1982:
Olivia Newton-John – Physical
September 16th, 1982:
Olivia Newton-John – Physical
September 17th, 1982:
Olivia Newton-John – Physical
September 18th, 1982:
Olivia Newton-John – Physical
September 19th, 1982:
Olivia Newton-John – Physical
September 20th, 1982:
Olivia Newton-John – Physical
September 21st, 1982:
Olivia Newton-John – Physical
September 22nd, 1982:
Olivia Newton-John – Physical
September 23rd, 1982:
Olivia Newton-John – Physical
September 24th, 1982:
Olivia Newton-John – Physical
September 25th, 1982:
Olivia Newton-John – Physical
September 26th, 1982:
Olivia Newton-John – Physical
September 27th, 1982:
Olivia Newton-John – Physical
September 28th, 1982:
Olivia Newton-John – Physical
September 29th, 1982:
Olivia Newton-John – Physical
September 30th, 1982:
Olivia Newton-John – Physical
October 1st, 1982:
Olivia Newton-John – Physical
October 2nd, 1982:
Olivia Newton-John – Physical
October 3rd, 1982:
Olivia Newton-John – Physical
October 4th, 1982:
Olivia Newton-John – Physical
October 5th, 1982:
Olivia Newton-John – Physical
October 6th, 1982:
Olivia Newton-John – Physical
October 7th, 1982:
Olivia Newton-John – Physical
October 8th, 1982:
Olivia Newton-John – Physical
October 9th, 1982:
Olivia Newton-John – Physical
October 10th, 1982:
Olivia Newton-John – Physical
October 11th, 1982:
Olivia Newton-John – Physical
October 12th, 1982:
Olivia Newton-John – Physical
October 13th, 1982:
Olivia Newton-John – Physical
October 14th, 1982:
Olivia Newton-John – Physical
October 15th, 1982:
Olivia Newton-John – Physical
October 16th, 1982:
Olivia Newton-John – Physical
October 17th, 1982:
Olivia Newton-John – Physical
October 18th, 1982:
Olivia Newton-John – Physical
October 19th, 1982:
Olivia Newton-John – Physical
October 20th, 1982:
Olivia Newton-John – Physical
October 21st, 1982:
Olivia Newton-John – Physical
October 22nd, 1982:
Olivia Newton-John – Physical
October 23rd, 1982:
Olivia Newton-John – Physical
October 24th, 1982:
Olivia Newton-John – Physical
October 25th, 1982:
Olivia Newton-John – Physical
October 26th, 1982:
Olivia Newton-John – Physical
October 27th, 1982:
Olivia Newton-John – Physical
October 28th, 1982:
Olivia Newton-John – Physical
October 29th, 1982:
Olivia Newton-John – Physical
October 30th, 1982:
Olivia Newton-John – Physical
October 31st, 1982:
Olivia Newton-John – Physical
November 1st, 1982:
Olivia Newton-John – Physical
November 2nd, 1982:
Olivia Newton-John – Physical
November 3rd, 1982:
Olivia Newton-John – Physical
November 4th, 1982:
Olivia Newton-John – Physical
November 5th, 1982:
Olivia Newton-John – Physical
November 6th, 1982:
Daryl Hall and John Oates – I Can't Go for That (No Can Do)
November 7th, 1982:
Daryl Hall and John Oates – I Can't Go for That (No Can Do)
November 8th, 1982:
Daryl Hall and John Oates – I Can't Go for That (No Can Do)
November 9th, 1982:
Daryl Hall and John Oates – I Can't Go for That (No Can Do)
November 10th, 1982:
Daryl Hall and John Oates – I Can't Go for That (No Can Do)
November 11th, 1982:
Daryl Hall and John Oates – I Can't Go for That (No Can Do)
November 12th, 1982:
Daryl Hall and John Oates – I Can't Go for That (No Can Do)
November 13th, 1982:
The J. Geils Band – Centerfold
November 14th, 1982:
The J. Geils Band – Centerfold
November 15th, 1982:
The J. Geils Band – Centerfold
November 16th, 1982:
The J. Geils Band – Centerfold
November 17th, 1982:
The J. Geils Band – Centerfold
November 18th, 1982:
The J. Geils Band – Centerfold
November 19th, 1982:
The J. Geils Band – Centerfold
November 20th, 1982:
The J. Geils Band – Centerfold
November 21st, 1982:
The J. Geils Band – Centerfold
November 22nd, 1982:
The J. Geils Band – Centerfold
November 23rd, 1982:
The J. Geils Band – Centerfold
November 24th, 1982:
The J. Geils Band – Centerfold
November 25th, 1982:
The J. Geils Band – Centerfold
November 26th, 1982:
The J. Geils Band – Centerfold
November 27th, 1982:
The J. Geils Band – Centerfold
November 28th, 1982:
The J. Geils Band – Centerfold
November 29th, 1982:
The J. Geils Band – Centerfold
November 30th, 1982:
The J. Geils Band – Centerfold
December 1st, 1982:
The J. Geils Band – Centerfold
December 2nd, 1982:
The J. Geils Band – Centerfold
December 3rd, 1982:
The J. Geils Band – Centerfold
December 4th, 1982:
The J. Geils Band – Centerfold
December 5th, 1982:
The J. Geils Band – Centerfold
December 6th, 1982:
The J. Geils Band – Centerfold
December 7th, 1982:
The J. Geils Band – Centerfold
December 8th, 1982:
The J. Geils Band – Centerfold
December 9th, 1982:
The J. Geils Band – Centerfold
December 10th, 1982:
The J. Geils Band – Centerfold
December 11th, 1982:
The J. Geils Band – Centerfold
December 12th, 1982:
The J. Geils Band – Centerfold
December 13th, 1982:
The J. Geils Band – Centerfold
December 14th, 1982:
The J. Geils Band – Centerfold
December 15th, 1982:
The J. Geils Band – Centerfold
December 16th, 1982:
The J. Geils Band – Centerfold
December 17th, 1982:
The J. Geils Band – Centerfold
December 18th, 1982:
The J. Geils Band – Centerfold
December 19th, 1982:
The J. Geils Band – Centerfold
December 20th, 1982:
The J. Geils Band – Centerfold
December 21st, 1982:
The J. Geils Band – Centerfold
December 22nd, 1982:
The J. Geils Band – Centerfold
December 23rd, 1982:
The J. Geils Band – Centerfold
December 24th, 1982:
The J. Geils Band – Centerfold
December 25th, 1982:
The J. Geils Band – Centerfold
December 26th, 1982:
Joan Jett and the Blackhearts – I Love Rock 'n' Roll
December 27th, 1982:
Joan Jett and the Blackhearts – I Love Rock 'n' Roll
December 28th, 1982:
Joan Jett and the Blackhearts – I Love Rock 'n' Roll
December 29th, 1982:
Joan Jett and the Blackhearts – I Love Rock 'n' Roll
December 30th, 1982:
March 24th(sameyear)
December 31st, 1982:
March 25th(sameyear)