Born in 1991? Find Your Conception Song!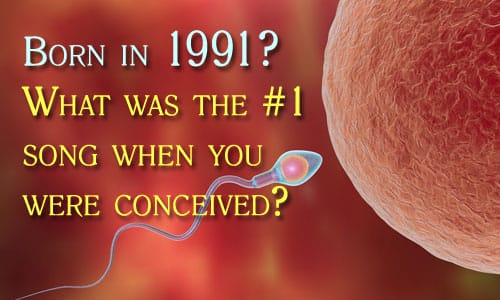 Kissing burns 6.4 calories per minute.
How many calories do you think your parents burned when they were making you?
Born this year?
Check the date to find the # 1 song when you were conceived, nine months ago!
The average length of human gestation (Your 'Conception Era') is 280 days, or 40 weeks, from the first day of the woman's last menstrual period. The medical term for the due date is estimated date of confinement (EDC).
If you were born late, or a bit premature, add or subtract those days.
This Year's Euphemism: Reading The Bridges of Madison County
Your Birthday:
January 1st, 1991:
Alannah Myles – Black Velvet
January 2nd, 1991:
Alannah Myles – Black Velvet
January 3rd, 1991:
Alannah Myles – Black Velvet
January 4th, 1991:
Alannah Myles – Black Velvet
January 5th, 1991:
Alannah Myles – Black Velvet
January 6th, 1991:
Alannah Myles – Black Velvet
January 7th, 1991:
Alannah Myles – Black Velvet
January 8th, 1991:
Alannah Myles – Black Velvet
January 9th, 1991:
Alannah Myles – Black Velvet
January 10th, 1991:
Alannah Myles – Black Velvet
January 11th, 1991:
Alannah Myles – Black Velvet
January 12th, 1991:
Alannah Myles – Black Velvet
January 13th, 1991:
Taylor Dayne – Love Will Lead You Back
January 14th, 1991:
Taylor Dayne – Love Will Lead You Back
January 15th, 1991:
Taylor Dayne – Love Will Lead You Back
January 16th, 1991:
Taylor Dayne – Love Will Lead You Back
January 17th, 1991:
Taylor Dayne – Love Will Lead You Back
January 18th, 1991:
Taylor Dayne – Love Will Lead You Back
January 19th, 1991:
Taylor Dayne – Love Will Lead You Back
January 20th, 1991:
Tommy Page – I'll Be Your Everything
January 21st, 1991:
Tommy Page – I'll Be Your Everything
January 22nd, 1991:
Tommy Page – I'll Be Your Everything
January 23rd, 1991:
Tommy Page – I'll Be Your Everything
January 24th, 1991:
Tommy Page – I'll Be Your Everything
January 25th, 1991:
Tommy Page – I'll Be Your Everything
January 26th, 1991:
Tommy Page – I'll Be Your Everything
January 27th, 1991:
Sin�ad O'Connor – Nothing Compares 2 U
January 28th, 1991:
Sin�ad O'Connor – Nothing Compares 2 U
January 29th, 1991:
Sin�ad O'Connor – Nothing Compares 2 U
January 30th, 1991:
Sin�ad O'Connor – Nothing Compares 2 U
January 31st, 1991:
Sin�ad O'Connor – Nothing Compares 2 U
February 1st, 1991:
Sin�ad O'Connor – Nothing Compares 2 U
February 2nd, 1991:
Sin�ad O'Connor – Nothing Compares 2 U
February 3rd, 1991:
Sin�ad O'Connor – Nothing Compares 2 U
February 4th, 1991:
Sin�ad O'Connor – Nothing Compares 2 U
February 5th, 1991:
Sin�ad O'Connor – Nothing Compares 2 U
February 6th, 1991:
Sin�ad O'Connor – Nothing Compares 2 U
February 7th, 1991:
Sin�ad O'Connor – Nothing Compares 2 U
February 8th, 1991:
Sin�ad O'Connor – Nothing Compares 2 U
February 9th, 1991:
Sin�ad O'Connor – Nothing Compares 2 U
February 10th, 1991:
Sin�ad O'Connor – Nothing Compares 2 U
February 11th, 1991:
Sin�ad O'Connor – Nothing Compares 2 U
February 12th, 1991:
Sin�ad O'Connor – Nothing Compares 2 U
February 13th, 1991:
Sin�ad O'Connor – Nothing Compares 2 U
February 14th, 1991:
Sin�ad O'Connor – Nothing Compares 2 U
February 15th, 1991:
Sin�ad O'Connor – Nothing Compares 2 U
February 16th, 1991:
Sin�ad O'Connor – Nothing Compares 2 U
February 17th, 1991:
Sin�ad O'Connor – Nothing Compares 2 U
February 18th, 1991:
Sin�ad O'Connor – Nothing Compares 2 U
February 19th, 1991:
Sin�ad O'Connor – Nothing Compares 2 U
February 20th, 1991:
Sin�ad O'Connor – Nothing Compares 2 U
February 21st, 1991:
Sin�ad O'Connor – Nothing Compares 2 U
February 22nd, 1991:
Sin�ad O'Connor – Nothing Compares 2 U
February 23rd, 1991:
Sin�ad O'Connor – Nothing Compares 2 U
February 24th, 1991:
Madonna – Vogue
February 25th, 1991:
Madonna – Vogue
February 26th, 1991:
Madonna – Vogue
February 27th, 1991:
Madonna – Vogue
February 28th, 1991:
Madonna – Vogue
March 1st, 1991:
Madonna – Vogue
March 2nd, 1991:
Madonna – Vogue
March 3rd, 1991:
Madonna – Vogue
March 4th, 1991:
Madonna – Vogue
March 5th, 1991:
Madonna – Vogue
March 6th, 1991:
Madonna – Vogue
March 7th, 1991:
Madonna – Vogue
March 8th, 1991:
Madonna – Vogue
March 9th, 1991:
Madonna – Vogue
March 10th, 1991:
Madonna – Vogue
March 11th, 1991:
Madonna – Vogue
March 12th, 1991:
Madonna – Vogue
March 13th, 1991:
Madonna – Vogue
March 14th, 1991:
Madonna – Vogue
March 15th, 1991:
Madonna – Vogue
March 16th, 1991:
Wilson Phillips – Hold On
March 17th, 1991:
Wilson Phillips – Hold On
March 18th, 1991:
Wilson Phillips – Hold On
March 19th, 1991:
Wilson Phillips – Hold On
March 20th, 1991:
Wilson Phillips – Hold On
March 21st, 1991:
Wilson Phillips – Hold On
March 22nd, 1991:
Wilson Phillips – Hold On
March 23rd, 1991:
Roxette – It Must Have Been Love
March 24th, 1991:
Roxette – It Must Have Been Love
March 25th, 1991:
Roxette – It Must Have Been Love
March 26th, 1991:
Roxette – It Must Have Been Love
March 27th, 1991:
Roxette – It Must Have Been Love
March 28th, 1991:
Roxette – It Must Have Been Love
March 29th, 1991:
Roxette – It Must Have Been Love
March 30th, 1991:
Roxette – It Must Have Been Love
March 31st, 1991:
Roxette – It Must Have Been Love
April 1st, 1991:
Roxette – It Must Have Been Love
April 2nd, 1991:
Roxette – It Must Have Been Love
April 3rd, 1991:
Roxette – It Must Have Been Love
April 4th, 1991:
Roxette – It Must Have Been Love
April 5th, 1991:
Roxette – It Must Have Been Love
April 6th, 1991:
New Kids on the Block – Step By Step
April 7th, 1991:
New Kids on the Block – Step By Step
April 8th, 1991:
New Kids on the Block – Step By Step
April 9th, 1991:
New Kids on the Block – Step By Step
April 10th, 1991:
New Kids on the Block – Step By Step
April 11th, 1991:
New Kids on the Block – Step By Step
April 12th, 1991:
New Kids on the Block – Step By Step
April 13th, 1991:
New Kids on the Block – Step By Step
April 14th, 1991:
New Kids on the Block – Step By Step
April 15th, 1991:
New Kids on the Block – Step By Step
April 16th, 1991:
New Kids on the Block – Step By Step
April 17th, 1991:
New Kids on the Block – Step By Step
April 18th, 1991:
New Kids on the Block – Step By Step
April 19th, 1991:
New Kids on the Block – Step By Step
April 20th, 1991:
New Kids on the Block – Step By Step
April 21st, 1991:
New Kids on the Block – Step By Step
April 22nd, 1991:
New Kids on the Block – Step By Step
April 23rd, 1991:
New Kids on the Block – Step By Step
April 24th, 1991:
New Kids on the Block – Step By Step
April 25th, 1991:
New Kids on the Block – Step By Step
April 26th, 1991:
New Kids on the Block – Step By Step
April 27th, 1991:
Glenn Medeiros featuring Bobby Brown – She Ain't Worth It
April 28th, 1991:
Glenn Medeiros featuring Bobby Brown – She Ain't Worth It
April 29th, 1991:
Glenn Medeiros featuring Bobby Brown – She Ain't Worth It
April 30th, 1991:
Glenn Medeiros featuring Bobby Brown – She Ain't Worth It
May 1st, 1991:
Glenn Medeiros featuring Bobby Brown – She Ain't Worth It
May 2nd, 1991:
Glenn Medeiros featuring Bobby Brown – She Ain't Worth It
May 3rd, 1991:
Glenn Medeiros featuring Bobby Brown – She Ain't Worth It
May 4th, 1991:
Glenn Medeiros featuring Bobby Brown – She Ain't Worth It
May 5th, 1991:
Glenn Medeiros featuring Bobby Brown – She Ain't Worth It
May 6th, 1991:
Glenn Medeiros featuring Bobby Brown – She Ain't Worth It
May 7th, 1991:
Glenn Medeiros featuring Bobby Brown – She Ain't Worth It
May 8th, 1991:
Glenn Medeiros featuring Bobby Brown – She Ain't Worth It
May 9th, 1991:
Glenn Medeiros featuring Bobby Brown – She Ain't Worth It
May 10th, 1991:
Glenn Medeiros featuring Bobby Brown – She Ain't Worth It
May 11th, 1991:
Mariah Carey – Vision Of Love
May 12th, 1991:
Mariah Carey – Vision Of Love
May 13th, 1991:
Mariah Carey – Vision Of Love
May 14th, 1991:
Mariah Carey – Vision Of Love
May 15th, 1991:
Mariah Carey – Vision Of Love
May 16th, 1991:
Mariah Carey – Vision Of Love
May 17th, 1991:
Mariah Carey – Vision Of Love
May 18th, 1991:
Mariah Carey – Vision Of Love
May 19th, 1991:
Mariah Carey – Vision Of Love
May 20th, 1991:
Mariah Carey – Vision Of Love
May 21st, 1991:
Mariah Carey – Vision Of Love
May 22nd, 1991:
Mariah Carey – Vision Of Love
May 23rd, 1991:
Mariah Carey – Vision Of Love
May 24th, 1991:
Mariah Carey – Vision Of Love
May 25th, 1991:
Mariah Carey – Vision Of Love
May 26th, 1991:
Mariah Carey – Vision Of Love
May 27th, 1991:
Mariah Carey – Vision Of Love
May 28th, 1991:
Mariah Carey – Vision Of Love
May 29th, 1991:
Mariah Carey – Vision Of Love
May 30th, 1991:
Mariah Carey – Vision Of Love
May 31st, 1991:
Mariah Carey – Vision Of Love
June 1st, 1991:
Mariah Carey – Vision Of Love
June 2nd, 1991:
Mariah Carey – Vision Of Love
June 3rd, 1991:
Mariah Carey – Vision Of Love
June 4th, 1991:
Mariah Carey – Vision Of Love
June 5th, 1991:
Mariah Carey – Vision Of Love
June 6th, 1991:
Mariah Carey – Vision Of Love
June 7th, 1991:
Mariah Carey – Vision Of Love
June 8th, 1991:
Sweet Sensation – If Wishes Came True
June 9th, 1991:
Sweet Sensation – If Wishes Came True
June 10th, 1991:
Sweet Sensation – If Wishes Came True
June 11th, 1991:
Sweet Sensation – If Wishes Came True
June 12th, 1991:
Sweet Sensation – If Wishes Came True
June 13th, 1991:
Sweet Sensation – If Wishes Came True
June 14th, 1991:
Sweet Sensation – If Wishes Came True
June 15th, 1991:
Jon Bon Jovi – Blaze Of Glory
June 16th, 1991:
Jon Bon Jovi – Blaze Of Glory
June 17th, 1991:
Jon Bon Jovi – Blaze Of Glory
June 18th, 1991:
Jon Bon Jovi – Blaze Of Glory
June 19th, 1991:
Jon Bon Jovi – Blaze Of Glory
June 20th, 1991:
Jon Bon Jovi – Blaze Of Glory
June 21st, 1991:
Jon Bon Jovi – Blaze Of Glory
June 22nd, 1991:
Wilson Phillips – Release Me
June 23rd, 1991:
Wilson Phillips – Release Me
June 24th, 1991:
Wilson Phillips – Release Me
June 25th, 1991:
Wilson Phillips – Release Me
June 26th, 1991:
Wilson Phillips – Release Me
June 27th, 1991:
Wilson Phillips – Release Me
June 28th, 1991:
Wilson Phillips – Release Me
June 29th, 1991:
Wilson Phillips – Release Me
June 30th, 1991:
Wilson Phillips – Release Me
July 1st, 1991:
Wilson Phillips – Release Me
July 2nd, 1991:
Wilson Phillips – Release Me
July 3rd, 1991:
Wilson Phillips – Release Me
July 4th, 1991:
Wilson Phillips – Release Me
July 5th, 1991:
Wilson Phillips – Release Me
July 6th, 1991:
Nelson – (Can't Live Without Your) Love And Affection
July 7th, 1991:
Nelson – (Can't Live Without Your) Love And Affection
July 8th, 1991:
Nelson – (Can't Live Without Your) Love And Affection
July 9th, 1991:
Nelson – (Can't Live Without Your) Love And Affection
July 10th, 1991:
Nelson – (Can't Live Without Your) Love And Affection
July 11th, 1991:
Nelson – (Can't Live Without Your) Love And Affection
July 12th, 1991:
Nelson – (Can't Live Without Your) Love And Affection
July 13th, 1991:
Maxi Priest – Close To You
July 14th, 1991:
Maxi Priest – Close To You
July 15th, 1991:
Maxi Priest – Close To You
July 16th, 1991:
Maxi Priest – Close To You
July 17th, 1991:
Maxi Priest – Close To You
July 18th, 1991:
Maxi Priest – Close To You
July 19th, 1991:
Maxi Priest – Close To You
July 20th, 1991:
George Michael – Praying For Time
July 21st, 1991:
George Michael – Praying For Time
July 22nd, 1991:
George Michael – Praying For Time
July 23rd, 1991:
George Michael – Praying For Time
July 24th, 1991:
George Michael – Praying For Time
July 25th, 1991:
George Michael – Praying For Time
July 26th, 1991:
George Michael – Praying For Time
July 27th, 1991:
James Ingram – I Don't Have the Heart
July 28th, 1991:
James Ingram – I Don't Have the Heart
July 29th, 1991:
James Ingram – I Don't Have the Heart
July 30th, 1991:
James Ingram – I Don't Have the Heart
July 31st, 1991:
James Ingram – I Don't Have the Heart
August 1st, 1991:
James Ingram – I Don't Have the Heart
August 2nd, 1991:
James Ingram – I Don't Have the Heart
August 3rd, 1991:
Janet Jackson – Black Cat
August 4th, 1991:
Janet Jackson – Black Cat
August 5th, 1991:
Janet Jackson – Black Cat
August 6th, 1991:
Janet Jackson – Black Cat
August 7th, 1991:
Janet Jackson – Black Cat
August 8th, 1991:
Janet Jackson – Black Cat
August 9th, 1991:
Janet Jackson – Black Cat
August 10th, 1991:
Vanilla Ice – Ice Ice Baby
August 11th, 1991:
Vanilla Ice – Ice Ice Baby
August 12th, 1991:
Vanilla Ice – Ice Ice Baby
August 13th, 1991:
Vanilla Ice – Ice Ice Baby
August 14th, 1991:
Vanilla Ice – Ice Ice Baby
August 15th, 1991:
Vanilla Ice – Ice Ice Baby
August 16th, 1991:
Vanilla Ice – Ice Ice Baby
August 17th, 1991:
Mariah Carey – Love Takes Time
August 18th, 1991:
Mariah Carey – Love Takes Time
August 19th, 1991:
Mariah Carey – Love Takes Time
August 20th, 1991:
Mariah Carey – Love Takes Time
August 21st, 1991:
Mariah Carey – Love Takes Time
August 22nd, 1991:
Mariah Carey – Love Takes Time
August 23rd, 1991:
Mariah Carey – Love Takes Time
August 24th, 1991:
Mariah Carey – Love Takes Time
August 25th, 1991:
Mariah Carey – Love Takes Time
August 26th, 1991:
Mariah Carey – Love Takes Time
August 27th, 1991:
Mariah Carey – Love Takes Time
August 28th, 1991:
Mariah Carey – Love Takes Time
August 29th, 1991:
Mariah Carey – Love Takes Time
August 30th, 1991:
Mariah Carey – Love Takes Time
August 31st, 1991:
Mariah Carey – Love Takes Time
September 1st, 1991:
Mariah Carey – Love Takes Time
September 2nd, 1991:
Mariah Carey – Love Takes Time
September 3rd, 1991:
Mariah Carey – Love Takes Time
September 4th, 1991:
Mariah Carey – Love Takes Time
September 5th, 1991:
Mariah Carey – Love Takes Time
September 6th, 1991:
Mariah Carey – Love Takes Time
September 7th, 1991:
Whitney Houston – I'm Your Baby Tonight
September 8th, 1991:
Whitney Houston – I'm Your Baby Tonight
September 9th, 1991:
Whitney Houston – I'm Your Baby Tonight
September 10th, 1991:
Whitney Houston – I'm Your Baby Tonight
September 11th, 1991:
Whitney Houston – I'm Your Baby Tonight
September 12th, 1991:
Whitney Houston – I'm Your Baby Tonight
September 13th, 1991:
Whitney Houston – I'm Your Baby Tonight
September 14th, 1991:
Stevie B – Because I Love You (The Postman Song)
September 15th, 1991:
Stevie B – Because I Love You (The Postman Song)
September 16th, 1991:
Stevie B – Because I Love You (The Postman Song)
September 17th, 1991:
Stevie B – Because I Love You (The Postman Song)
September 18th, 1991:
Stevie B – Because I Love You (The Postman Song)
September 19th, 1991:
Stevie B – Because I Love You (The Postman Song)
September 20th, 1991:
Stevie B – Because I Love You (The Postman Song)
September 21st, 1991:
Stevie B – Because I Love You (The Postman Song)
September 22nd, 1991:
Stevie B – Because I Love You (The Postman Song)
September 23rd, 1991:
Stevie B – Because I Love You (The Postman Song)
September 24th, 1991:
Stevie B – Because I Love You (The Postman Song)
September 25th, 1991:
Stevie B – Because I Love You (The Postman Song)
September 26th, 1991:
Stevie B – Because I Love You (The Postman Song)
September 27th, 1991:
Stevie B – Because I Love You (The Postman Song)
September 28th, 1991:
Stevie B – Because I Love You (The Postman Song)
September 29th, 1991:
Stevie B – Because I Love You (The Postman Song)
September 30th, 1991:
Stevie B – Because I Love You (The Postman Song)
October 1st, 1991:
Stevie B – Because I Love You (The Postman Song)
October 2nd, 1991:
Stevie B – Because I Love You (The Postman Song)
October 3rd, 1991:
Stevie B – Because I Love You (The Postman Song)
October 4th, 1991:
Stevie B – Because I Love You (The Postman Song)
October 5th, 1991:
Stevie B – Because I Love You (The Postman Song)
October 6th, 1991:
Stevie B – Because I Love You (The Postman Song)
October 7th, 1991:
Stevie B – Because I Love You (The Postman Song)
October 8th, 1991:
Stevie B – Because I Love You (The Postman Song)
October 9th, 1991:
Stevie B – Because I Love You (The Postman Song)
October 10th, 1991:
Stevie B – Because I Love You (The Postman Song)
October 11th, 1991:
Stevie B – Because I Love You (The Postman Song)
October 12th, 1991:
Madonna – Justify My Love
October 13th, 1991:
Madonna – Justify My Love
October 14th, 1991:
Madonna – Justify My Love
October 15th, 1991:
Madonna – Justify My Love
October 16th, 1991:
Madonna – Justify My Love
October 17th, 1991:
Madonna – Justify My Love
October 18th, 1991:
Madonna – Justify My Love
October 19th, 1991:
Madonna – Justify My Love
October 20th, 1991:
Madonna – Justify My Love
October 21st, 1991:
Madonna – Justify My Love
October 22nd, 1991:
Madonna – Justify My Love
October 23rd, 1991:
Madonna – Justify My Love
October 24th, 1991:
Madonna – Justify My Love
October 25th, 1991:
Madonna – Justify My Love
October 26th, 1991:
Janet Jackson – Love Will Never Do (Without You)
October 27th, 1991:
Janet Jackson – Love Will Never Do (Without You)
October 28th, 1991:
Janet Jackson – Love Will Never Do (Without You)
October 29th, 1991:
Janet Jackson – Love Will Never Do (Without You)
October 30th, 1991:
Janet Jackson – Love Will Never Do (Without You)
October 31st, 1991:
Janet Jackson – Love Will Never Do (Without You)
November 1st, 1991:
Janet Jackson – Love Will Never Do (Without You)
November 2nd, 1991:
Surface – The First Time
November 3rd, 1991:
Surface – The First Time
November 4th, 1991:
Surface – The First Time
November 5th, 1991:
Surface – The First Time
November 6th, 1991:
Surface – The First Time
November 7th, 1991:
Surface – The First Time
November 8th, 1991:
Surface – The First Time
November 9th, 1991:
Surface – The First Time
November 10th, 1991:
Surface – The First Time
November 11th, 1991:
Surface – The First Time
November 12th, 1991:
Surface – The First Time
November 13th, 1991:
Surface – The First Time
November 14th, 1991:
Surface – The First Time
November 15th, 1991:
Surface – The First Time
November 16th, 1991:
C+C Music Factory featuring Freedom Williams – Gonna Make You Sweat (Everybody Dance Now)
November 17th, 1991:
C+C Music Factory featuring Freedom Williams – Gonna Make You Sweat (Everybody Dance Now)
November 18th, 1991:
C+C Music Factory featuring Freedom Williams – Gonna Make You Sweat (Everybody Dance Now)
November 19th, 1991:
C+C Music Factory featuring Freedom Williams – Gonna Make You Sweat (Everybody Dance Now)
November 20th, 1991:
C+C Music Factory featuring Freedom Williams – Gonna Make You Sweat (Everybody Dance Now)
November 21st, 1991:
C+C Music Factory featuring Freedom Williams – Gonna Make You Sweat (Everybody Dance Now)
November 22nd, 1991:
C+C Music Factory featuring Freedom Williams – Gonna Make You Sweat (Everybody Dance Now)
November 23rd, 1991:
C+C Music Factory featuring Freedom Williams – Gonna Make You Sweat (Everybody Dance Now)
November 24th, 1991:
C+C Music Factory featuring Freedom Williams – Gonna Make You Sweat (Everybody Dance Now)
November 25th, 1991:
C+C Music Factory featuring Freedom Williams – Gonna Make You Sweat (Everybody Dance Now)
November 26th, 1991:
C+C Music Factory featuring Freedom Williams – Gonna Make You Sweat (Everybody Dance Now)
November 27th, 1991:
C+C Music Factory featuring Freedom Williams – Gonna Make You Sweat (Everybody Dance Now)
November 28th, 1991:
C+C Music Factory featuring Freedom Williams – Gonna Make You Sweat (Everybody Dance Now)
November 29th, 1991:
C+C Music Factory featuring Freedom Williams – Gonna Make You Sweat (Everybody Dance Now)
November 30th, 1991:
Whitney Houston – All The Man That I Need
December 1st, 1991:
Whitney Houston – All The Man That I Need
December 2nd, 1991:
Whitney Houston – All The Man That I Need
December 3rd, 1991:
Whitney Houston – All The Man That I Need
December 4th, 1991:
Whitney Houston – All The Man That I Need
December 5th, 1991:
Whitney Houston – All The Man That I Need
December 6th, 1991:
Whitney Houston – All The Man That I Need
December 7th, 1991:
Whitney Houston – All The Man That I Need
December 8th, 1991:
Whitney Houston – All The Man That I Need
December 9th, 1991:
Whitney Houston – All The Man That I Need
December 10th, 1991:
Whitney Houston – All The Man That I Need
December 11th, 1991:
Whitney Houston – All The Man That I Need
December 12th, 1991:
Whitney Houston – All The Man That I Need
December 13th, 1991:
Whitney Houston – All The Man That I Need
December 14th, 1991:
Whitney Houston – All The Man That I Need
December 15th, 1991:
Mariah Carey – Someday
December 16th, 1991:
Mariah Carey – Someday
December 17th, 1991:
Mariah Carey – Someday
December 18th, 1991:
Mariah Carey – Someday
December 19th, 1991:
Mariah Carey – Someday
December 20th, 1991:
Mariah Carey – Someday
December 21st, 1991:
Mariah Carey – Someday
December 22nd, 1991:
Mariah Carey – Someday
December 23rd, 1991:
Mariah Carey – Someday
December 24th, 1991:
Mariah Carey – Someday
December 25th, 1991:
Mariah Carey – Someday
December 26th, 1991:
Mariah Carey – Someday
December 27th, 1991:
Mariah Carey – Someday
December 28th, 1991:
Mariah Carey – Someday
December 29th, 1991:
Timmy T – One More Try
December 30th, 1991:
Timmy T – One More Try
December 31st, 1991:
Timmy T – One More Try