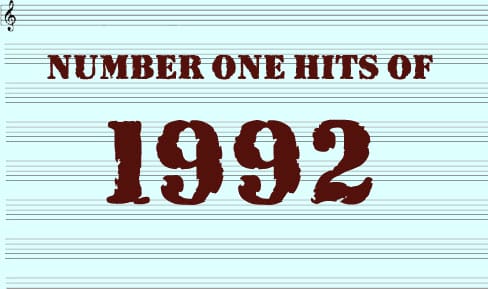 The Number One Hits Of 1992
December 7, 1991 – January 24, 1992
Michael Jackson
Black Or White
Michael's 1991 album "Dangerous" featured the hit singles Black or White, Remember the Time, and Heal the World.
Black Or White is from Jackson's eighth studio album, Dangerous, and features a guitar riff by Slash of Guns N' Roses.
January 25, 1992 – January 31, 1992
Color Me Badd
All 4 Love
"Color Me Badd" is an American contemporary R&B group that was formed in 1985 in Oklahoma City, Oklahoma. The group originally consisted of four members: Bryan Abrams, Mark Calderon, Sam Watters, and Kevin Thornton.
All 4 Love is the fourth single from their debut album, C.M.B., and features catchy harmonies and a danceable beat.
February 1, 1992 – February 7, 1992
George Michael & Elton John
Don't Let The Sun Go Down On Me
George Michael was an English singer, songwriter, and record producer, while Elton John is an English singer, songwriter, and pianist.
Don't Let The Sun Go Down On Me is a live version of Elton John's 1974 hit, recorded during the "Live Aid" concert in 1985.
February 8, 1992 – February 28, 1992
Right Said Fred
I'm Too Sexy
Right Said Fred is an English dance-pop group formed by brothers Richard and Fred Fairbrass.
I'm Too Sexy is a tongue-in-cheek dance track that became a worldwide hit known for its catchy chorus.
February 29, 1992 – March 20, 1992
Mr. Big
To Be With You
Mr. Big is an American rock band formed by Eric Martin, Paul Gilbert, Billy Sheehan, and Pat Torpey.
To Be With You is a heartfelt acoustic ballad that features tight harmonies and became the band's signature song.
March 21, 1992 – April 24, 1992
Vanessa Williams
Save the Best for Last
Vanessa Williams is an American singer, actress, and former Miss America.
Save the Best for Last is a romantic ballad that became Williams' biggest hit, earning three Grammy nominations.
April 25, 1992 – June 19, 1992
Kris Kross
Jump
Kris Kross was an American hip-hop duo consisting of Chris "Mac Daddy" Kelly and Chris "Daddy Mac" Smith.
Jump is an energetic rap track that became the duo's biggest hit, known for its catchy hook and the duo's signature backward clothing style.
June 20, 1992 – July 3, 1992
Mariah Carey
I'll Be There
Mariah Carey suffers from stage fright and has used various coping mechanisms to manage her anxiety during performances.
I'll Be There is a cover of The Jackson 5's 1970 hit, recorded during Carey's appearance on "MTV Unplugged."
July 4, 1992 – August 7, 1992
Sir Mix-A-Lot
Baby Got Back
Sir Mix-A-Lot is an American rapper and producer known for his catchy and humorous songs.
Baby Got Back is a humorous ode to women with curvy figures, and its music video generated controversy and was briefly banned by MTV.
August 8, 1992 – August 14, 1992
Madonna
This Used To Be My Playground
Madonna moved to New York City in 1978 to pursue a career in modern dance. While in the city, she became involved in the music scene, playing drums and singing for various bands.
This Used To Be My Playground is a melancholic ballad featured on the soundtrack of the film A League of Their Own, in which Madonna also starred.
August 15, 1992 – November 13, 1992
Boyz II Men
End Of The Road
Boyz II Men is an American R&B vocal group known for their emotional ballads and intricate harmonies.
End Of The Road was written and produced by Kenneth "Babyface" Edmonds and was featured on the soundtrack of the film Boomerang.
November 14, 1992 – November 27, 1992
The Heights
How Do You Talk To An Angel
The Heights was a short-lived American musical drama series, and the band was composed of actors from the show.
How Do You Talk To An Angel is a power ballad that served as the show's theme song and became a hit single.
November 28, 1992 – March 5, 1993
Whitney Houston
I Will Always Love You
Whitney was the first artist to have seven consecutive number-one singles on the Billboard Hot 100 chart.
I Will Always Love You is a cover of Dolly Parton's 1974 hit, and was recorded for the soundtrack of The Bodyguard, in which Houston starred; the song became one of the best-selling singles of all time.
The Biggest Pop Artists of 1992 include:
Bobby Brown, Boyz II Men, Ce Ce Peniston, Celine Dion, Color Me Badd, Elton John, En Vogue, Genesis, Gerald Levert, Guns N'Roses, Hammer, Jodeci, Kris Kross, Luther Vandross, Madonna, Mariah Carey, Mary J. Blige, Michael Bolton, Michael Jackson, Mr. Big, Prince, R. Kelly, Ralph Tresvant, Red Hot Chili Peppers, Shabba Ranks, Shanice, Tevin Campbell, TLC, U2, Vanessa Williams, Whitney Houston
(HPS music data is compiled from charts, including Billboard's Pop, Rock, Airplay, R&B/Dance, and Singles Charts. The Hot 100 is the primary chart used for this list.)