Born in 1958? Find Your Conception Song!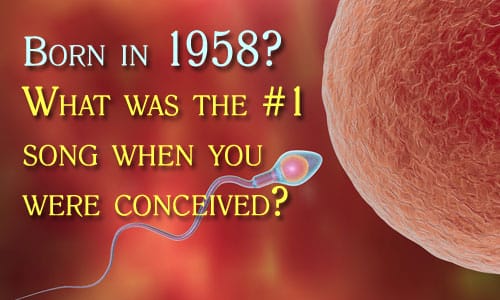 "Dancing is a perpendicular expression of a horizontal desire."
– George Bernard Shaw
Mom and Dad danced… and more.
You are old enough now to be told they slept together, intimately.
Accept that, and read on…
Born this year?
Check the date to find the # 1 song when you were conceived, nine months ago!
The average length of human gestation (Your 'Conception Era') is 280 days, or 40 weeks, from the first day of the woman's last menstrual period. The medical term for the due date is estimated date of confinement (EDC).
If you were born late, or a bit premature, add or subtract those days.
This Year's Euphemism: Straightening the living room or Playing Frisbee

Your Birthday:
January 1st, 1958:
Tab Hunter – Young Love
January 2nd, 1958:
Tab Hunter – Young Love
January 3rd, 1958:
Tab Hunter – Young Love
January 4th, 1958:
Tab Hunter – Young Love
January 5th, 1958:
Buddy Knox – Party Doll
January 6th, 1958:
Buddy Knox – Party Doll
January 7th, 1958:
Buddy Knox – Party Doll
January 8th, 1958:
Buddy Knox – Party Doll
January 9th, 1958:
Buddy Knox – Party Doll
January 10th, 1958:
Buddy Knox – Party Doll
January 11th, 1958:
Buddy Knox – Party Doll
January 12th, 1958:
Perry Como – Round And Round
January 13th, 1958:
Perry Como – Round And Round
January 14th, 1958:
Perry Como – Round And Round
January 15th, 1958:
Perry Como – Round And Round
January 16th, 1958:
Perry Como – Round And Round
January 17th, 1958:
Perry Como – Round And Round
January 18th, 1958:
Elvis Presley – All Shook Up
January 19th, 1958:
Elvis Presley – All Shook Up
January 20th, 1958:
Elvis Presley – All Shook Up
January 21st, 1958:
Elvis Presley – All Shook Up
January 22nd, 1958:
Elvis Presley – All Shook Up
January 23rd, 1958:
Elvis Presley – All Shook Up
January 24th, 1958:
Elvis Presley – All Shook Up
January 25th, 1958:
Elvis Presley – All Shook Up
January 26th, 1958:
Elvis Presley – All Shook Up
January 27th, 1958:
Elvis Presley – All Shook Up
January 28th, 1958:
Elvis Presley – All Shook Up
January 29th, 1958:
Elvis Presley – All Shook Up
January 30th, 1958:
Elvis Presley – All Shook Up
January 31st, 1958:
Elvis Presley – All Shook Up
February 1st, 1958:
Elvis Presley – All Shook Up
February 2nd, 1958:
Elvis Presley – All Shook Up
February 3rd, 1958:
Elvis Presley – All Shook Up
February 4th, 1958:
Elvis Presley – All Shook Up
February 5th, 1958:
Elvis Presley – All Shook Up
February 6th, 1958:
Elvis Presley – All Shook Up
February 7th, 1958:
Elvis Presley – All Shook Up
February 8th, 1958:
Elvis Presley – All Shook Up
February 9th, 1958:
Elvis Presley – All Shook Up
February 10th, 1958:
Elvis Presley – All Shook Up
February 11th, 1958:
Elvis Presley – All Shook Up
February 12th, 1958:
Elvis Presley – All Shook Up
February 13th, 1958:
Elvis Presley – All Shook Up
February 14th, 1958:
Elvis Presley – All Shook Up
February 15th, 1958:
Elvis Presley – All Shook Up
February 16th, 1958:
Elvis Presley – All Shook Up
February 17th, 1958:
Elvis Presley – All Shook Up
February 18th, 1958:
Elvis Presley – All Shook Up
February 19th, 1958:
Elvis Presley – All Shook Up
February 20th, 1958:
Elvis Presley – All Shook Up
February 21st, 1958:
Elvis Presley – All Shook Up
February 22nd, 1958:
Elvis Presley – All Shook Up
February 23rd, 1958:
Elvis Presley – All Shook Up
February 24th, 1958:
Elvis Presley – All Shook Up
February 25th, 1958:
Elvis Presley – All Shook Up
February 26th, 1958:
Elvis Presley – All Shook Up
February 27th, 1958:
Elvis Presley – All Shook Up
February 28th, 1958:
Elvis Presley – All Shook Up
March 1st, 1958:
Elvis Presley – All Shook Up
March 2nd, 1958:
Elvis Presley – All Shook Up
March 3rd, 1958:
Elvis Presley – All Shook Up
March 4th, 1958:
Elvis Presley – All Shook Up
March 5th, 1958:
Elvis Presley – All Shook Up
March 6th, 1958:
Elvis Presley – All Shook Up
March 7th, 1958:
Elvis Presley – All Shook Up
March 8th, 1958:
Elvis Presley – All Shook Up
March 9th, 1958:
Elvis Presley – All Shook Up
March 10th, 1958:
Elvis Presley – All Shook Up
March 11th, 1958:
Elvis Presley – All Shook Up
March 12th, 1958:
Elvis Presley – All Shook Up
March 13th, 1958:
Pat Boone – Love Letters In The Sand
March 14th, 1958:
Pat Boone – Love Letters In The Sand
March 15th, 1958:
Pat Boone – Love Letters In The Sand
March 16th, 1958:
Pat Boone – Love Letters In The Sand
March 17th, 1958:
Pat Boone – Love Letters In The Sand
March 18th, 1958:
Pat Boone – Love Letters In The Sand
March 19th, 1958:
Pat Boone – Love Letters In The Sand
March 20th, 1958:
Elvis Presley – (Let Me Be Your) Teddy Bear
March 21st, 1958:
Elvis Presley – (Let Me Be Your) Teddy Bear
March 22nd, 1958:
Elvis Presley – (Let Me Be Your) Teddy Bear
March 23rd, 1958:
Elvis Presley – (Let Me Be Your) Teddy Bear
March 24th, 1958:
Elvis Presley – (Let Me Be Your) Teddy Bear
March 25th, 1958:
Elvis Presley – (Let Me Be Your) Teddy Bear
March 26th, 1958:
Elvis Presley – (Let Me Be Your) Teddy Bear
March 27th, 1958:
Elvis Presley – (Let Me Be Your) Teddy Bear
March 28th, 1958:
Elvis Presley – (Let Me Be Your) Teddy Bear
March 29th, 1958:
Elvis Presley – (Let Me Be Your) Teddy Bear
March 30th, 1958:
Elvis Presley – (Let Me Be Your) Teddy Bear
March 31st, 1958:
Elvis Presley – (Let Me Be Your) Teddy Bear
April 1st, 1958:
Elvis Presley – (Let Me Be Your) Teddy Bear
April 2nd, 1958:
Elvis Presley – (Let Me Be Your) Teddy Bear
April 3rd, 1958:
Elvis Presley – (Let Me Be Your) Teddy Bear
April 4th, 1958:
Elvis Presley – (Let Me Be Your) Teddy Bear
April 5th, 1958:
Elvis Presley – (Let Me Be Your) Teddy Bear
April 6th, 1958:
Elvis Presley – (Let Me Be Your) Teddy Bear
April 7th, 1958:
Elvis Presley – (Let Me Be Your) Teddy Bear
April 8th, 1958:
Elvis Presley – (Let Me Be Your) Teddy Bear
April 9th, 1958:
Elvis Presley – (Let Me Be Your) Teddy Bear
April 10th, 1958:
Elvis Presley – (Let Me Be Your) Teddy Bear
April 11th, 1958:
Elvis Presley – (Let Me Be Your) Teddy Bear
April 12th, 1958:
Elvis Presley – (Let Me Be Your) Teddy Bear
April 13th, 1958:
Elvis Presley – (Let Me Be Your) Teddy Bear
April 14th, 1958:
Elvis Presley – (Let Me Be Your) Teddy Bear
April 15th, 1958:
Elvis Presley – (Let Me Be Your) Teddy Bear
April 16th, 1958:
Elvis Presley – (Let Me Be Your) Teddy Bear
April 17th, 1958:
Elvis Presley – (Let Me Be Your) Teddy Bear
April 18th, 1958:
Elvis Presley – (Let Me Be Your) Teddy Bear
April 19th, 1958:
Elvis Presley – (Let Me Be Your) Teddy Bear
April 20th, 1958:
Elvis Presley – (Let Me Be Your) Teddy Bear
April 21st, 1958:
Elvis Presley – (Let Me Be Your) Teddy Bear
April 22nd, 1958:
Elvis Presley – (Let Me Be Your) Teddy Bear
April 23rd, 1958:
Elvis Presley – (Let Me Be Your) Teddy Bear
April 24th, 1958:
Elvis Presley – (Let Me Be Your) Teddy Bear
April 25th, 1958:
Elvis Presley – (Let Me Be Your) Teddy Bear
April 26th, 1958:
Elvis Presley – (Let Me Be Your) Teddy Bear
April 27th, 1958:
Elvis Presley – (Let Me Be Your) Teddy Bear
April 28th, 1958:
Elvis Presley – (Let Me Be Your) Teddy Bear
April 29th, 1958:
Elvis Presley – (Let Me Be Your) Teddy Bear
April 30th, 1958:
Elvis Presley – (Let Me Be Your) Teddy Bear
May 1st, 1958:
Elvis Presley – (Let Me Be Your) Teddy Bear
May 2nd, 1958:
Elvis Presley – (Let Me Be Your) Teddy Bear
May 3rd, 1958:
Elvis Presley – (Let Me Be Your) Teddy Bear
May 4th, 1958:
Elvis Presley – (Let Me Be Your) Teddy Bear
May 5th, 1958:
Elvis Presley – (Let Me Be Your) Teddy Bear
May 6th, 1958:
Elvis Presley – (Let Me Be Your) Teddy Bear
May 7th, 1958:
Elvis Presley – (Let Me Be Your) Teddy Bear
May 8th, 1958:
Elvis Presley – (Let Me Be Your) Teddy Bear
May 9th, 1958:
Elvis Presley – (Let Me Be Your) Teddy Bear
May 10th, 1958:
Elvis Presley – (Let Me Be Your) Teddy Bear
May 11th, 1958:
Elvis Presley – (Let Me Be Your) Teddy Bear
May 12th, 1958:
Elvis Presley – (Let Me Be Your) Teddy Bear
May 13th, 1958:
Elvis Presley – (Let Me Be Your) Teddy Bear
May 14th, 1958:
Elvis Presley – (Let Me Be Your) Teddy Bear
May 15th, 1958:
Elvis Presley – (Let Me Be Your) Teddy Bear
May 16th, 1958:
Elvis Presley – (Let Me Be Your) Teddy Bear
May 17th, 1958:
Elvis Presley – (Let Me Be Your) Teddy Bear
May 18th, 1958:
Elvis Presley – (Let Me Be Your) Teddy Bear
May 19th, 1958:
Elvis Presley – (Let Me Be Your) Teddy Bear
May 20th, 1958:
Elvis Presley – (Let Me Be Your) Teddy Bear
May 21st, 1958:
Elvis Presley – (Let Me Be Your) Teddy Bear
May 22nd, 1958:
Elvis Presley – (Let Me Be Your) Teddy Bear
May 23rd, 1958:
Elvis Presley – (Let Me Be Your) Teddy Bear
May 24th, 1958:
Elvis Presley – (Let Me Be Your) Teddy Bear
May 25th, 1958:
Elvis Presley – (Let Me Be Your) Teddy Bear
May 26th, 1958:
Elvis Presley – (Let Me Be Your) Teddy Bear
May 27th, 1958:
Elvis Presley – (Let Me Be Your) Teddy Bear
May 28th, 1958:
Elvis Presley – (Let Me Be Your) Teddy Bear
May 29th, 1958:
Elvis Presley – (Let Me Be Your) Teddy Bear
May 30th, 1958:
Elvis Presley – (Let Me Be Your) Teddy Bear
May 31st, 1958:
Elvis Presley – (Let Me Be Your) Teddy Bear
June 1st, 1958:
Elvis Presley – (Let Me Be Your) Teddy Bear
June 2nd, 1958:
Elvis Presley – (Let Me Be Your) Teddy Bear
June 3rd, 1958:
Elvis Presley – (Let Me Be Your) Teddy Bear
June 4th, 1958:
Elvis Presley – (Let Me Be Your) Teddy Bear
June 5th, 1958:
Elvis Presley – (Let Me Be Your) Teddy Bear
June 6th, 1958:
Elvis Presley – (Let Me Be Your) Teddy Bear
June 7th, 1958:
Debbie Reynolds – Tammy
June 8th, 1958:
Debbie Reynolds – Tammy
June 9th, 1958:
Debbie Reynolds – Tammy
June 10th, 1958:
Debbie Reynolds – Tammy
June 11th, 1958:
Debbie Reynolds – Tammy
June 12th, 1958:
Debbie Reynolds – Tammy
June 13th, 1958:
Debbie Reynolds – Tammy
June 14th, 1958:
Debbie Reynolds – Tammy
June 15th, 1958:
Debbie Reynolds – Tammy
June 16th, 1958:
Debbie Reynolds – Tammy
June 17th, 1958:
Debbie Reynolds – Tammy
June 18th, 1958:
Debbie Reynolds – Tammy
June 19th, 1958:
Debbie Reynolds – Tammy
June 20th, 1958:
Debbie Reynolds – Tammy
June 21st, 1958:
Paul Anka – Diana
June 22nd, 1958:
Paul Anka – Diana
June 23rd, 1958:
Paul Anka – Diana
June 24th, 1958:
Paul Anka – Diana
June 25th, 1958:
Paul Anka – Diana
June 26th, 1958:
Paul Anka – Diana
June 27th, 1958:
Paul Anka – Diana
June 28th, 1958:
Paul Anka – Diana
June 29th, 1958:
Paul Anka – Diana
June 30th, 1958:
Paul Anka – Diana
July 1st, 1958:
Paul Anka – Diana
July 2nd, 1958:
Paul Anka – Diana
July 3rd, 1958:
Paul Anka – Diana
July 4th, 1958:
Paul Anka – Diana
July 5th, 1958:
The Crickets – That'll Be The Day
July 6th, 1958:
The Crickets – That'll Be The Day
July 7th, 1958:
The Crickets – That'll Be The Day
July 8th, 1958:
The Crickets – That'll Be The Day
July 9th, 1958:
The Crickets – That'll Be The Day
July 10th, 1958:
The Crickets – That'll Be The Day
July 11th, 1958:
The Crickets – That'll Be The Day
July 12th, 1958:
Jimmie Rodgers – Honeycomb
July 13th, 1958:
Jimmie Rodgers – Honeycomb
July 14th, 1958:
Jimmie Rodgers – Honeycomb
July 15th, 1958:
Jimmie Rodgers – Honeycomb
July 16th, 1958:
Jimmie Rodgers – Honeycomb
July 17th, 1958:
Jimmie Rodgers – Honeycomb
July 18th, 1958:
Jimmie Rodgers – Honeycomb
July 19th, 1958:
Jimmie Rodgers – Honeycomb
July 20th, 1958:
Jimmie Rodgers – Honeycomb
July 21st, 1958:
Jimmie Rodgers – Honeycomb
July 22nd, 1958:
Jimmie Rodgers – Honeycomb
July 23rd, 1958:
Jimmie Rodgers – Honeycomb
July 24th, 1958:
Jimmie Rodgers – Honeycomb
July 25th, 1958:
Jimmie Rodgers – Honeycomb
July 26th, 1958:
The Everly Brothers – Wake Up Little Susie
July 27th, 1958:
The Everly Brothers – Wake Up Little Susie
July 28th, 1958:
The Everly Brothers – Wake Up Little Susie
July 29th, 1958:
The Everly Brothers – Wake Up Little Susie
July 30th, 1958:
The Everly Brothers – Wake Up Little Susie
July 31st, 1958:
The Everly Brothers – Wake Up Little Susie
August 1st, 1958:
The Everly Brothers – Wake Up Little Susie
August 2nd, 1958:
Elvis Presley – Jailhouse Rock/Treat Me Nice
August 3rd, 1958:
Elvis Presley – Jailhouse Rock/Treat Me Nice
August 4th, 1958:
Elvis Presley – Jailhouse Rock/Treat Me Nice
August 5th, 1958:
Elvis Presley – Jailhouse Rock/Treat Me Nice
August 6th, 1958:
Elvis Presley – Jailhouse Rock/Treat Me Nice
August 7th, 1958:
Elvis Presley – Jailhouse Rock/Treat Me Nice
August 8th, 1958:
Elvis Presley – Jailhouse Rock/Treat Me Nice
August 9th, 1958:
Elvis Presley – Jailhouse Rock/Treat Me Nice
August 10th, 1958:
Elvis Presley – Jailhouse Rock/Treat Me Nice
August 11th, 1958:
Elvis Presley – Jailhouse Rock/Treat Me Nice
August 12th, 1958:
Elvis Presley – Jailhouse Rock/Treat Me Nice
August 13th, 1958:
Elvis Presley – Jailhouse Rock/Treat Me Nice
August 14th, 1958:
Elvis Presley – Jailhouse Rock/Treat Me Nice
August 15th, 1958:
Elvis Presley – Jailhouse Rock/Treat Me Nice
August 16th, 1958:
Elvis Presley – Jailhouse Rock/Treat Me Nice
August 17th, 1958:
Elvis Presley – Jailhouse Rock/Treat Me Nice
August 18th, 1958:
Elvis Presley – Jailhouse Rock/Treat Me Nice
August 19th, 1958:
Elvis Presley – Jailhouse Rock/Treat Me Nice
August 20th, 1958:
Elvis Presley – Jailhouse Rock/Treat Me Nice
August 21st, 1958:
Elvis Presley – Jailhouse Rock/Treat Me Nice
August 22nd, 1958:
Elvis Presley – Jailhouse Rock/Treat Me Nice
August 23rd, 1958:
Elvis Presley – Jailhouse Rock/Treat Me Nice
August 24th, 1958:
Elvis Presley – Jailhouse Rock/Treat Me Nice
August 25th, 1958:
Elvis Presley – Jailhouse Rock/Treat Me Nice
August 26th, 1958:
Elvis Presley – Jailhouse Rock/Treat Me Nice
August 27th, 1958:
Elvis Presley – Jailhouse Rock/Treat Me Nice
August 28th, 1958:
Elvis Presley – Jailhouse Rock/Treat Me Nice
August 29th, 1958:
Elvis Presley – Jailhouse Rock/Treat Me Nice
August 30th, 1958:
Elvis Presley – Jailhouse Rock/Treat Me Nice
August 31st, 1958:
Elvis Presley – Jailhouse Rock/Treat Me Nice
September 1st, 1958:
Elvis Presley – Jailhouse Rock/Treat Me Nice
September 2nd, 1958:
Elvis Presley – Jailhouse Rock/Treat Me Nice
September 3rd, 1958:
Elvis Presley – Jailhouse Rock/Treat Me Nice
September 4th, 1958:
Elvis Presley – Jailhouse Rock/Treat Me Nice
September 5th, 1958:
Elvis Presley – Jailhouse Rock/Treat Me Nice
September 6th, 1958:
Elvis Presley – Jailhouse Rock/Treat Me Nice
September 7th, 1958:
Elvis Presley – Jailhouse Rock/Treat Me Nice
September 8th, 1958:
Elvis Presley – Jailhouse Rock/Treat Me Nice
September 9th, 1958:
Elvis Presley – Jailhouse Rock/Treat Me Nice
September 10th, 1958:
Elvis Presley – Jailhouse Rock/Treat Me Nice
September 11th, 1958:
Elvis Presley – Jailhouse Rock/Treat Me Nice
September 12th, 1958:
Elvis Presley – Jailhouse Rock/Treat Me Nice
September 13th, 1958:
Sam Cooke – You Send Me
September 14th, 1958:
Sam Cooke – You Send Me
September 15th, 1958:
Sam Cooke – You Send Me
September 16th, 1958:
Sam Cooke – You Send Me
September 17th, 1958:
Sam Cooke – You Send Me
September 18th, 1958:
Sam Cooke – You Send Me
September 19th, 1958:
Sam Cooke – You Send Me
September 20th, 1958:
Sam Cooke – You Send Me
September 21st, 1958:
Sam Cooke – You Send Me
September 22nd, 1958:
Sam Cooke – You Send Me
September 23rd, 1958:
Sam Cooke – You Send Me
September 24th, 1958:
Sam Cooke – You Send Me
September 25th, 1958:
Sam Cooke – You Send Me
September 26th, 1958:
Sam Cooke – You Send Me
September 27th, 1958:
Sam Cooke – You Send Me
September 28th, 1958:
Sam Cooke – You Send Me
September 29th, 1958:
Sam Cooke – You Send Me
September 30th, 1958:
Sam Cooke – You Send Me
October 1st, 1958:
Sam Cooke – You Send Me
October 2nd, 1958:
Sam Cooke – You Send Me
October 3rd, 1958:
Sam Cooke – You Send Me
October 4th, 1958:
Pat Boone – April Love
October 5th, 1958:
Pat Boone – April Love
October 6th, 1958:
Pat Boone – April Love
October 7th, 1958:
Pat Boone – April Love
October 8th, 1958:
Pat Boone – April Love
October 9th, 1958:
Pat Boone – April Love
October 10th, 1958:
Pat Boone – April Love
October 11th, 1958:
Pat Boone – April Love
October 12th, 1958:
Pat Boone – April Love
October 13th, 1958:
Pat Boone – April Love
October 14th, 1958:
Pat Boone – April Love
October 15th, 1958:
Pat Boone – April Love
October 16th, 1958:
Pat Boone – April Love
October 17th, 1958:
Pat Boone – April Love
October 18th, 1958:
Danny & the Juniors – At The Hop
October 19th, 1958:
Danny & the Juniors – At The Hop
October 20th, 1958:
Danny & the Juniors – At The Hop
October 21st, 1958:
Danny & the Juniors – At The Hop
October 22nd, 1958:
Danny & the Juniors – At The Hop
October 23rd, 1958:
Danny & the Juniors – At The Hop
October 24th, 1958:
Danny & the Juniors – At The Hop
October 25th, 1958:
Danny & the Juniors – At The Hop
October 26th, 1958:
Danny & the Juniors – At The Hop
October 27th, 1958:
Danny & the Juniors – At The Hop
October 28th, 1958:
Danny & the Juniors – At The Hop
October 29th, 1958:
Danny & the Juniors – At The Hop
October 30th, 1958:
Danny & the Juniors – At The Hop
October 31st, 1958:
Danny & the Juniors – At The Hop
November 1st, 1958:
Danny & the Juniors – At The Hop
November 2nd, 1958:
Danny & the Juniors – At The Hop
November 3rd, 1958:
Danny & the Juniors – At The Hop
November 4th, 1958:
Danny & the Juniors – At The Hop
November 5th, 1958:
Danny & the Juniors – At The Hop
November 6th, 1958:
Danny & the Juniors – At The Hop
November 7th, 1958:
Danny & the Juniors – At The Hop
November 8th, 1958:
Danny & the Juniors – At The Hop
November 9th, 1958:
Danny & the Juniors – At The Hop
November 10th, 1958:
Danny & the Juniors – At The Hop
November 11th, 1958:
Danny & the Juniors – At The Hop
November 12th, 1958:
Danny & the Juniors – At The Hop
November 13th, 1958:
Danny & the Juniors – At The Hop
November 14th, 1958:
Danny & the Juniors – At The Hop
November 15th, 1958:
Danny & the Juniors – At The Hop
November 16th, 1958:
Danny & the Juniors – At The Hop
November 17th, 1958:
Danny & the Juniors – At The Hop
November 18th, 1958:
Danny & the Juniors – At The Hop
November 19th, 1958:
Danny & the Juniors – At The Hop
November 20th, 1958:
Danny & the Juniors – At The Hop
November 21st, 1958:
Danny & the Juniors – At The Hop
November 22nd, 1958:
Elvis Presley – Don't/I Beg Of You
November 23rd, 1958:
Elvis Presley – Don't/I Beg Of You
November 24th, 1958:
Elvis Presley – Don't/I Beg Of You
November 25th, 1958:
Elvis Presley – Don't/I Beg Of You
November 26th, 1958:
Elvis Presley – Don't/I Beg Of You
November 27th, 1958:
Elvis Presley – Don't/I Beg Of You
November 28th, 1958:
Elvis Presley – Don't/I Beg Of You
November 29th, 1958:
Elvis Presley – Don't/I Beg Of You
November 30th, 1958:
Elvis Presley – Don't/I Beg Of You
December 1st, 1958:
Elvis Presley – Don't/I Beg Of You
December 2nd, 1958:
Elvis Presley – Don't/I Beg Of You
December 3rd, 1958:
Elvis Presley – Don't/I Beg Of You
December 4th, 1958:
Elvis Presley – Don't/I Beg Of You
December 5th, 1958:
Elvis Presley – Don't/I Beg Of You
December 6th, 1958:
Elvis Presley – Don't/I Beg Of You
December 7th, 1958:
Elvis Presley – Don't/I Beg Of You
December 8th, 1958:
Elvis Presley – Don't/I Beg Of You
December 9th, 1958:
Elvis Presley – Don't/I Beg Of You
December 10th, 1958:
Elvis Presley – Don't/I Beg Of You
December 11th, 1958:
Elvis Presley – Don't/I Beg Of You
December 12th, 1958:
Elvis Presley – Don't/I Beg Of You
December 13th, 1958:
Elvis Presley – Don't/I Beg Of You
December 14th, 1958:
Elvis Presley – Don't/I Beg Of You
December 15th, 1958:
Elvis Presley – Don't/I Beg Of You
December 16th, 1958:
Elvis Presley – Don't/I Beg Of You
December 17th, 1958:
Elvis Presley – Don't/I Beg Of You
December 18th, 1958:
Elvis Presley – Don't/I Beg Of You
December 19th, 1958:
Elvis Presley – Don't/I Beg Of You
December 20th, 1958:
Elvis Presley – Don't/I Beg Of You
December 21st, 1958:
Elvis Presley – Don't/I Beg Of You
December 22nd, 1958:
Elvis Presley – Don't/I Beg Of You
December 23rd, 1958:
Elvis Presley – Don't/I Beg Of You
December 24th, 1958:
Elvis Presley – Don't/I Beg Of You
December 25th, 1958:
Elvis Presley – Don't/I Beg Of You
December 26th, 1958:
Elvis Presley – Don't/I Beg Of You
December 27th, 1958:
Elvis Presley – Don't/I Beg Of You
December 28th, 1958:
The Champs – Tequila
December 29th, 1958:
The Champs – Tequila
December 30th, 1958:
The Champs – Tequila
December 31st, 1958:
The Champs – Tequila