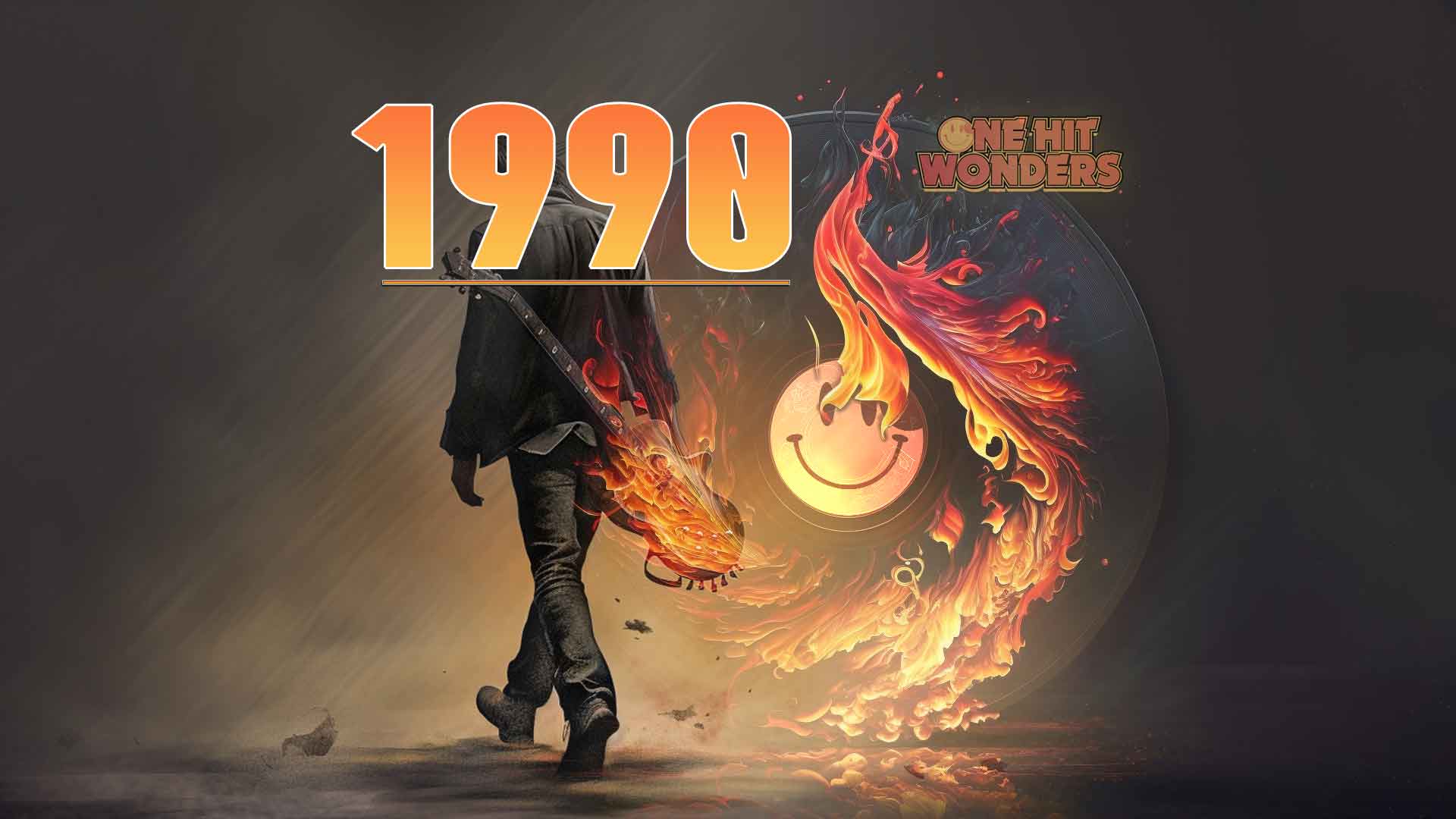 1990 One Hit Wonders & Artists Known For One Song
1-2-3
The Chimes
The Chimes were a British dance music trio consisting of Pauline Henry with Mike Peden and James Locke from Scotland.
All Lips N' Hips
Electric Boys
Electric Boys is a Swedish rock band that achieved greater success abroad than in their home country.
All Nite
Entouch with Keith Sweat
Entouch was a New Jersey-based R&B group, while Keith Sweat is a renowned R&B singer and songwriter who helped innovate the New Jack Swing genre.
Anytime
McAuley Schenker Group
McAuley Schenker Group is a rock band formed by former Scorpions and UFO guitarist Michael Schenker and singer Robin McAuley.
B Girls
Young and Restless
Young and Restless was an American hip-hop duo from Washington D.C., known for their socially-conscious lyrics.
Bang Bang
Danger Danger
Danger Danger was a glam metal band from Queens, New York, that achieved significant success in Japan.
Biscuit's In The House
Biscuit
Biscuit was an American rapper from Houston, Texas, known for his energetic style and fast-paced lyrics.
Black Bett
Ram Jam
Ram Jam was an American rock band, best known for their 1977 hit Black Betty.
Black Velvet
Alannah Myles
Alannah Myles is a Canadian singer-songwriter who won a Grammy for Best Female Rock Vocal Performance for "Black Velvet" in 1991.
Chase
Giorgio Moroder
Giorgio Moroder is an Italian singer, songwriter, DJ and record producer, and a three-time Academy Award winner.
Close To You
Maxi Priest
Maxi Priest is a British reggae vocalist of Jamaican descent. He is one of the most successful reggae fusion acts of all time.
Counting The Days
Joey Kid
Joey Kid is a freestyle music artist from The Bronx, New York, who had several hits on the U.S. Dance chart in the late 1980s and early 1990s.
Cuts You Up
Peter Murphy
Peter Murphy is an English singer and musician known as the vocalist of the goth rock band Bauhaus.
Doin The Do
Betty Boo
Betty Boo is an English singer, songwriter, and pop-rap artist who gained popularity in the late 1980s and early 1990s.
Don't You Love Me
49ers
The 49ers were an Italian house and Eurodance act, featuring producers and DJs Gianfranco Bortolotti, Luca Cittadini, Diego Leoni and Pieradis Rossini with vocalist Ann-Marie Smith.
Drag My Bad Name Down
The 4 of Us
The 4 of Us are a rock band from Newry, Northern Ireland, known for their dynamic acoustic rock sound.
Electric Boogie
Marcia Griffiths
Marcia Griffiths is a Jamaican singer, known as the "Queen of Reggae". She had successful solo career and was also a member of the I Threes, the backing vocalists for Bob Marley & The Wailers.
Empty Beach
Tricia Leigh Fisher
Tricia Leigh Fisher is an American actress and singer, and the daughter of actress Connie Stevens and singer Eddie Fisher.
Epic
Faith No More
Faith No More is an American rock band, known for their fusion of different musical genres, including heavy metal, funk, progressive, hip hop, and jazz.
First True Love
Tiana
Tiana is an American freestyle music artist from New York City.
Getting Away With It
Electronic
Electronic was a supergroup formed by New Order singer, guitarist Bernard Sumner, and ex-Smiths guitarist Johnny Marr.
Got To Get
Leila K with Rob 'n' Raz
Leila K is a Swedish Eurodance singer and rapper. Rob 'n' Raz are a Swedish music duo who were active in the late 1980s and early 1990s.
Got To Have Your Love
Mantronix/Wondress
Mantronix was an influential 1980s hip hop and electro funk music group from New York City. Wondress is a dance music artist best known for her collaboration with Mantronix.
Groove In In The Heart
Deee-Lite
Deee-Lite was an American house and club/dance music group, known for their vibrant stage presence and vocal stylings of their frontwoman Lady Miss Kier.
High Enough
Damn Yankees
Damn Yankees was an American rock supergroup formed in 1988, consisting of Tommy Shaw of Styx, Jack Blades of Night Ranger, Ted Nugent, and Michael Cartellone.
Hippychic
Soho
Soho is a British pop trio, best known for their 1990 hit "Hippychick".
Holding My Heart
Bang
Bang is an American rock band from Philadelphia, and was established in the late 1960s.
House of Pain
Faster Pussycat
Faster Pussycat is a Los Angeles American glam metal band formed in the 1980s.
I Don't Love You Anymore
The London Quireboys
The London Quireboys are an English hard rock band from London, and they started their career in the late 1980s.
I Don't Wanna Fall In Love
Jane Child
Jane Child is a Canadian singer, songwriter, and musician best known for her hit single "Don't Wanna Fall in Love".
I Try
Macy Gray
Macy Gray is an American R&B and soul singer, songwriter, musician, record producer, and actress, known for her distinctive raspy voice.
I Wanna Be Rich
Calloway
Calloway was an R&B duo of brothers Reginald and Vincent Calloway who had several hits in the late 1980s.
I'd Rather Go Blind
Sydney Youngblood
Sydney Youngblood is an American singer, actor and composer, who had numerous successful dance hits during the late 1980s and early 1990s.
Ice Ice Baby
Vanilla Ice
Vanilla Ice is an American rapper, actor, and television host. He was the first white rapper to top the pop singles chart.
If You Leave Me Now
Jaya
Jaya is a Filipino soul music singer, rapper, dancer, record producer, presenter, and actress who is known for her powerful vocals and high-energy performances.
I'll Be There
Joyce 'Fenderella' Irby
Joyce "Fenderella" Irby is an American singer, songwriter, and bass guitarist, best known for her work with the R&B/funk band Klymaxx.
I'll Be Your Everything
Tommy Page
Tommy Page was an American singer-songwriter and music industry executive, best known for his No. 1 single "I'll Be Your Everything".
Imagination
Xymox
Xymox, also known as Clan of Xymox, is a Dutch rock band formed in 1981. They were one of the pioneers of the dark and moody electronic music that later became known as darkwave.
Joey
Concrete Blonde
Concrete Blonde was an American alternative rock band that was active from 1982 to 1995, re-formed in 1997, and disbanded again in 2006.
Just A Friend
Biz Markie
Biz Markie was an American rapper, beatboxer, and DJ. He's known for his humorous lyrics and beatboxing skills.
Kernkraft 400
Zombie Nation
Zombie Nation is a German techno and electro project of the Munich based DJ and producer Florian Senfter.
Lambada
Kaoma
Kaoma was a French-Brazilian pop group made up of former members of the band Touré Kunda.
Livin In The Light
Caron Wheeler
Caron Wheeler is a British singer, songwriter, record producer, and musician, known as the lead vocalist of the female duo Soul II Soul.
Living In Oblivion
Anything Box
Anything Box is an American synthpop band that was originally from New Jersey and later moved to California.
Love Me Just For Me
Special Generation
Special Generation is an R&B group that was the first act signed to the Bust It Records label.
Mentirosa
Mellow Man Ace
Mellow Man Ace is a Cuban-American rapper known for bilingual delivery and novelty rhymes. He is the brother of Sen Dog from Cypress Hill.
No Rain
Blind Melon
Blind Melon is an American rock band known for its high-energy performances and unique sound, a fusion of rock, folk, psychedelic, and alternative rock.
Nothing Compares 2 U
Sinead O'Connor
Sinead O'Connor is an Irish singer-songwriter who gained worldwide success in 1990. Her shaved head, often brash behavior, and outspokenness on a variety of issues have made her a controversial figure.
Ohh La La (I Can't Get Over You)
Perfect Gentlemen
Perfect Gentlemen was an American trio of teen R&B vocalists formed under the direction of Maurice Starr, who discovered New Edition and New Kids on the Block.
Only Women Bleed
Favorite Angel
Favorite Angel was a rock band from the late 1980s.
Right and Hype
Abstrac'
Abstrac' is a New Jack Swing/Funk artist from the late 80s and early 90s.
Same Old Look
Jimmy Ryser
Jimmy Ryser is a singer-songwriter from Indiana who began his career in the late 1980s.
Sensitity
Ralph Tresvant
Ralph Tresvant is an American singer, songwriter, actor, and record producer, best known as the lead singer of R&B group New Edition.
Shake
Andrew Ridgeley
Andrew Ridgeley is an English singer, songwriter, and record producer, best known for his work in the music duo Wham! along with George Michael.
Slow Love
Doc Box & B. Fresh
Doc Box & B. Fresh was a rap duo from Dallas, Texas, who released their only album in 1990.
Somewhere Over the Rainbow/What a Wonderful World
Israel Kamakawiwo'ole
Israel Kamakawiwo'ole was a Native Hawaiian singer-songwriter, musician, and Hawaiian sovereignty activist. He is often credited with helping to popularize the sound of Hawaiian music outside Hawaii.
Spin That Wheel
Hi Tek 3 featuring Ya Kid K
Hi Tek 3 was a Belgian New Beat music group that succeeded internationally in the 1990s. Ya Kid K is a Congolese-Belgian hip hop artist.
Stranger To Love
St. Paul
St. Paul is the stage name of Paul Peterson, an American musician best known for his memberships in the bands The Family and The Time.
Tell Me Something
Indecent Obsession
Indecent Obsession was an Australian pop rock band that was formed in Melbourne in 1987.
The Crying Scene
Aztek Camera
Aztec Camera was a Scottish pop/new wave band formed by Roddy Frame, the group's singer, songwriter, and only consistent member.
The Girl I Used To Know
Brother Beyond
Brother Beyond was a British boy band/pop group who had success in the late 1980s.
The Humpty Dance
Digital Underground
Digital Underground was an alternative hip hop group from Oakland, California known for their playful and humorous style.
The Right Combination
Seiko with Donnie Wahlberg
Seiko is a pop singer and actress in Japan who became one of the country's most popular singers of the 1980s. Donnie Wahlberg is an American singer, songwriter, rapper, actor, record producer, and film producer who is a founding member of the boy band New Kids on the Block.
The Swalk
Notorious
Notorious was a rock band from the late 1980s and early 1990s fronted by vocalist Tyketto's Danny Vaughn.
There's A Party Goin' On
Yvonne
Yvonne is a Swedish pop band from Stockholm formed in 1993.
Tick Tock
Vaughn Brothers
The Vaughan Brothers was a collaboration of Stevie Ray Vaughan and his older brother Jimmie Vaughan, who were both blues rock guitarists from Texas.
Tic-Tac-Toe
Kyper
Kyper was an American rapper best known for his 1990 hit single "Tic-Tac-Toe".
Try To Find Me
Gorky Park
Gorky Park is a Russian hard rock band, that gained mainstream popularity in the United States during Perestroika.
Turtle Power!
Partners In Crime
Partners in Crime was a hip hop duo, known for their only hit song, "Turtle Power" which was featured in the movie "Teenage Mutant Ninja Turtles" in 1990.
Undeniable
Ms. Adventures
Ms. Adventures was an American female dance-pop duo from the early 1990s.
Wait For You
Bonham
Bonham was a British rock band founded by drummer Jason Bonham, the son of the late Led Zeppelin drummer John Bonham.
We're All In The Same Gang
West Coast Rap All-Stars
The West Coast Rap All-Stars was a collaboration of West Coast hip-hop artists assembled for a charity single that preached an anti-violence message.
Wicked Game
Chris Isaak
Chris Isaak is an American musician and occasional actor who's known for his signature 1950s rock & roll style and crooner sound.
Wiggle It
2 in a Room
2 in a Room was an American hip hop, freestyle and hip house duo, known for their catchy hooks and playful lyrics.
You Make Me Feel (Mighty Real)
Jimmy Sommerville
Jimmy Sommerville is a Scottish pop singer and songwriter, known for his falsetto singing voice and for fronting the groups Bronski Beat and The Communards.
You're The Voice
John Farnham
John Farnham is a British-born Australian singer who was a teen pop idol from 1967 to 1979, and has since forged a career as an adult contemporary singer.